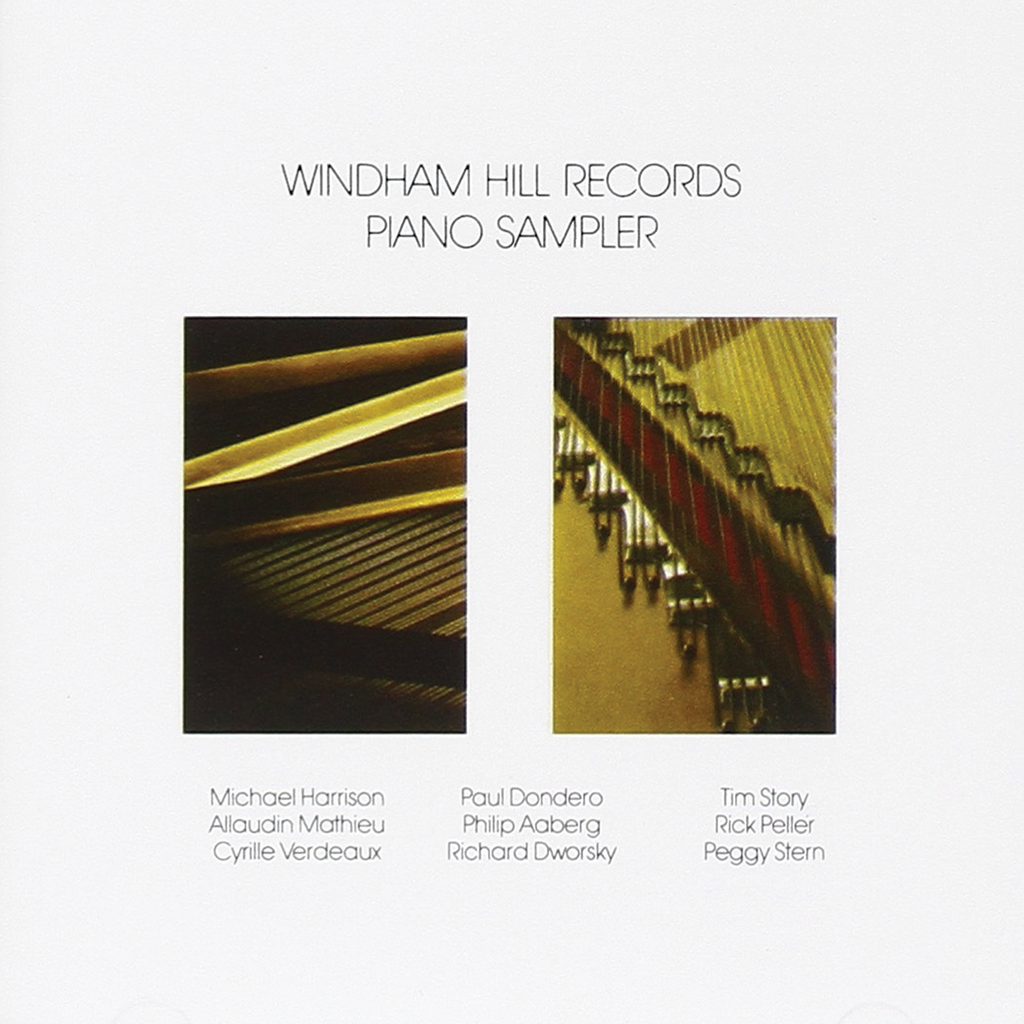 Windham Hill Records
Various Artists - Windham Hill Piano Sampler
"For those who appreciate soothing piano, or need quality background music, this disc will do the trick."
- Al Campbell (All Music Guide)
This album is being brought back after being out-of-print for quite some time! The original release of the album spent 12 weeks on The Billboard 200 and 21 weeks on Billboard's Top Jazz Albums chart. A compilation featuring a 'whos who' of avant garde piano virtuosos including:
Tim Story, Grammy nominated, `a master of electronic chamber music', has 9 solo albums and has scored documentaries for NPR and feature films.
Philip Aaberg, a classically trained, Grammy nominated, pianist who has incorporated jazz, blues and rock (he was a member of the Elvin Bishop Group), he has played with the Boston Pops and on PBS's "All American Jazz".
William Allaudin Mathieu, originally a composer with Stan Kenton and Duke Ellington, he has composed chamber and chorale music and song cycles.
Michael Harrison, his 2007 CD was chosen Best of the Year by the New York Times and Boston Globe.
Cyrille Verdeaux, a veteran of Virgin, Polydor, RCA and other major labels, he fuses classical and ethnic music.
Plus Peggy Stern, Paul Dondero, and Rick Peller!
Tracklist 
1. "In Flight" - Michael Harrison
2. "Amy's Song" - Peggy Stern
3. "Lou Ann" - Philip Aaberg
4. "A Morning With The Roses" - Richard Dworsky
5. "Out to Play" - Paul Dondero
6. "Listening to Evening" - Allaudin Mathieu
7. "Messenger Of The Son" - Cyrille Verdeaux
8. "Consolation" - Rick Peller
9. "In This Small Spot" - Tim Story
Credits
Produced by William Ackerman and Dawn Atkinson.
Amy's Song. Consolation, A Morning With The Roses, and In Flight produced
by Windham Hill.
Recorded digitally, direct to two track at Different Fur Studio, San Francisco.
California.
Engineered by Howard Johnston
All other pieces recorded by the artists at various studios.
All works composed by the artist and published by Windham Hill Music (BMI)
except a published by NARADA Publishing Inc. (BMI).
All selections administered by Windham Hill Music (BMI).
Edited and assembled by Dawn Atkinson and Stewart Whitmore at Digital
Magnetics, Hollywood. California.
Mastered by Bernie Grundman at Grundman Mastering. Hollywood.
California.
Photography by John Cooper
Graphic Design by Anne Robinson
A very special thanks to Ned Hearn
Photos used are of a nine foot Steinway Grand Concert piano Steinway
Pianos were used for Lou Ann, In This Small Spot, and Listening To Evening

2-VWH-21006
---
Share this Product
---
More from this collection