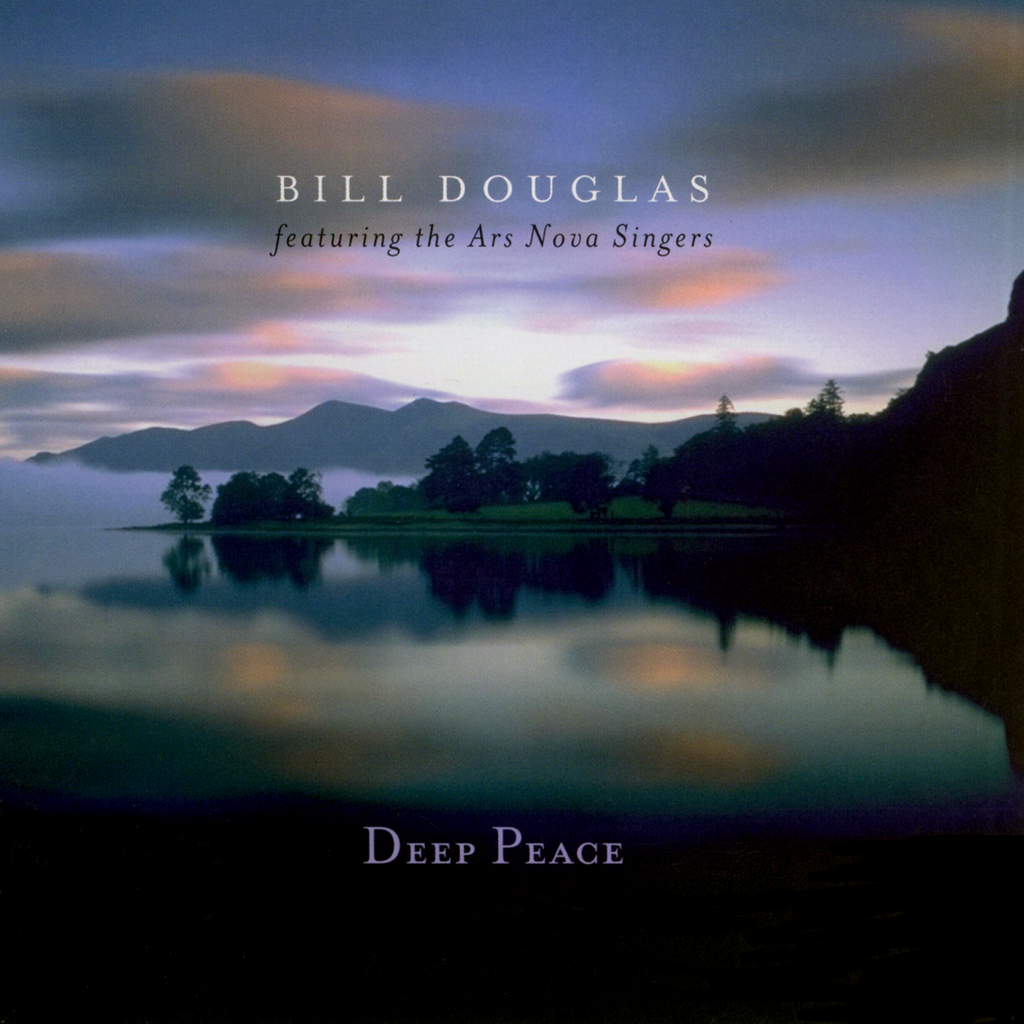 Hearts of Space Records
Bill Douglas - Deep Peace
All MP3 Downloads encoded at 320 kbps unless otherwise specified.
Bill Douglas's most beloved recording and for good reason.  Classic poems by Yeats, Blake, Robert Burns, and Alfred Graves are set into BILL DOUGLAS's lush sonic images of the greenscapes of Ireland, Scotland, and England. A stunning album, with its Celtic source material, sumptuous harmonies, and gorgeous melodies, The mind floats gently across the natural greenscapes of Ireland, Scotland and England through BILL DOUGLAS' sonic images when experiencing Deep Peace-the British Isles in their greatest serenity. But these are no mere landscapes. Rather, Douglas has fitted his vast experience in both jazz and classical music to that great heritage, a tradition of pictures in sound, and the poetry of those who have lived and felt those scenes. Two-thirds of the collection of original works are set to the great poetry of the English-speaking peoples, while the rest are instrumental settings of lyric, melodic invention. The set opens and closes with the title piece, a choral version of the traditional Gaelic blessing, a kind of litany wishing the recipient the peace of "running waves," "the flowing air," "the quiet air," "shining stars" and "gentle night," so that all may "...pour their healing light on you." (A solo vocal version first appeared on Douglas' Jewel Lake, released by Hearts of Space in 1988.)
The other works continue this mood through the idyllic poetry of Robert Burns' "Flow Gently, Sweet Afton," William Blake's "O Earth, O Earth, Return" (his derivation of the Latin prayer Dona Nobis Pacem), "Piping Down the Valleys Wild," and "The Voices of Children." Not to neglect 20th century authors, Douglas also set William Butler Yeats' "Red Rose, Sad Rose" and the lasting wisdom of Alfred Graves ("Irish Lullaby"), who lived well into his 80s, passing on in 1931. "I love poetry almost as much as music," confesses Douglas, "and it is particularly satisfying for me to present these musical settings of some of my favorite poems. For me, these poems express the utmost tenderness, purity, joy and poignancy."

Music can of course be poetic even without words. So Douglas includes the four purely instrumental pieces: "The Wandering Moon" (full of Medieval coloration), "The Silent Forest," "Return to Inishmore" (a rather lively dance tune), and "Evening Star" (on a theme which captures the plaintive nostalgia dear to Vaughan Williams fans). Douglas himself accompanies several of his choral settings. He can be heard playing synthesizers, piano - a Bosendorfer Imperial Concert Grand no less (the Rolls-Royce of pianos) - and a bassoon (sometimes up to four bassoons overdubbed).

The ARS NOVA SINGERS, under the direction of Thomas Morgan, are a 10-year-old group from the Denver-Boulder area of Colorado, where the composer lives.

Besides insight and poetic perception, Douglas approaches the field of composed folk music from an exceptionally solid background. Already a jazz performer as a teen in his native Canada, he received formal degrees from the University of Toronto and then Yale University, where he studied extensively with avant-garde composer Mel Powell. It was also at Yale that Douglas met clarinetist Richard Stoltzman in 1966, with whom he has toured and recorded ever since as both pianist and bassoonist. With Richard, he plays both jazz and classical music, sometimes with jazz greats Eddie Gomez and Gary Burton. As if that were not enough, Douglas was also at one time a bassoonist with the Toronto Symphony.

After seven years at the California Academy of the Arts, Douglas moved to a teaching position at the progressive Naropa Institute in Boulder, where he currently lives. It was there in the midst of the Central Rockies that Douglas became increasingly interested in the wider areas of world music. Besides his responsibilities for teaching classes in general musicianship, Douglas teaches a far-reaching series in music history, which includes not only the great European traditions but styles as diverse as jazz, gamelan, and Latin American music. His summers are now devoted entirely to composition.

In Douglas' easy flow of sound, craftsmanship becomes a hidden strength. Art escapes earthly gravity as the composer reaches new heights. In recognition of that attainment, Douglas was named 1994 Classical Composer of the Year by Canada's SOCAN, the country's composers' rights organization.

Of Deep Peace, Douglas adds, "I wanted to write the most beautiful melodies that I could, so for inspiration I went to one of the great melodic traditions in the world, the British Isles folk music tradition." It's precisely this inspiration, combined with the lush influence of the Renaissance choral music tradition, that gives Deep Peace its unique beauty.
2-HOS-11070
---
Share this Product
---
More from this collection