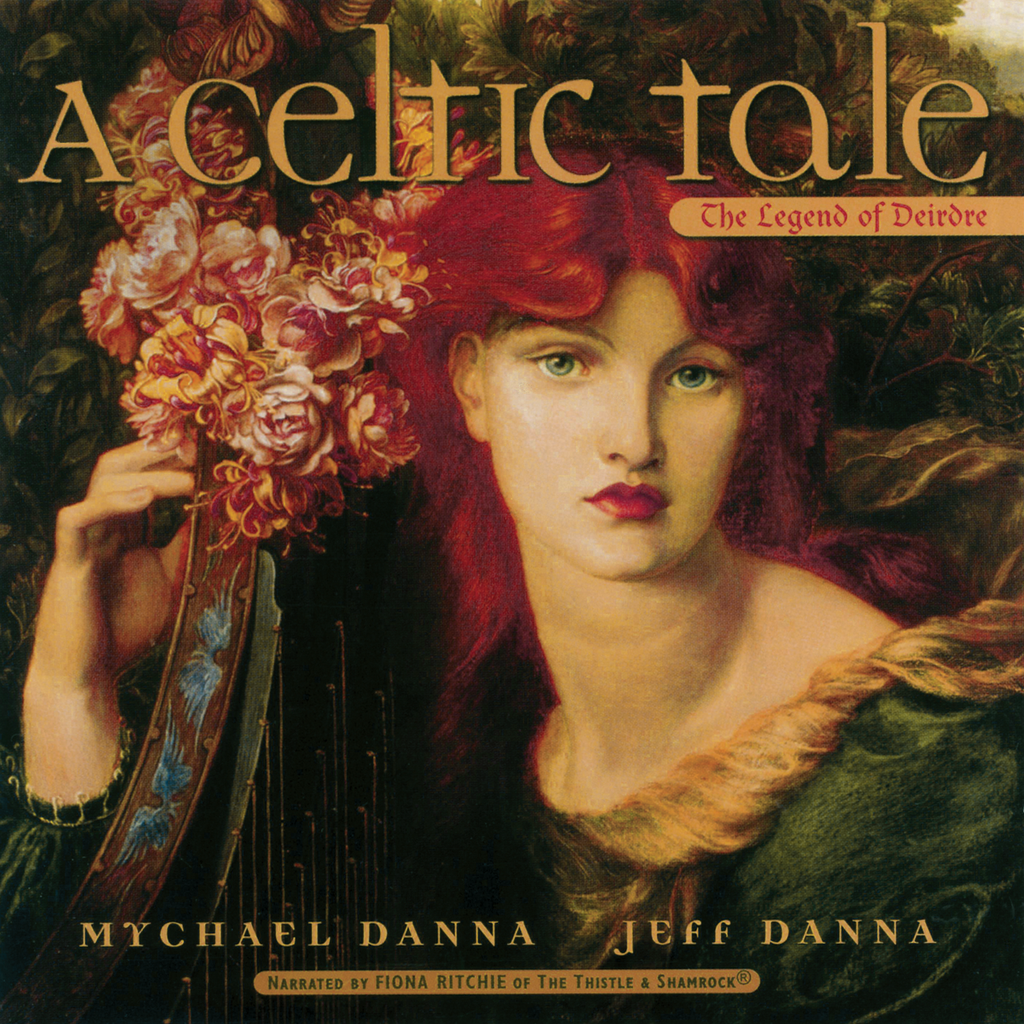 Hearts of Space Records
Mychael Danna & Jeff Danna - A Celtic Tale: The Legend of Deidre (Narrated Version)
All MP3 Downloads encoded at 320 kbps unless otherwise specified.
Among our success stories is A Celtic Tale, MYCHAEL and JEFF DANNA's magnificent orchestrated score based on the medieval Irish legend of Deirdre, with wonderful narration by Fiona Ritchie, host of the syndicated Celtic music program THE THISTLE & SHAMROCK.
The idea for a narrated version of A Celtic Tale came from several sources, immediately after we released the recording of the music. But who could do vocal and emotional justice to the dramatic text, not to mention pronounce all those guttural, consonant-laden Gaelic proper names?
There was always only one choice: FIONA RITCHIE, producer and host of the nationally-syndicated NPR program of Celtic music, The Thistle & Shamrock. Not only could Fiona pronounce all the names correctly, her beguiling Scots brogue would animate the story with the authentic inflection and cadence of the original oral tradition.

The music for A Celtic Tale was composed by Canadian brothers MYCHAEL and JEFF DANNA, both film scorers, as the soundtrack for an imaginary film of the beautiful and tragic medieval Irish legend of Deirdre. The score brings together the best elements of Celtic folk, symphonic, and ambient recordings, and sets a glorious new standard for popular Celtic music.

A wide array of Celtic folk instruments - fiddle, tin whistle and flute, guitar and mandolin, Uillean and Highland pipes, wirestrung harp, concertina and bodhran, with all their bite and pungent overtones - are here surrounded with the harmonic richness, color, and power of the orchestra. In a recording that abounds in outstanding performances, KRYSIA KOCJAN's powerful reading of the song "Lament," with original lyrics by John Stuart Dick, rings in the mind long after it is first heard. The soulful blasting of the highland pipes, flat out against the full strains of the orchestra is another highlight.

The Legend of Deirdre is a traditional Irish tale, at least a thousand years old, containing all the elements of similar myths from cultures around the world--magic, prophecy, beauty, fate, faith, romantic love, brotherly love, war, and transcendent death. Deirdre's great beauty - and fate - is foretold at birth, and ultimately there's no escape. Like Helen of Troy, her beauty provokes war.

Like other Celtic heroines, Deirdre is a provocative protagonist, able and empowered in both love and war, which are inextricably entwined in Celtic myth. Yet in the end hers is a tragic tale. Destined to marry a king, she nevertheless finds her true love. Inevitably the lovers are exiled, and when at last they return to their homeland, he is slain and she is imprisoned by the very king she was fated to wed. Thus the darker moments fully realize the depths of the epic battle between the forces of destiny and the struggle of the heroes, and finally, the inconsolate sorrow of love lost.
2-HOS-11073
---
Share this Product
---
More from this collection