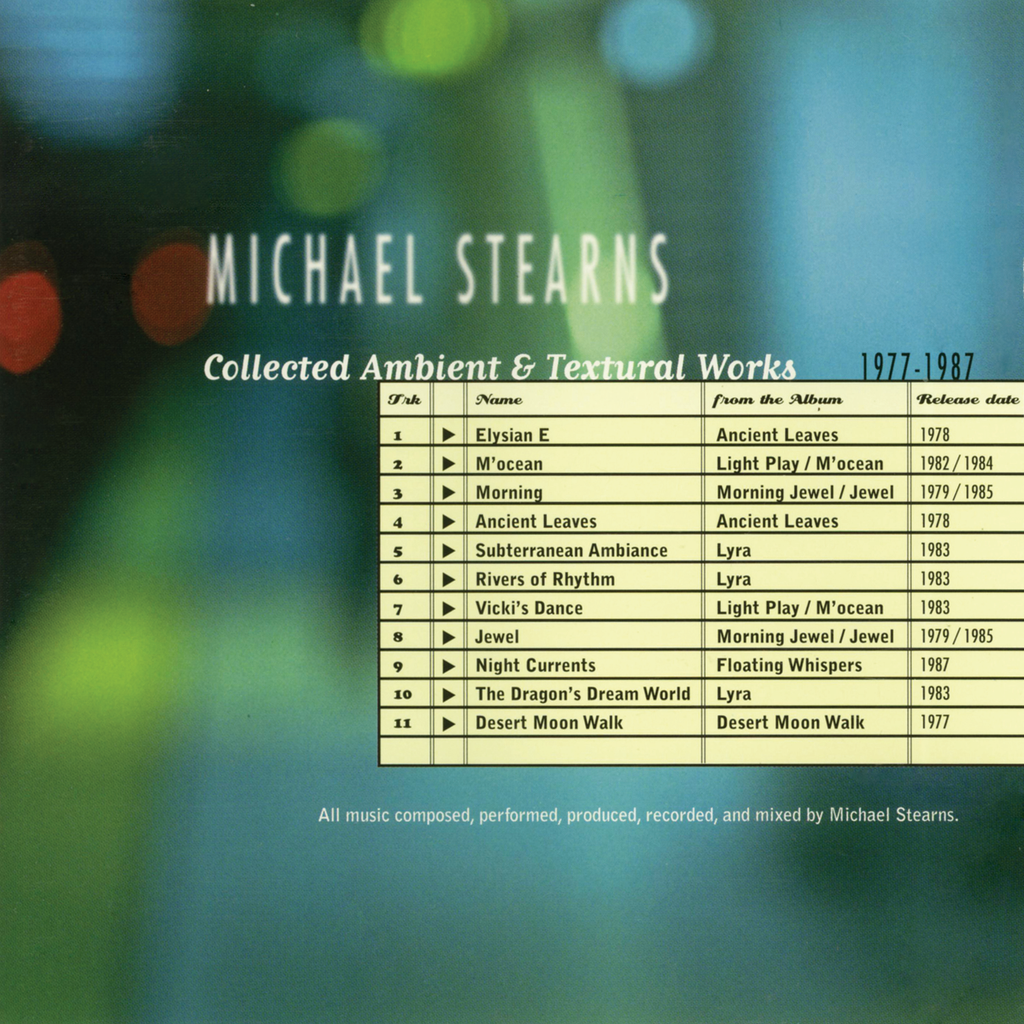 Hearts of Space Records
Michael Stearns - Collected Ambient & Textural Works (1977-1987)
All MP3 Downloads encoded at 320 kbps unless otherwise specified.
This CD compiles the best of the first ten years of Michael Stearns' "ambient and textural" material, all long out of print or previously unreleased.
Stearns anticipated the now-fashionable use of ambiences and exotic location sounds years before the Aphex Twin. The late 1970s was a very exciting time for me, both in terms of personal growth and laying a new musical foundation. I had been playing guitar since I was about 14 (1962), first in surf music bands, then backing up concert artists such as The Lovin Spoonful and Paul Revere and the Raiders, later evolving to acid rock, and finally, in the mid 1970s, playing in a Las Vegas style revue. In 1967 I began to evolve my own personal music and explore musically in non-traditional ways, starting with compositions for guitar, organ, voice, and processed tape. These early sonic explorations were musical hieroglyphics for the inner and outer changes I was experiencing. At first, the only frame of reference my audience had for my private music was the drug experience. Over the years, the music grew and evolved but I still had no public context to define and develop into support for it.
In 1975 I met Emilie Conrad-Daoud and her husband Gary at a workshop in my hometown of Tucson, Arizona. I had been playing music in local bands, had built my first recording studio, and was producing commercials. Gary was playing music for Emilie's workshops using a Mini Moog synthesizer and processed tape loops. His music resonated with the sensibilities of my private explorations. And he had a context for his work. During their stay in Tucson we had a chance to hang out together and share our music and visions. By the time they left I had been invited and encouraged to move to Los Angeles, study with Gary and Emilie, and play music at the Continuum studio. Within two weeks my girlfriend Susan Harper and I tied up all our loose ends in Tucson and moved to LA!

At their studio I met and played with Don Preston of the Mothers of Invention, and Craig Hundley, with whom I formed the free jazz trio Alivity and later began my explorations in film composition. I also played with Fred Stofet, an amazing percussionist who bowed cymbals and played trumpet-like sounds through various hoses. Several years later, synthesist Kevin Braheny also joined the studio. The body of the work was performing live music on a daily basis for classes of Emilie's students who had come to participate in the process that she called "Continuum." At that time, Continuum included ritual meditations, breathing and sounding explorations, and what Emilie called "cellular movement." Along with the class work, there was often opportunity for live public performances. By 1977, I had formed a small independent record label with Susan Harper and a close friend and investor, David Breuer. This was the year of our first releases, Desert Moon Walk and Sustaining Cylinders.

After the release of Ancient Leaves in 1978, I performed a concert series in Los Angeles and Berkeley called "The Voice of the Dragon." The concerts were based on a dream realm I had been entering in which there was no differentiation between sound, movement, and color. To bring these dreamings into concert form, I worked with dancers Susan Harper and Emilie Conrad Da-oud and lighting designer Marianne Schneller.

Just before traveling to Berkeley to perform, I received a call from Stephen Hill, who had a radio program on KPFA-FM in Berkeley on Thursday nights called Music from the Hearts of Space. He had been listening to Ancient Leaves and invited me to be interviewed on his show while I was in Berkeley for the concert. At that time he hosted his show with his former partner Anna Turner. This was the beginning of my long association with Stephen and Hearts of Space.

This CD features music from the early albums Desert Moon Walk [1977], Ancient Leaves [1978], Morning Jewel [1979, re-released on CD in 1985 as Jewel], Lyra [1983], Light Play [1983, re-released on CD in 1984 as M'ocean], and Floating Whispers [1987].

During the recording of the earliest of these works, "Vicki's Dance" and "Desert Moon Walk," I was playing live at the Continuum studio. The source material for these pieces was taken from those early live performances.

"Ancient Leaves" and "Elysian E" were two of my first composed pieces. They were recorded in 1977 for release by my record label Continuum Montage. On them I wove the sound of the Mini Moog, Yamaha CS-80 and other early electronic instruments with a Finnish kantele, Gregorian Chants, and my own voice.

In 1979, with the piece "Morning" I began weaving ambient recordings made during my travels into the fabric of the music. These early field recordings were made with a cassette recorder and a pair of Pearl microphones. For "Morning" I recorded the ambiance of a desert sunrise outside Tucson, Arizona, and early morning sounds of the jungle village of Yelapa, Mexico. "Jewel" was created on the "Eikosany" vibes, an instrument created by Erv Wilson. The "Eikosany" is a set of vibes with 20 tones to the octave. The raw recording was made by fading up the microphone after the impact of the mallet on the bar. This created a soft envelope for each note without the sharp sound of the mallet striking the metal. The recording was then slowed down and processed. The vocals were sung by Marsha Lee and then recomposed and edited to fit the piece. "Night Currents" was recorded late one night in Big Tujunga Canyon in Southern California. While hiking up the canyon, I had a close call with a rattlesnake who was out looking for a midnight snack.

"Subterranean Ambiance," "Rivers of Rhythm," and "The Dragons Dream World" were recorded with sculptor George Landry's Lyra Sound Constellation, an installation at the Double Rocking G Gallery in Los Angeles in the spring of 1983. 'Lyra' was a gigantic electronic harp over 35 feet across and 20 feet high, with 156 strings tuned in a microtonal scale. One played the instrument by moving through it while bowing and plucking the strings. I also collaborated with George Landry on "Landlight," featured on my 1993 Hearts of Space album Sacred Site. All these pieces were recorded live with the instrument. One of my concerts with Lyra was featured on Ripley's Believe It or Not on ABC Television.

"Much of the material on this album was recorded on a four track analog tape recorder with no noise reduction.  Every effort has been made through digital mastering to bring the material up to current standards."
- Michael Stearns, Santa Fe, New Mexico, 1996
2-HOS-11068
 Credits
All music composed, performed, produced, recorded, and mixed by Michael Stearns. Mastered by Bob Olhsson and Stephen Hill at
Hearts of Space studio, San Francisco. © 1977-1987 Earth Turtle Music/BMI and Continuum Montage/BMI. Design & photography:
Rex Ray Art Direction: Stephen Hill. Artist photo: Karen Angle. Special thanks to Katya Beisanz, Kevin Braheny, David Breuer, -
Carolyn Conger, Emilie Conrad-Da'oud and Gary David, Susan Harper, Craig Huxley, Brugh Joy, George Landry, Linda Olsen,
Ron Peterson, Philip Stearns, Brian Swimme, and Stephen and Leyla Hill.
---
Share this Product
---
More from this collection