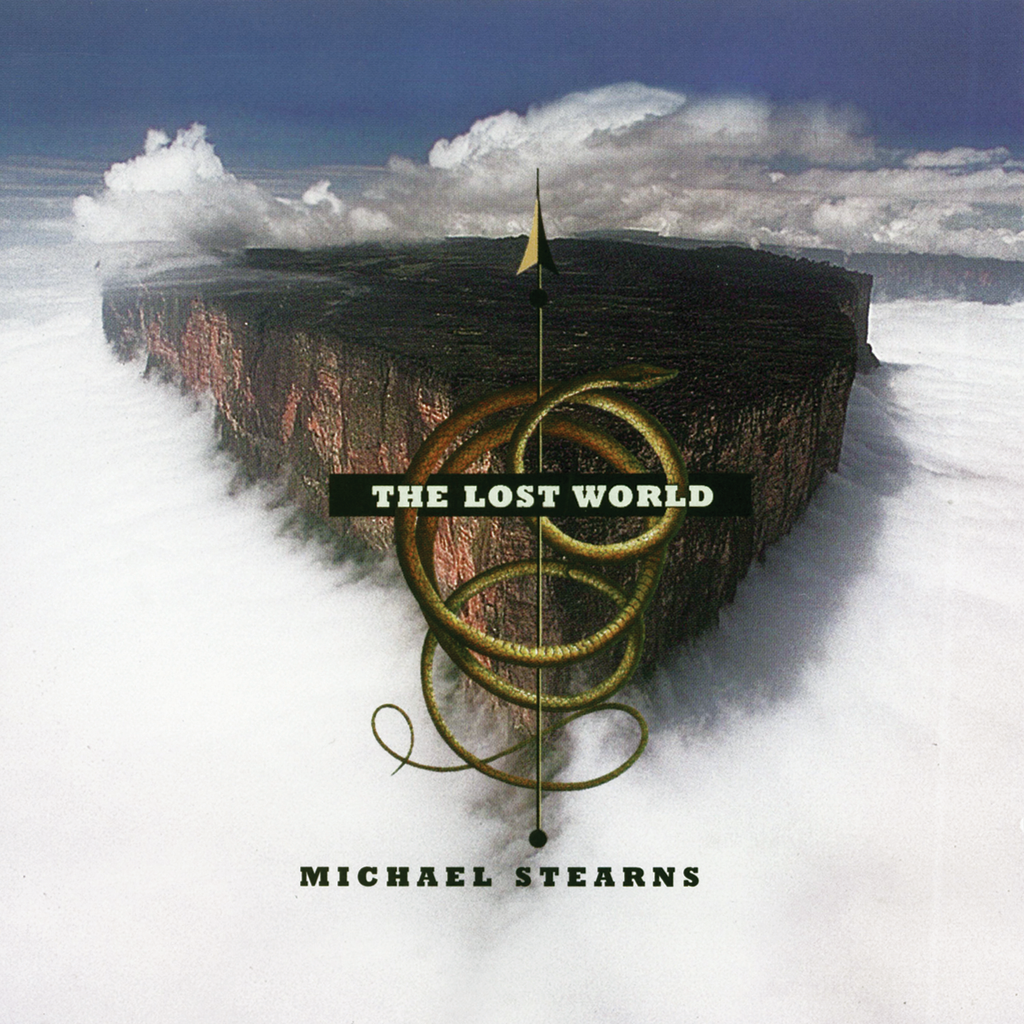 Hearts of Space Records
Michael Stearns - The Lost World
All MP3 Downloads encoded at 320 kbps unless otherwise specified.
Michael Stearns transports us to a Lost World of rare beauty and power.
Stearns has been able to incorporate the indigenous sounds of this prehistoric realm into an aural environment that allows us to share the anticipation, exhilaration, and surprise of this journey. Nine thousand feet above sea level, in the wild southeastern corner of Venezuela, an ancient sandstone mesa rises eerily out of dense, swirling mists and fog. One of many strange and haunting tepuis that tower above almost impenetrable thickets of tropical rain forest, Mount Roraima stood in grand isolation for more than a million years before the first European explorers dared ascend to its forbidding summit.
Four years after a 1990 National Geographic article reminded him about Mount Roraima and The Lost World, MICHAEL STEARNS realized a dream that began in childhood - to trek to Venezuela's "Islands in Time" and experience a natural domain that remains astonishingly remote from the ravages and complexities of modern civilization.

It was 1595 when Sir Walter Raleigh recorded his sightings of a "crystal mountain" during his exploration of Guyana. But it was not until 1884 that the first European expedition reached the top of the greatest of all the region's crystal mountains, Mt. Roraima. The British botanist on that trip returned to England and lectured extensively on his discoveries. One audience member, Sir Arthur Conen Doyle, extrapolated those tales into his 1912 novel, The Lost World - a book which captivated the childhood imagination of Michael Stearns.

A world traveler who has brilliantly translated his explorations into such sonic masterpieces as Sacred Site (2-HOS-11038) and Singing Stones (2-HOS-11042), Stearns now transports us as listeners to a Lost World of rare beauty and unfathomable power. As a musician who has mastered modern audio technologies, Stearns has been able to incorporate the indigenous sounds of this prehistoric realm into an aural environment that allows us to share the anticipation, exhilaration, and surprise of this journey.

In the opening moments of the recording, Stearns translates the awesome majesty of a thousand foot high waterfall into a surging musical gateway. Integrating environmental sounds into a spacious swirl of electronics punctuated by crystalline percussion, he captures both the enormity and the delicate minutiae of the otherworldly setting, where unique species of orchids, frogs, and butterflies find refuge in rock formations shaped by nearly two billion years of ceaseless erosion. Pressing on, we hear the echoes of thunder, the hum of insects, the calls of birds, and soar toward the heavens as the magnificent operatic voice of KERI RUSHTOI rides the crest of Stearns's vast instrumental wash.

With each track of The Lost World, we turn another corner, marvel at an extraordinary indigenous species of orchid or butterfly, conquer a lofty peak, and experience the anticipation, trepidation, and exhilaration of an odyssey into the unknown. "The Gran Saban" is not all ethereal atmospherics; it teems with tropical life and human ritual, and Stearns apprehends the sounds of the earth, the animals, and the tribes who dwell there. With 'singing' stones, wooden flutes, whistles, percussion, on-site ambient recordings, wind harps, and Keri Rushtoi's magnificent vocals, Stearns evokes the natural majesty of the place. He captures the enigmatic tone of the myths and stories he heard from the native Pemon and Warao people. In doing so, he gives us an entirely fresh perspective on our own relationship to worlds lost and found. 
2-HOS-11054
Credits
Lyrics and vocals: Keri Rusthoi and Michael Stearns
Percussion: Miguel Rivera plays Singing Stone on Imu
Paru and the Chivaton door on Matawi. David Korup
plays dumbek on Imu Paru. Mitchell May plays Lakota
flute on Volcano.
Michael Stearns plays synthesizers and sampled instruments,
assorted percussion, Treenotes, Pemon and Warao flutes, Hopi
Flute, Balinese flute, Maurilio whistles and The Beam.
Wind harp on Lost World Reprise designed and built
by Ross Barrable.
All natural backrounds recorded in the Lost World of Venezuela
except Volcano, recorded at Arenal volcano in Costa Rica.
All compositions by Michael Stearns, except Lost World
Theme, Sabana, and Reprise, lyrics by K. Rusthoi, and
Imu Paru, by Rivera and Stearns. 
---
Share this Product
---
More from this collection