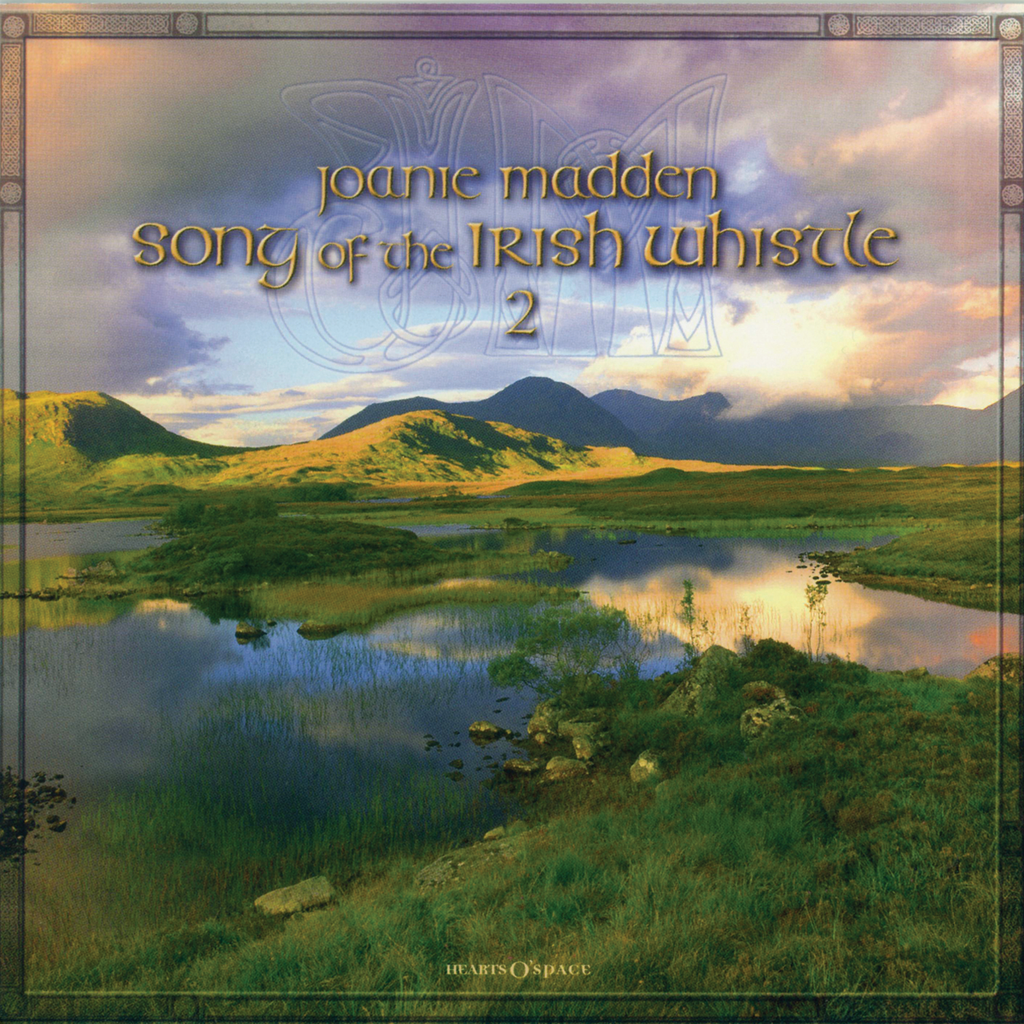 Hearts of Space Records
Joanie Madden - Song of the Irish Whistle, Vol. 2
All MP3 Downloads encoded at 320 kbps unless otherwise specified.
Volume 2 of JOANIE MADDEN's best-selling solo series is a mix of gorgeous ballads, sprightly dances, and two lavishly orchestrated tracks with the sound that drove the TitanIc score to megahit status, with uilleann pipes, bass, guitars, bodhran, accordion, harp, and percussion.
There's nothing halfway about Irish music. It can evoke a range of emotion like little else. When the fiddles, pipes and whistles are celebrating, it's hard to resist the urge to clap your hands, stomp your feet, and do those crazy step-dances. It's very social music from gregarious people that aren't afraid to let loose and enjoy life. At their festivities, joy and camaraderie flow like pints of stout and are just as intoxicating. But when the time for mourning comes, the Irish express their grief with the same passion. Even if you've never been there, a lonely flute evokes memories of lost loved ones and visions of the windswept cliffs of County Clare. A sad Irish song can make you want to cry in your Guinness and toast those who've gone before. The Irish can pluck emotions like harp strings.
There's always been a special connection between Ireland and America. We're people of the same stock - even if our individual ancestry might not be Irish. The Celtic influence in bluegrass, country music, and dozens of American variants is all too obvious. That deep connection is reflected in the music that Americans call their own.

With the renewed appreciation of Irish culture in this country, Celtic music can be heard everywhere from dance music to alternative, from rock to the soundtracks of major motion pictures.

From this centuries-old tradition comes JOANIE MADDEN. She was born in the Bronx to Irish immigrants who instilled her with pride in her heritage and exposed her to traditional Irish music. From the very beginning, she's earned the respect of her peers as the only American to win the All-Ireland Senior Tin Whistle title, and was selected as Traditionalist of the Year by the Irish Echo. She formed CHERISH THE LADIES, a six-woman group that performs traditional Celtic music and has recorded six albums to date. Madden is in demand as a collaborator with name artists, including Sinead O'Connor, The Clancy Brothers, Tom Chapin and Pete Seeger. She tours tirelessly and still plays the Irish pubs of her native New York.

On Song of the Irish Whistle, Vol. 2, she follows up her critically-acclaimed 1997 best-seller Song of the Irish Whistle, extending her mastery of one of the most expressive instruments in the Irish repertoire. In Madden's skilled hands, the eloquent voice of the whistle goes straight to the heart of life's joy and suffering. Madden particularly enjoys recording the Whistle albums, and that joy is obvious from the finished product. With these projects she can celebrate tradition with originality.

And plainly, the Irish tradition flows in her veins. She's penned tunes you'll swear are ancient reels and ballads, and plays a few that really are. These classic songs, she says, were written by people who may not have known all the technicalities of music, but wanted to reflect the beauty of nature. And it's our deep-rooted fondness for the very same things that makes it so easy for this music to capture our hearts.

With Song of the Irish Whistle 2, Madden once more displays her versatility on the penny whistle from the soothing strains of "John of the Glen," to the antic joy of "The Cat's Meow." "The Edge of the White Rock" is a haunting lament hundreds of years old. The whistle wails a song of sadness, painting a haunting picture without words. Setting a melancholy tone, staring over the Irish Sea into the twilight as the chill air bites deeply, reflecting upon a moment of loss.

Irish sister singers FRANCES BLACK and MARY BLACK lend their legendary talents to the traditional "Bantry Girls Lament." Their vocals provide a wonderful counterpoint to Madden's flawless solos. Madden proves that she may have been born in America, but she's Irish at heart. She's delighted by America's rediscovery of things Irish and is thrilled to be "in the right place at the right time."

So pull up a chair, share your thoughts with the friendly faces around you and let the music assuage your soul. Let it talk to you of love, of loss, of hope and the undaunted Irish spirit.
2-HOS-11090
 Credits
Recorded by Brian Keane at Little Big Feet Studios, Monroe,
CI at various times between August 1997 and January 1998.
Additional engineering by Ron Bach, Jeff Frez-Albrecht, Joe
Carrano, Sean Harkness, Tom Skarupa and Keith Chirgwin.
Additional recording at Presence Recording Studio, Westport,
CI, engineered by Brian Keane, assisted by Dennis Hrbeck,
and at Stare Studios, Dublin, Ireland, engineered by Brian
Keane, assisted by Alan Whelan and Terence Bonar.
Digital editing by Keith Chirgwin at Little Big Feet Studios.
Additonal editing by Ron Bach and Daniel Rowe.
Mixed by Brian Keane at Little Big Feet Studios, Monroe,
CI, assisted by Jeff Frez-Albrecht, Tom Skarupa and
Daniel Rowe
Mastered by Bob Olbsson and Stephen Hill
at Hearts of Space, Sausalito, CA
Art Direction: Stephen Hill
Design: Jeanne Bradshaw
Cover photograph: Images Colour Library, Ltd., London
Artist photograph: Keyvan Behpour / KVON! Photography,
Bridgeport, CT
Mary Black appears courtesy of Dara Records
Frances Black appears courtesy of Dara Records
Cherish The Ladies appear courtesy of RCA Victor
Eileen Ivers appears courtesy of Sony Classics
Jerry O'Sullivan appears courtesy of Shanachie Entertainment
"Pineburst" appears courtesy of the Tufts Foundation
Omar Faruk Tekbilek appears courtesy of Suzie Ickbilek
Carol Thompson appears courtesy of Dorian Records
"Homesteaders" appears courtesy of Shanachie Entertainment
and Steeplechase Films
For /cherisherei disingrary, visit her web page at
or email her at
ctladies@aol.com
Also by Joanie Madden
Song of the Irish Whistle
(Hearts O' Space 11060)
---
Share this Product
---
More from this collection