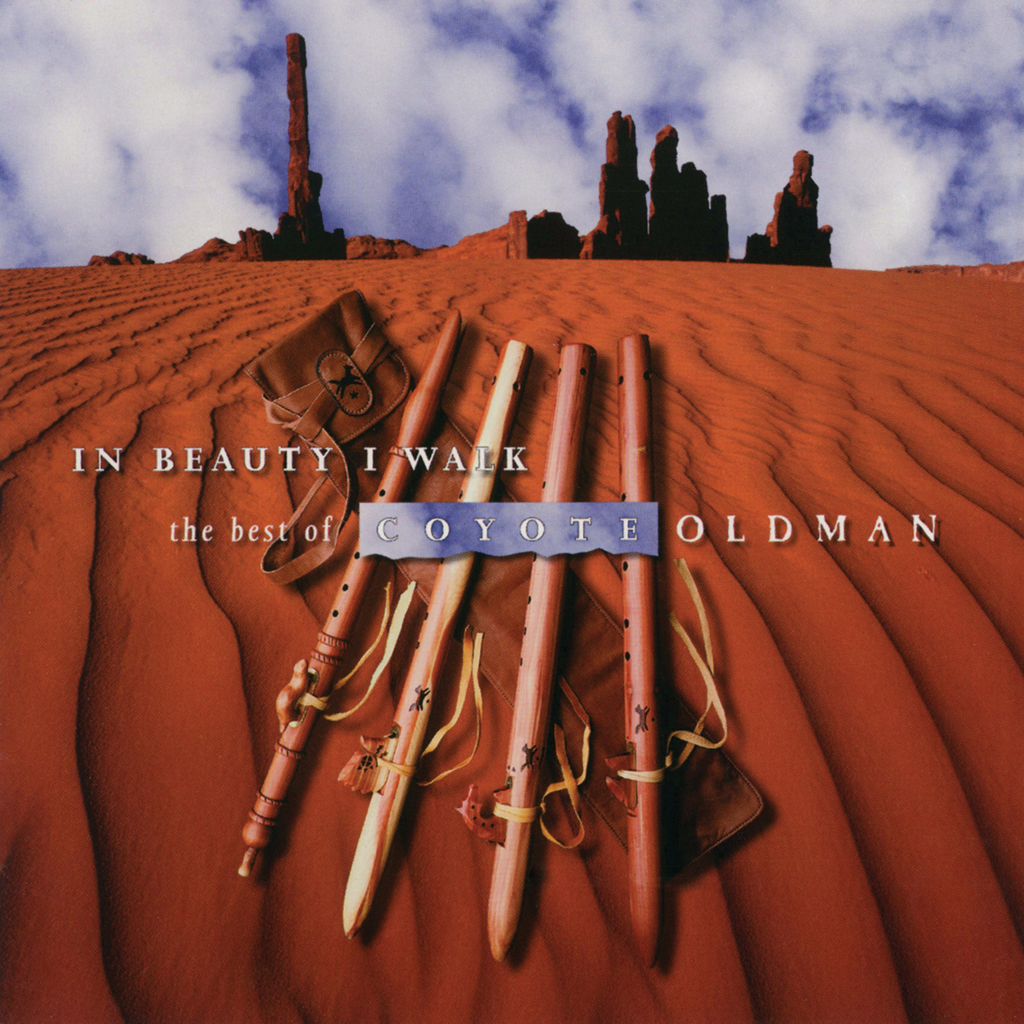 Hearts of Space Records
Coyote Oldman - In Beauty I Walk: The Best of Coyote Oldman
All MP3 Downloads encoded at 320 kbps unless otherwise specified.
Since 1986 COYOTE OLDMAN have evolved a powerful fusion of ancient wind instruments and creative sound design, and sold well over half a million records, setting the standard for the Native flute genre. Here's the very best of this ground-breaking group's first seven albums. The German composer Karlheinz Stockhausen once said that concepts of beginnings and endings in music were artificial. "To present a work of art with a particular beginning and end is only an illusion," he proclaimed. "It is one proposition of an excerpt of time, the timeless time."
Coyote Oldman lives in this time. With the first breath into their flutes, they open a gateway into this timeless world of sound. Between that first breath and the last exhalation, Coyote Oldman pulls down a sound that could have come from some mythical gathering in a prehistoric kiva, or a cyberspace meeting 20 minutes into the future.

The navigation chart for Coyote Oldman's odyssey can be found on the title track of their first album, Night Forest. It opens with a simple solo flute calling out across a canyon of digital echo. For 95% of the Native flute albums out there, that's as far as the trip goes. For Coyote Oldman's MICHAEL GRAHAM ALLEN and BARRY STRAMP it's just the beginning, as the piece evolves into a serpentine melody, joined by one, then another flute weaving ghost echoes and sympathetic resonances.

Their name comes from Oldman Coyote, the trickster and sometimes fool of Native American mythology. It was the name of Allen's flute company and it hung on, even though none of those characteristics would apply to Coyote Oldman. But Allen and Stramp do play Native flutes, as well as Incan pan-pipes and ocarinas and they use Native American iconography to give their music some kind of metaphorical-spiritual grounding.

Despite these Native cultural connections, Allen and Stramp make no glorification of their fractional Native ancestry. Instead, Coyote Oldman operates from a core sound in which many cultures are embodied. As much as they are playing Native music, you could also say they're playing Medieval hymns, 20th century space music or Tibetan chants. Coyote Oldman draws intrinsic links with other cultures, evoking, but not playing, the shakuhachi flute of Japan and the bansuri flute of India. On "Lunar Symphony" they sound like a cathedral pipe organ, with unimaginably low flutes booming out a rolling pedal tone.

Alabama-born Michael Graham Allen met Oklahoma-bred Barry Stramp in 1981 at an Oklahoma City crafts fair. Allen was there selling his hand-made Native flutes. At the time renowned Native flutist R. Carlos Nakai hadn't yet ignited the Native flute boom, and they were still a curiosity bordering on oblivion.

Allen is the founder, principal flutist and composer of the group. He is also the craftsman and earth voice of the duo. He researches the history of his instruments, tracking down flutes from many countries, but especially Native cultures of the western hemisphere. On this album you can hear flutes that Allen may have made a few days before the recording and clay ocarinas that might date back hundreds of years.

Barry Stramp is the modernist of the group. Classically trained in concert flute and composition, he also studied engineering and physics. That means he can drop references to Pierre Boulez and IRCAM as well as DSP and FFT processing into a conversation that started about live performance. It's Stramp's skill at studio manipulation that turns the raw material of Allen's flutes into the expansive soundscapes that are Coyote Oldman. They work together, manipulating the sound in real time, feeding back off the echoes, reverb, and harmonization as if creating a superflute. On pieces like "Ancient Light," they use these studio transformations to create traceries in the air as the high flutes descend through the atmosphere.

There is a remarkable synergy between these musicians. As soon as Allen would hear one of Stramp's manipulations, like his pan-pipes pitched down a few octaves, he'd go home and invent an instrument that would give him the same effect acoustically. One of these inventions, the C# Bass Flute, looks like the overgrown child of a bassoon and a Native flute.

For Coyote Oldman nothing is pure, but everything is purity. They mix technologies, create hybrid flutes and even bring in other instruments like Stramp's Chapman Stick on "Iron Wood," and MICHAEL FITZSIMMONS's percussion on "Dawn Procession." On "Compassion," the mournful soprano of singer HUI CHENG of the Chinese National Opera is etched across Coyote Oldman's solemn bass flutes.

For the most part, however, they stay, in Allen's words, "in our own backyard." You can hear Stramp playing shakuhachi and bansuri flutes on his solo album A Sky of Dreams as well as on Invisible Rhythm with his group, Satori. But in Coyote Oldman, it's strictly wind instruments from the New World.

"The Shape of Time," the most recent track on In Beauty I Walk, points to new directions for Coyote Oldman. Flutes sing like enormous train-whistles, creating Doppler effects through metallic tamboura-like drones, mysterious percussion and disembodied voices. It seems like no less than the sound of the universe opening up before you. For Coyote Oldman, that really isn't such a new direction after all. They are, as Stockhausen suggests, surfing the winds of a timeless sound.
Tracklist 
| | | |
| --- | --- | --- |
| 1 | Ancient Light | 3:35 |
| 2 | Night Forest | 7:58 |
| 3 | People Of The Glacier | 9:00 |
| 4 | Rolling Earth | 3:17 |
| 5 | Iron Wood | 6:02 |
| 6 | Tear Of The Moon | 9:56 |
| 7 | Dawn Procession | 4:28 |
| 8 | Lunar Symphony | 6:30 |
| 9 | Compassion | 5:20 |
| 10 | Thunder Chord | 5:26 |
| 11 | The Shape Of Time | 8:38 |
| 12 | A Splendid Sky | 2:36 |
2-HOS-11074
 Credits
Composed, performed, and produced by Michael Graham Allen and Barry Stramp
Original tracks recorded and mixed 1986-1995 by Barry Stramp and Michael Graham Allen
Many of the instruments used are handmade flutes and panpipes custom designed by Michael Graham Allen
Compilation produced by Stephen Hill Digital remastering Stephen Hill and Bob Olhsson
at Hearts of Space Studio, Sausalito, California
All compositions ©1986- 1995 Xenotrope Music/BMI
Landscape Photography David Munch Flute Photograph Sanford Mauldin
Art Direction Stephen Hill
Design and Production Cynthia Wigginton
All compositions previously
released on Coyote Oldman albums
---
Share this Product
---
More from this collection