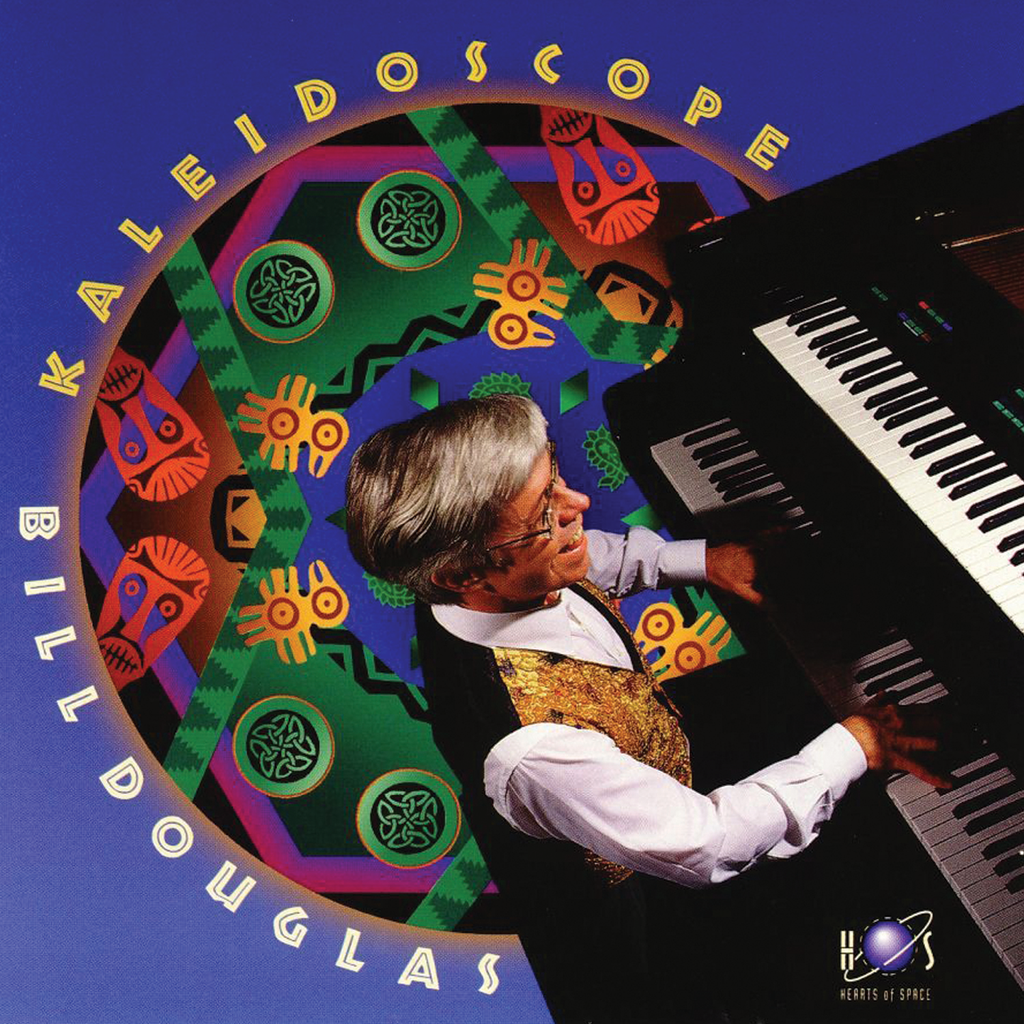 Hearts of Space Records
Bill Douglas - Kaleidoscope
All MP3 Downloads encoded at 320 kbps unless otherwise specified.
On Kaleidoscope, in addition to BILL DOUGLAS' hybrid classical/jazz/electronic folk foundation and trademark melodic lyricism, he's gone all-out and added an array of gleaming highlights from Celtic, North African, West African, Indian, and South American music and instruments.
I will find out where she has gone
And kiss her lips and take her hands;
and walk among long dappled grass,
And pluck till time and times are done
The silver apples of the moon,
The golden apples of the sun.
-William Butler Yeats
Producer and former Nightnoise member BILLY OSKAY collaborated on pre-production for BILL DOUGLAS' Kaleidoscope, basic piano tracks on several tunes, and the arrangement for Voyage and declared Bill "a monster keyboard player." As a result you'll hear a lot more prominent piano work on this album.

Also new is the use of electric bass throughout in the agile, virtuoso hands of fellow Boulder musician DEAN PEER (who literally wrote the book on bass harmonics), and the solid-but-sensitive trap drumming of LARRY THOMPSON on several tunes. Other Denver-area musicians include classical symphony players BIL JACKSON on clarinet, DAVID LOCKINGTON on cello, ANNE STACKPOLE on flute, and ALEXA ZIRBEL on oboe.

GEOFF JOHNS returns to anchor Bill's hand drum section, with the addition of TY BURHOE on tabla and additional frame drums. And former Windham Hill and Celestial Harmonies vocalist THERESE SHROEDER-SHEKER contributes a radiant - verging on angelic - rendition of W.B.Yeats's famous poem "Song of the Wandering Aengus," here titled "Golden Apples of the Sun."

All in all, you'll find Kaleidoscope a scintillating twelve-course banquet for the ear.
Credits
PRODUCED BY STEPHEN HILL, BILL DOUGLAS, JEFF SHUEY AND BILLY OSKAY.
Piano on Sapphire, Sweet Rain, Brilliant Star, and Voyage recorded April 1992 by BILLy
OKAY at Billy Oskay Studio, Portland, OR. Everything else recorded 24 track Dolby SR
at Kerr-Macy Music Group, Denver, June 1992 by JEFF SHUEy. Mixed August 1992 at
Colorado Sound, Denver, by JEFF SHUEY, STEPHEN HILL, and BILL DOUGLAS. Mastering at
Hearts of Space Studio, San Francisco, by STEPHEN HILL.
Voyage arranged by BILLY OKAY, courtesy of Windham Hill Records.
THERESE SCHROEDER-SHEKER appears courtesy of Celestial Harmonies Records. Lyrics on
Golden Apples of the Sun by William Butler Yeats from The Song of the Wandering
Angus. Choral arrangements of Golden Apples of the Sun and Deep Peace from Bill's first
album lewel Lake are available through the Chalice of Repose Project, edited by
Therese Schroeder-Sheker and published by St. Dunstan's Press. For information, write
CORP, 554 West Broadway, Missoula, MT 59806, or phone 406-542-0001,
ext. 2810.
Kaleidoscope computer graphic and Design by HILARY DAVIS. Art Direction
by STEPHEN HILL. Bill's photos by MARI KANE, Carlson-Kane Studio, San Francisco.
2-HOS-11035
---
Share this Product
---
More from this collection