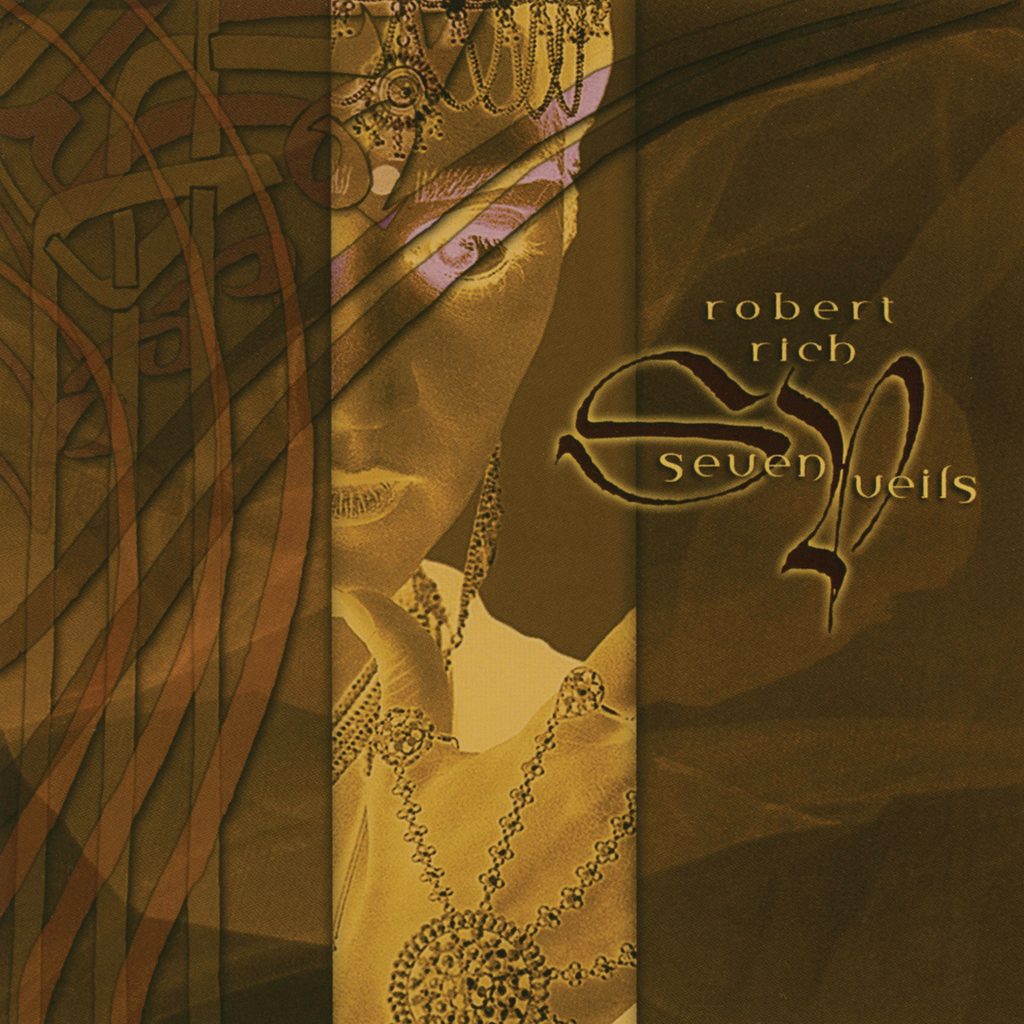 Hearts of Space Records
Robert Rich - Seven Veils
All MP3 Downloads encoded at 320 kbps unless otherwise specified.
Seven rhythm-charged compositions with the exotic, sensual ambience of the Middle East from Robert Rich.
Robert Rich has shown uncanny skill at merging ethnic instruments with electronic enhancements. Seven rhythm-charged compositions with the exotic, sensual ambience of the Middle East. A must-have record for any World/Ambient aficionado. "All music is world music."
- Lou Harrison, composer
Seven Veils is artfully woven in layers of musical and metaphysical mysteries, and each time it is heard, more can be uncovered. ROBERT RICH's chosen focus as a composer is sound driven by his intense response to music from Middle and Far Eastern cultures and its many expressions of musical tradition, as well as his "perception of awe for the universe...and how small we are" as bits of living matter in the Petri dish called Earth. The seven-track release reflects Rich's interest in non-Western music and those elements find their way into his work. Particularly affected by North African/Egyptian trance, Persian, North Indian classical, and Indonesian gamelan music, Rich wanted to utilize himself "as a crucible to melt together these influences into something that feels personal." Seven Veils conveys Middle Eastern music's ecstatic element, open to the honest ecstasy within itself, and the resultant communal ritual "magic" that enthralls so many Western listeners.

"Unlike a lot of Western adaptations of non-Western music," adds Rich, "I am not adopting musical vocabularies undigested, but absorbing them and trying to make them into my own voice." Seven Veils can be heard as an expression of an individual searching for truth, and not a pastiche recognized as a bunch of other cultures' music. Rich wanted every note to be honestavoiding obvious references to established ethnic styles. With collaborators DAVID TORN on guitar, HANS CHRISTIAN (who also records with Robert's group, AMOEBA) playing cello, FORREST FANG's gypsy violin, MARK FORRY's Balkan kaval, and the fretless bass of ANDREW MCGOWAN, Rich mixes in his own keyboards, steel guitar, flutes, and the prevalent hand drums, which serve as the heartbeat amid the flow of Seven Veils. Rich's production is pristine, making this an audiophile-quality recording, allowing the listener to differentiate between each acoustic and electronic element, yet feel enveloped by the warm and inviting whole.

Rich is cultivating a seamless blend of body music with Seven Veils. Merging physical, conceptual and mystical elements, the music strives for ecstasy and unity while staying grounded in a lush sensuality. By incorporating, not regurgitating, the vocabularies of non-Western music and traditional truths in his original fashion, Robert Rich's Seven Veils is a balance of body music in which we can find honesty and ecstasy.
2-HOS-11086
 Credits
ROBERT RICH • SYNTHS 6 SAMPLES, DRUMS & PERCUSSiON
BAMBOO AND PVC FLUTES, LAP STEEL GUITAR, RUBBERBAND MARIMBA
DULCIMER, WATERPHONE, GLUMP
WITH
DAVID TORN . GUITAR ON ALHAMBRA, BOOK OF ECSTASY
HANS CHRISTIAN . CELLO ON BOOK OF ECSTASY, LAPIS
TORREST FAMN. VIOLIN ON TALISMAN OF TOUCH
MART FORRY . BALKAN KAVAL ON DiSSOLVE
ANDRIW MCGOWAN . BASS ON ALHAMBrA
---
Share this Product
---
More from this collection