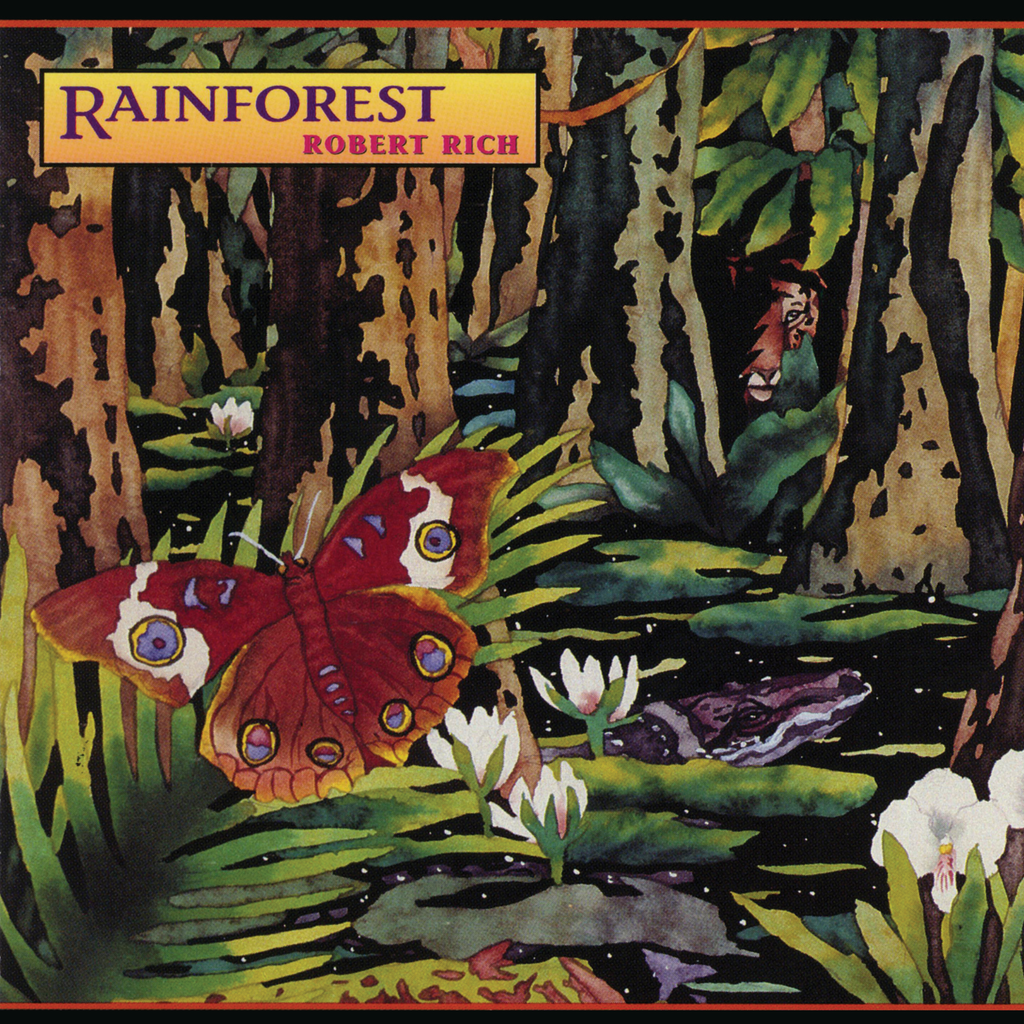 Hearts of Space Records
Robert Rich - Rainforest
All MP3 Downloads encoded at 320 kbps unless otherwise specified.
Robert Rich's first Hearts of Space Records album!
Rainforest takes you on a polyrhythmic journey into the lush green beauty of the tropical soundspace. A rich, magical ambience and welter of musical influences from southeast Asian gamelan to European classical electronic stretch the mind with a seductive, multi-cultural mix. Rainforest demonstrates the paradox of contemporary electro-acoustic spacemusic projects, with its high-tech approach to some very ancient musical experiences. Digital samplers, computer sequencers, specially tuned synthesizers, conventional acoustic instruments, skin drums, and ambient sound recordings all cohabit a seamless musical and spatial environment.
On the deepest level, Robert Rich says the music is about the "yearning for unity... couched in the metaphor of a world of lush green beauty." And you can dance to it! (here and there), while you discover some musical dimensions your parents never told you about.

A portion of the proceeds from sales of this album support the Rainforest Action Network, a non-profit action organization working to save the world's rainforests.
Tracklist
Mbira

4:11

Rainforest Suite:

The Forest Dreams Of Bach

5:45

Drumsong

4:41

Surface

5:54

-

Sanctuary

6:24

Temple Of Eyes

5:19

The Raining Room

6:51

Veil Of Mist

10:38

A Passage In Bronze

3:30
Credits
Musicians
Robert Rich: sampler and synthesizers, Israeli & Persian
doumbecs, bamboo flutes, ocarina, lap steel guitar odd
percussives, glurp.
Carter Scholz: bonang on A Passage In Bronze
Andrew McGowan fretless bass on Mbira
All Music © 1989 Soundscape Productions / BMAI
Recorded and Mixed during 1988-89 at Soundscape by
Robert Rich, A Passage In Bronze recorded at The Lobby,
San Francisco, Mastered to DAT al Hearts el Space,
Studio by Stephen Hill & Robert Rick
2-HOS-11014
---
Share this Product
---
More from this collection