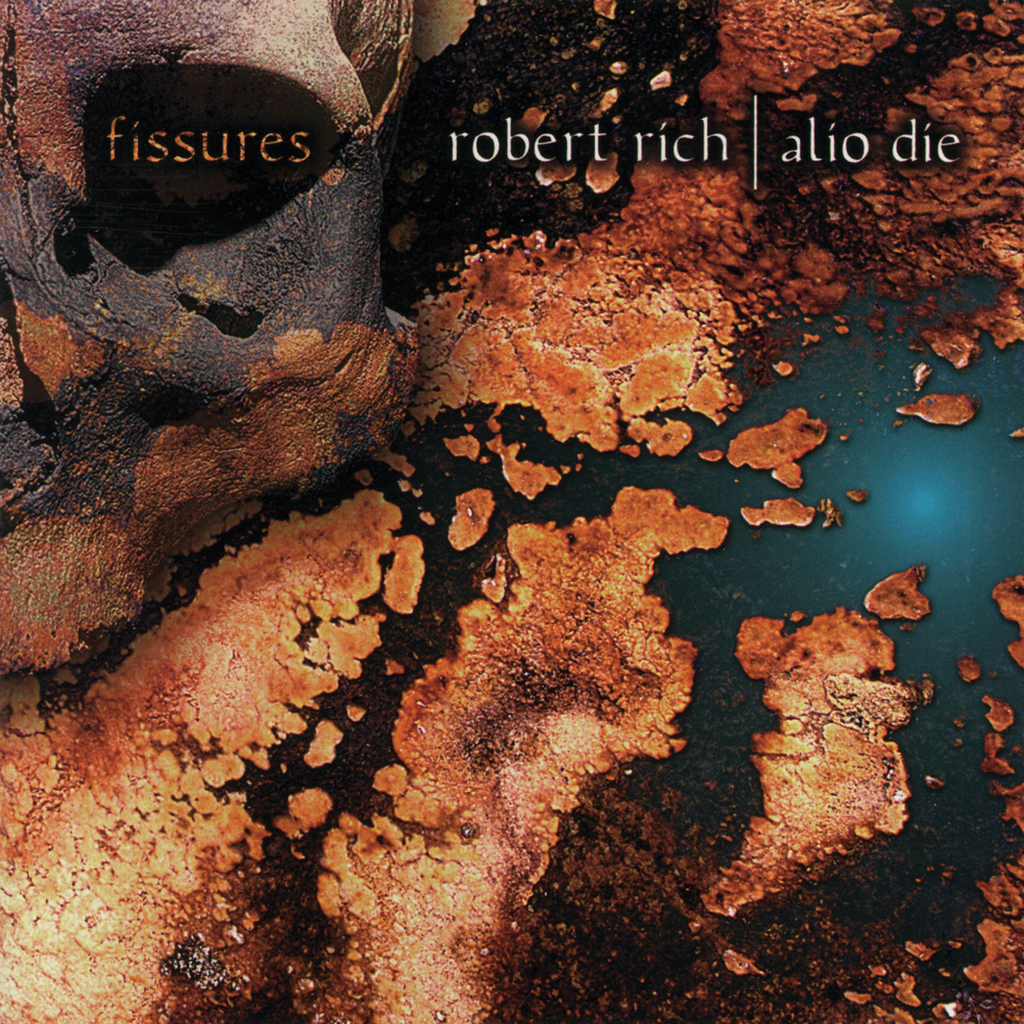 Hearts of Space Records
Robert Rich & Alio Die - Fissures
All MP3 Downloads encoded at 320 kbps unless otherwise specified.
Acclaimed California electro/acoustic composer Robert Rich joins soundscape constructor Alio Die for this eerie, nostalgic set.
Acclaimed California electro/acoustic composer Robert Rich joins soundscape constructor ALIO DIE (Stefano Musso) for this eerie, nostalgic set. Haunting phase shifts, metallic chords and vast sonic panoramas guide you into soft alien realms: very gentle and sweet. When seen from an unfamiliar viewpoint, even the most familiar object can seem outlandishly alien. Under extreme magnification, oil on the surface of water is a rioting nebula of color; an eggshell is a new planet of plunging valleys and treacherous cliffs. These perceptual cracks in the everyday insure that nothing can be too familiar, that alien encounters may be as likely found within as "out there."

Fissures, the new collaboration between conceptual electronic composers ALIO DIE (Stefano Musso) and ROBERT RICH, is the soundtrack for such psychic displacements, an acoustic and electronic report on the commerce between nature and technology, and structure and amorphism. The music is a rendezvous of divine symmetries, balancing Alio Die's centerless, synthetic beds of sound and Rich's subtle progressions and instrumental arcana. Characterized by recognizable shifts in color - from the strangely familiar surges of half-remembered novenas, to the rhythmic nodes that reflect nature's ceremony - Fissures marks a unique juncture in two innovative artists' careers.

"Stefano and I met in 1991, when he wrote asking me to contribute to a compilation, and sent me a CD of his debut album, Under An Holy Ritual. I thought it was excellent, and we quickly formed a strong musical rapport," explains Rich.

"Stefano is a sound constructionist who is very sensitive to layers and slow, subtle juxtapositions. His music has a real nostalgia, eerie but not dark. His contribution is sometimes more felt than heard." Musso's role in plotting many of the abstract sounds and drones on Fissures yields some trademark Alio Die moments, such as the haunting phase shifts of "Mycelia" and strange metallic chords of "The Road to Wirikuta."

Bonds to the natural world played a strong part in the conception of Fissures, as Rich explains. The album's vast sonic panoramas have origins in both theoretical and practical considerations: "I know it's a controversial thing to say, but synthesizers aren't capable of certain things. The organic, animal connection you have to the sound making process is lost. That's why Stefano and I approached the recording by employing all the technologies available to us, which includes many acoustic instruments. The sound sources on Fissures are amazingly acoustic, while electronic processing plays a role in setting the atmosphere."

Likewise, the perceptual cracks through which the listener falls are those that derange the common outlook of the world. "In the microcosmic world, when you look at details under a microscope, you get a sense of the vastness of minutiae. The hugeness of the music in Fissures mirrors the hugeness of the single-celled organism when seen acutely, closely."

Fissures also marks a departure from Rich's so-called "dark ambient" work that has populated several memorable compilations over the past three years, and collected on Fathom's A Troubled Resting Place. This too draws back to the album's central motif and title: the cracks in the world that allow passage into realms both alien and imminent. "A 'fissure,' in the shamanic sense," says Rich, "is the point where you dive between worlds. The connection for me in this metaphor is that the journey is undertaken for healing purposes. Stefano and I took a similar journey in our collaboration, and what we brought back is surprisingly gentle, although not without its shadows." 
2-HOS-11076
Credits
 Stefano Musso (Alio Die) samples, textures and drones
Robert Rich synths, flutes, percussion, dulcimer, steel guitar
All compositions 01987 by Robert Rich and Stefano Musso
Published by Amoeba Music/BMI | Administered by Liminal Music/BMI
Check the Robert Rich Web page at http://www.amoeba.com
Recording Robert Rich and Stefano Musso
at Soundscape, Cambria, Nov-Dec, 1996. Mixed by Robert Rich, Jan. 1997.
Mastering Bob Olhsson and Stephen Hill at Hearts of Space, Sausalito, California
Design | Jamie Ruderman
Photographs 1 Werner Kruthein/Photovault
Additional photographs Robert Rich
Art Direction Stephen Hil
---
Share this Product
---
More from this collection