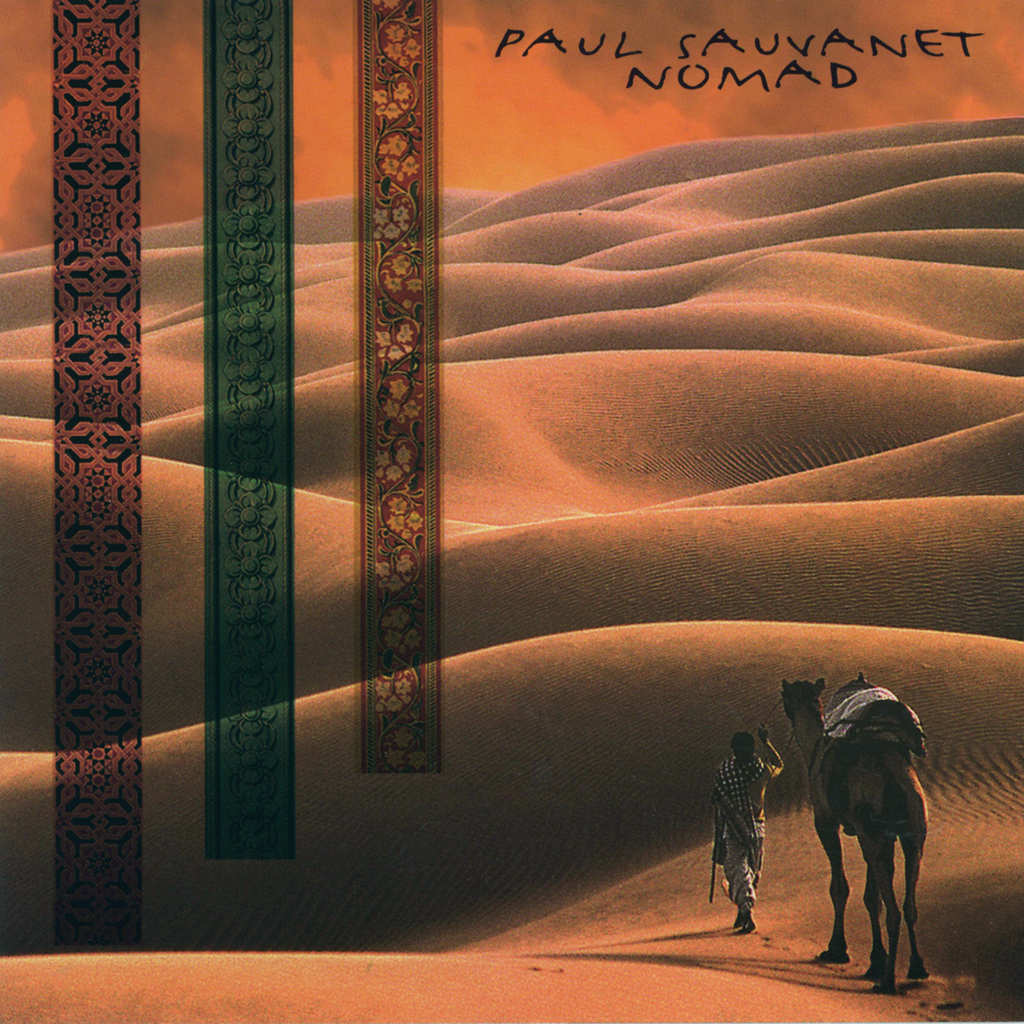 Hearts of Space Records
Paul Sauvanet - Nomad
All MP3 Downloads encoded at 320 kbps unless otherwise specified.
French composer PAUL SAUVANET's Nomad creates a widescreen journey to exotic cultures in North Africa, India, Spain, and beyond.
Nomad achieves a rare balance between classical form and ambient atmospherics with an orchestral style full of subtlety, beauty, and power. From 22,000 miles above earth the Apollo astronauts looked down on cloudless nights and saw the campfires of nomads in the Sahara desert. Separated by centuries of technology and vast distance they realized that - high tech or no tech - in the end both they and the nomads were travelers.
Paul Sauvanet is a traveler and a musical nomad. He has visited four of earth's six habitable continents, absorbing the musical forms of many cultures and integrating them respectfully into his own compositions. On Nomad, Sauvanet's musical compass points to three of his best-loved destinations: North Africa, India, and Spain. He completes the journey with a visit to the "Land of the Angel," a virtual world which exists in the realm of imagination.

The first two tracks take the listener to North Africa for a musical portrait of the desert world. Sauvanet's Digital Symphony Orchestra, an array of synthesizers and samplers, convincingly reproduces the timbres of the orchestra, along with ethnic percussion and indigenous instruments of the region. On "Oasis," reedy woodwinds snake sinuously over a shifting minor key orchestration to convey the bustle and beauty of refuge at a water hole; a brief but welcome respite for travel-weary nomads from their desert excursions.

If "Oasis" finds the nomads in repose, then the title track is evocative of the long desert journey. At over nine minutes, "Nomad" is all burning sand, shimmering mirages and blistering sun, driven by the insistent rhythm of ethnic percussion. Unrelenting as the desert heat, the music marks a long march across barren dunes, a journey that lasts from the last cool breeze of morning until the cool night air brings relief.

Next is "Madurai Temple," the destination of pilgrim travelers. One of the oldest cities in southern India, Madurai is the cultural center of the Tamil people and home of the Meenakshi Temple, which daily attracts thousands of pilgrims from throughout India. Thick with the atmosphere of ritual, ceremonial bells resonate as a wordless chorus wafts above a low drone and through the music like smoke from drifting incense.

"Bolero Excelsis" takes the listener to Spain for a hypnotic dance that builds volume, speed and instrumentation gradually, in the manner of Ravel's classic. It features fine sax work by SYLVAIN TEJERIZO which soon gives way to the sounds of clarinet, flute and oboe weaving around bowed and muted pizzicato strings. When the music reaches its initial peak, snare drums and castanets urge the journey on with new passion.

The album ends with a return to the western classical tradition. "Land of the Angel" is a beautifully orchestrated adagio not unlike the recent work of the Polish composer Henryk Gorecki. A long brooding introduction leads to a lyrical interlude which takes flight on the astonishingly beautiful voice of soprano CLAUDE HERMINE HUGUENEL. The most telling lines of the libretto are translated:

You, my beloved
My Angel of All Wanderings

The theme of journeys and travelers has finally become a reverent paean to a being who watches over us, guides us on our journeys, and protects us from harm.

"Land of the Angel" was written while Sauvanet was recovering from a serious injury, and part of his healing process involved utilizing his imagination to envision a place where creatures like this angel might exist. He even created a new language for this imaginary land which resembles German. It is in this invented language that Huguenel sings the emotional, poetic text of "Land of the Angel." This piece is fully comparable to Gorecki's enormously popular Symphony No.3: The Symphony of Sorrowful Songs and the performance Sauvanet has drawn from this unknown French soprano is possibly more beautiful than Dawn Upshaw's famed reading of the Gorecki.

Real or imagined, Paul Sauvanet views the multicultural landscape with a composers ear, a painters appreciative eye and a playwrights sense of drama. Listeners could not hope for a better guide, and the cultures he chronicles could not hope for a more sympathetic advocate.
2-HOS-11079
---
Share this Product
---
More from this collection