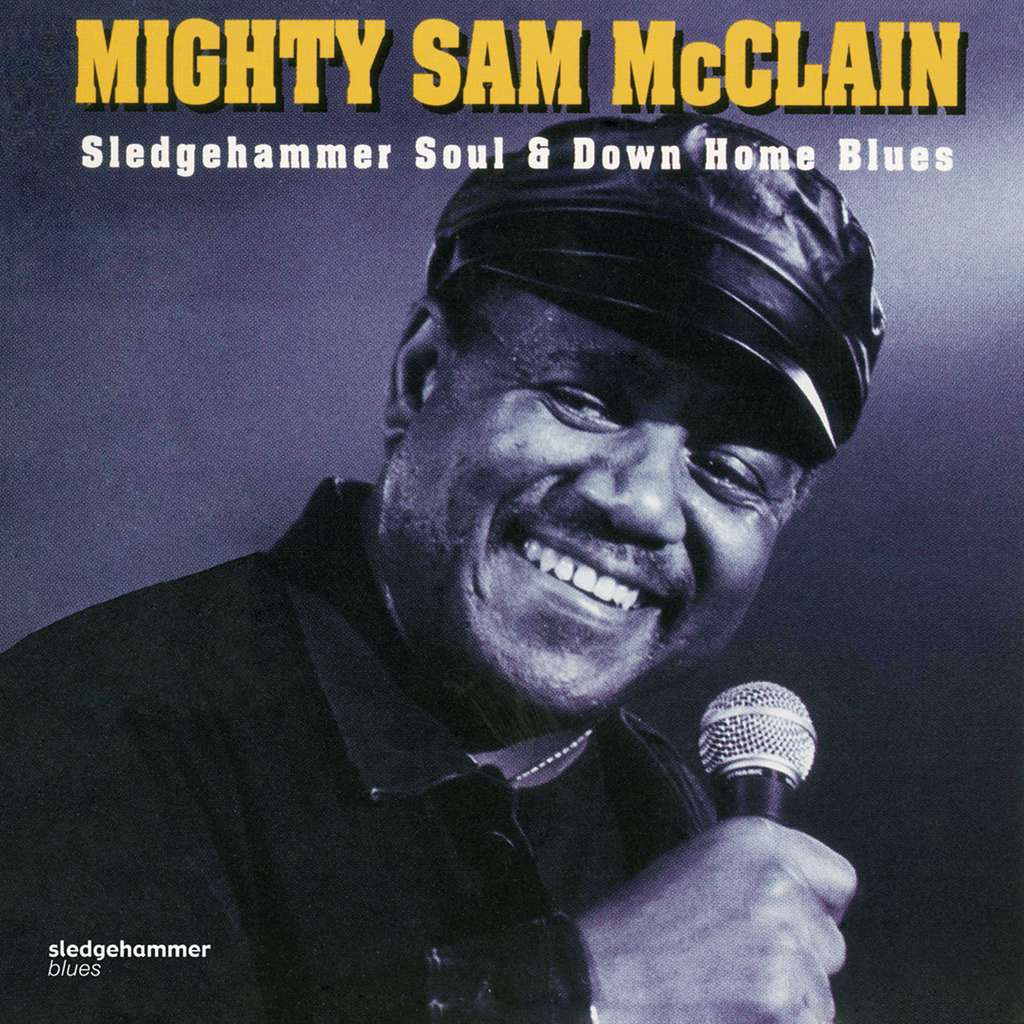 Sledgehammer Blues
Mighty Sam McClain - Sledgehammer Soul and Down Home Blues
All MP3 Downloads encoded at 320 kbps unless otherwise specified.
"First let me say with all my heart that I by no means take what I'm about to say lightly or for granted. I never thought of writing my own liner notes. Someone else has always done that and I am grateful. But to talk to you myself makes me very, very humble.   This is my third album for Joe Harley - AudioQuest Music - who gave me my first chance at writing, singing and producing my own music. As I talk about this project, I'm hoping that you also come to know the man inside the music. Enjoy... This music is meant to be a little different than either of the last two albums. I wanted it to be more mixed, up-tempo, and hopefully informative, inspirational and honest. I think I achieved that.  This album is dedicated to all the homeless, downtrodden and broken-spirited people all over the world. There is hope, my friends. But you must keep the faith."
- Sam McClain
"The title of this CD couldn't be more descriptive of its contents, for it illustrates that Mighty Sam McClain is indeed a master of sledgehammer soul and down-home electric blues." 
- Alex Henderson, All Music Guide


"McClain's third album for AudioQuest Music extends his winning streak. Soul lives wherever Mighty Sam McClain hangs his hat."
 - Living Blues
"McClain fires heartfelt lyrics to the core. He engulfs listeners in his enormous soul messages of love, exceptance, repentence, and honesty."
- Blues Review
"Mama! You've got to hear this one. Possibly the only senior capable of assuming Otis Redding's throne."
- Stereophile
Performers
Mighty Sam McClain - vocals
Bruce Katz - Hammond B-3 organ, piano
Kevin Barry - guitar
Ted "Teddy B" Bukowski - bass
Zac Casher - drums
Walter Platt - trumpet
Joe Casano - trumpet
Ted DeCola - tenor saxophone
Joe Golindo - trombone
George PapaGeorge - Hammond B-3 organ
Peter Giftos - guitar

Recording
Produced by: Joe Harley, Sam McClain
Recorded at Clinton Recording Studio, New York, NY - 28-29 April 1996
Engineers: Michael C. Ross, Adam Blackburn
Recording: The tracks were recorded live direct to two-track Studer A-80 @ 30 ips using 3M 996 tape.
Microphones: Neumann U-49, U-47 FET, U-47 Tube, M-49, U-87, U-67, U-69; Coles 4038; Schoeps CMC5-U; AKG C-24
Cables: AudioQuest Diamond X3, Lapis X3 and Digital Pro
Tracklist
1. Sledgehammer Soul & Downhome Blues
2. Where You Been So Long
3. Trying To Find Myself 
4. Things Ain't What They Used To Be
5. When The Hurt Is Over
6. Pray
7. They Call Me Mighty
8. Dancin' To The Music Of Love
9. Hey, Miss Bea
10. If You Could See
11. Bridge Of Faith
12. Don't Write Me Off

2-AQM-1042
---
Share this Product
---
More from this collection