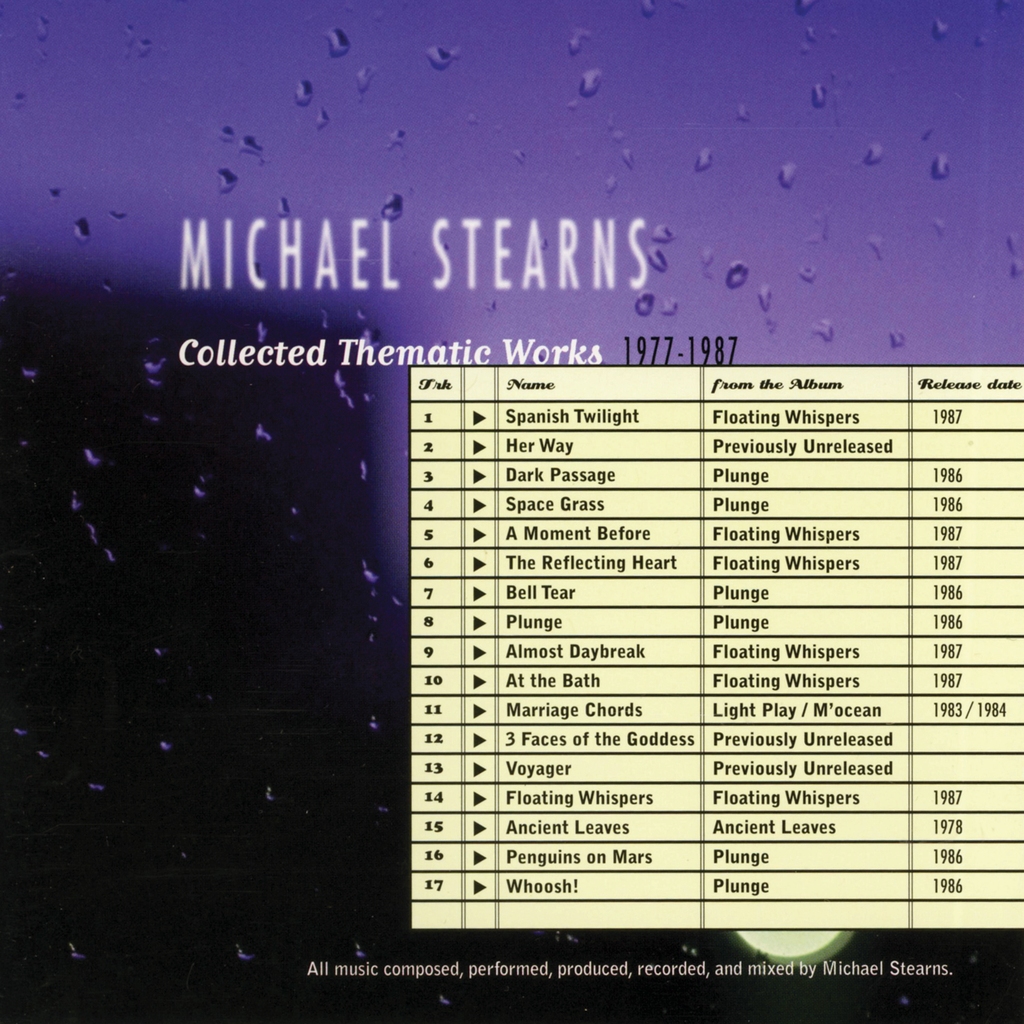 Hearts of Space Records
Michael Stearns - Collected Thematic Works (1977-1987)
All MP3 Downloads encoded at 320 kbps unless otherwise specified.
This CD compiles the best of the first ten years of Michael Stearns' "thematic" work, which took off from his early experiences as a rock and surf band guitarist and matured into his famous soundtracks for widescreen films like Chronos and Baraka.
Along with many of my composer friends and acquaintances from the late 1970s and early 1980s, I've occasionally been labeled a "New Age" composer. I remember one meeting held in Topanga Canyon with myself, Gary David, Stephen Hill, Georgia Kelly, Steven Halpern and others, to discuss what we could do about being labeled "New Age." Nothing.
Initially many of us did earn our bread and butter through a loose association with the New Age movement. At the time there were no formal distribution channels for such music, and many emerging artists made extra income on the New Age fair circuit. These were large public gatherings where people hawked everything from meditation techniques to communal life styles. We would travel around the country to different cities several times a year, set up booths and introduce the public to our music. Georgia Kelly, Constance Demby, Iasos, Steven Halpern, and Ethan Edgecomb of Fortuna Records were some of the others selling their music at these events. It was great exposure. During and after the shows we would get together to network, and exchange ideas.

As my main gig from 1975-1981, I played music for Emilie Conrad-Da'oud's Continuum Studio in Los Angeles. At Continuum, I was creating a live musical context for participants who were exploring what it might mean to be human in other than our habitual enculturated ways, through breathing, sounding, ritual meditations, and "cellular movement." It was a perfect context for my musical explorations and development, free from stylized musical forms and intonations. We created new musical instruments and new expressions, and wove into the fabric styles and instruments from other musical traditions. It was a very exciting time.

One of my other gigs was performing live at Brugh Joy and David Spangler's annual year-end conference at Asilomar, California. At this conference I would play live for the participants, along with other artists like Constance Demby, Larkin, Sandy Hirschman, Paul Abell, Georgia Kelly, Susan Osborn, and poet David Whyte. Stephen Hill had a large six channel surround sound system installed in the main hall, and he would spatially design and engineer all of the audio for us.

Steve Roach and I lived a few blocks away from each other and got together frequently, often helping with each others' projects. There was competition and camaraderie. As we were driven to create a musical metaphor for our experiences and explorations, the music evolved.

Concurrent with my other musical explorations, I began learning how to score music to picture and the technology of music recording for film. From 1979 through 1983, I worked with friend and composer Craig Huxley at his home studio in Sherman Oaks. The film scoring work varied from exploitation films like Schizoid to documentaries like ABC's The World of Explorers, and culminated in engineering the music for Firefox and Dreamscape for veteran film composer Maurice Jarre. In 1984, director Ron Fricke asked me to score the IMAX film Chronos, my first major solo effort. For Chronos I installed a six-channel discrete surround monitoring system in my studio in Santa Monica. This allowed me to compose an architectural score (along with the musical score) for the music and film soundtrack within the virtual theater environment of my studio. It also gave me the capability of producing and mixing sound tracks for large format films, which I immersed myself in for the next seven years.

This CD features music from my early albums Ancient Leaves [1978], Light Play [1983, re-released on CD as M'ocean in 1984], Plunge [1986], Floating Whispers [1987], and several previously unpublished pieces.

I composed and recorded Ancient Leaves at Continuum in the spring of 1977 and performed it live in August of that year at the "7-7-77" concert event in Ocean Park, California. The event featured myself, Francisco Lupica and his "Cosmic Beam Experience," dancer Lisa Walford, and other early New Age artists. After the release of Ancient Leaves on vinyl in 1978, I traveled to the San Francisco Bay area to perform "The Voice of the Dragon" concert series. While there, I met Stephen Hill and his former partner Anna Turner and was interviewed by them on their program Music From the Hearts of Space. At that time it was broadcast on Thursday nights on KPFA in Berkeley. Stephen was very interested in the context from which my music emerged, and shortly after the interview he traveled to Los Angeles and studied with Emilie for a month. While exploring at Continuum he stayed with me and Susan Harper, and we began to lay the foundation for what would be a long association that still continues.

In 1980, Susan Harper and I were married and I composed the piece "Marriage Chords" for the wedding. I performed it live at the wedding ceremony on the Serge modular synthesizer and recorded it with no overdubs. It was released initially on Light Play in 1983, and then re-released on M'ocean in 1984. In 1984, I arrived back in Los Angeles after traveling to Europe and Egypt with the Chronos film crew, and found a huge pile of new instruments and tape recorders literally sitting on my doorstep. "Voyager," a piece that I had entered in the Roland/Teac synthesizer tape contest, had won both First Place and Grand Prize.

"Three Faces of the Goddess Theme" and "Her Way" were created for a series of performances at the Asilomar conference, a collaboration between myself and dancers Susan Harper, Georgianne Cowan, Vicki Esken, Carolyn Conger, Sheila Rosen, and Stephanie Franz.

I released the albums Plunge in 1986 and Floating Whispers in 1987 between film projects. Plunge was a return to the guitar and some of the instruments and musical styles I had explored earlier in my life, while Floating Whispers was an album of ambient music.

"At the Bath" features early morning ambiance recorded near a water garden at an estate designed by Frank Lloyd Wright in California's Valley of the Moon.

"Almost Daybreak" was recorded using an early Oberheim system. This consisted of an OB-8 eight voice digitally controlled analog synthesizer, DMX drum machine, and DSX sequencer. It was the first system of its kind to integrate these components - the first digitally controlled "music workstation." Most of the other synthesizer work was done on a Serge Modular analog synthesizer, a favorite of that era. Kevin Braheny had introduced me to the Serge system. He was working for Serge at the time, and we were both playing live music and composing at the Continuum Studio. The tones created on the Serge became early trademark sounds, and you can still hear them in Kevin's and my music today.

Much of the material on this album was recorded on a four track analog tape recorder with no noise reduction. Every effort has been made through digital mastering to bring the material up to current standards. 
- Michael Stearns, Santa Fe, New Mexico, 1996
2-HOS-11069
---
Share this Product
---
More from this collection