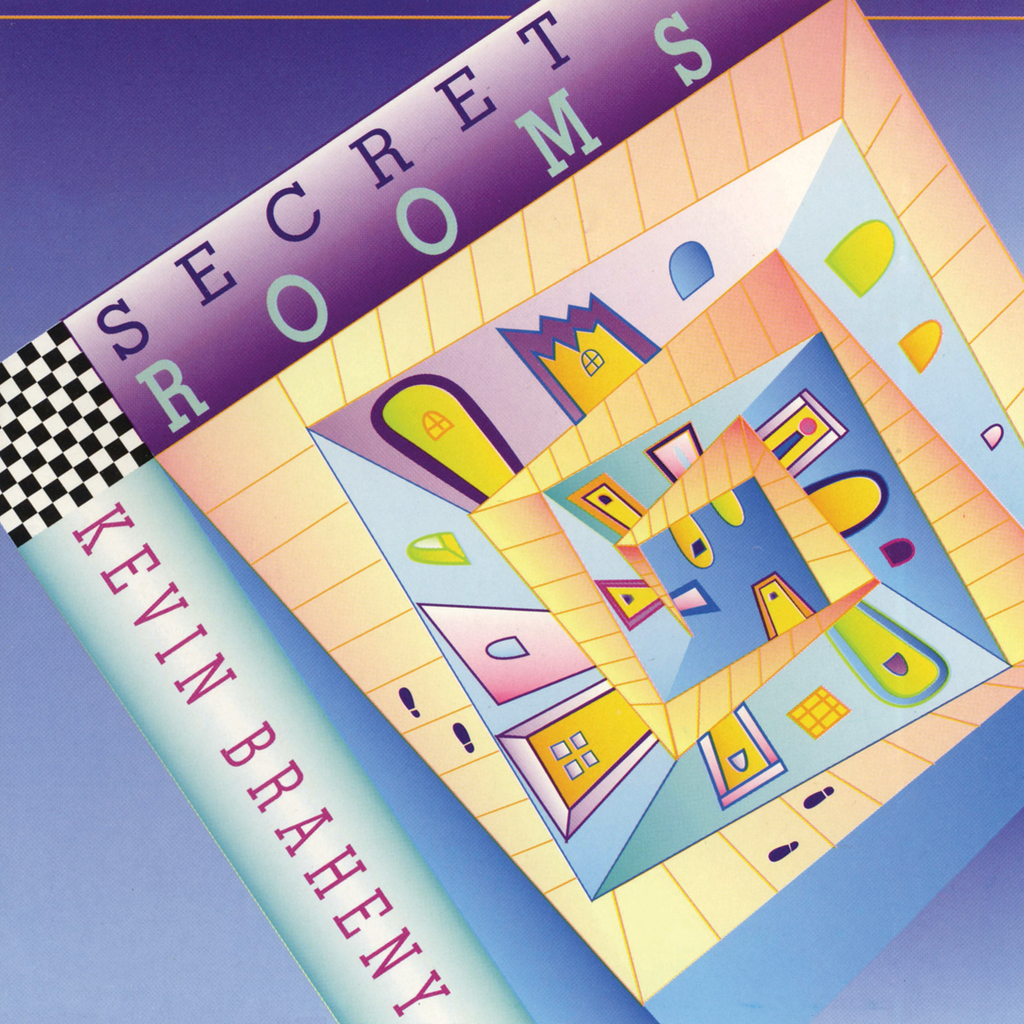 Hearts of Space Records
Kevin Braheny - Secret Rooms
All MP3 Downloads encoded at 320 kbps unless otherwise specified.
Secret Rooms - the 1991 release from Kevin Braheny.
Kevin Braheny's reputation as "one of the finest musicians on the new age music scene today" (Pulse!) rests on the subtle intricacy of his compositions and the sophistication, sensuality, and sensitivity of his sonic palette. Secret Rooms showcases significant growth in both these areas - as well as completely new developments. KEVIN BRAHENY's first two solo albums, Lullaby For The Hearts Of Space (1980) and The Way Home (originally entitled Perelandra [1984]), established his mastery of the serene, extended meditation. On the other hand, reviewers praised his 1988 planetarium soundtrack album Galaxies for the exquisite beauty of its very concise pieces.
While working on Galaxies and Secret Rooms, Braheny also participated in two successful collaborations: Western Spaces (1987), with Steve Roach and Richard Burmer, and Desert Solitaire (1989) with Roach and Michael Stearns. CD Review called the trio "three acknowledged synthesizer masters."

What separates the masters from the masses? Real synth heroes roll their own. Kevin actually builds much of his own equipment and creates all his own samples, often using his "Mighty Serge" modular analog synthesizer. For Secret Rooms, Braheny also built the custom 3-D binaural recording technology for the "Passages" that link the musical pieces. (Try listening to them through headphones to get the fullest effect.)

Secret Rooms unveils Braheny's expanded range as a composer. The brilliant "Shadowcatcher" and "'Til You Get There" represent his first significant rhythmic explorations to date, with ethno-percussion specialist Leonice Shinneman. Other pieces extend and deepen his trademark warmth, depth, and unerring melodic appeal.

The theme of secret "internal rooms" - hidden emotions, psychic states, spaces in consciousness, each with an individual ambience and identity - conjures up a journey that, in Kevin's words "is about experiencing the different spaces, and then using each experience to move on to the next."

Secret Rooms confirms Braheny's own ability to keep moving on - exploring, expressing, and evolving his singular talent in ever more significant and satisfying ways.
Tracklist
| | |
| --- | --- |
| Passage 1: Ingress | 0:45 |
| 'Til You Get There | 5:12 |
| Passage 2 | 0:20 |
| Shadowcatcher | 5:02 |
| Secret Rooms: Visited By Spirits | 6:24 |
| Passage 3 | 0:20 |
| A Moment With You | 6:17 |
| Forgiveness | 6:16 |
| Saturn Ballet (For Andrea) | 4:47 |
| The Magus | 7:35 |
| Passage 4 | 1:04 |
| Things Seen And Unseen | 6:19 |
| May Peace Prevail | 4:41 |
| Passage 5 | 0:39 |
| Hard To Say Goodbye | 3:29 |
| Passage 6: Egress | 0:45 |
Credits
KEVIN BRAHENY Prophet VS, Prophet 2002, Oberheim OBX-A, Oberheim SEM
4-voice, Casio CZ101, Steiner EW electronic woodwind, The Mighty Serge modular
analog synthesizer, soprano sax, piano
LEONICE SHINNEMAN Percussion on Shadowcatcher- N. Indian tablas, S. Indian
thavil; 'Til You Get There -African anglo ewe drum set: sogo, kaganu, gankogui bell,
dumbek, cymbals, kick drum, high hat, banjo snare, S. Indian gatham;
Forgiveness -N. Indian tablas, S. Indian kanjira, congas, shaker
VERMETTYA OYSTER Vocal on May Peace Prevail
ANDREA CAGAN, LAURIE ROSE The Unseen

Composed, performed, produced, engineered and mixed by Kevin Braheny.
Recorded to Dolby SR analog at Crystal Studios, Hollywood, 1988/89.
Binaural Passages digitally recorded on a custom system designed and built by KB.
Digital mastering to DAT at Hearts of Space Studio, San Francisco, by Stephen Hil
and Kevin Braheny. Binaural system and mix consultant: Keith Johnson.
Executive Producer: Leyla Rael Hill. All music © 1990 Heartcall Music/BMI.
Aldus Freehand 2.0 illustration and graphic design: Patsy Faragher
Image assembly and electronic separations: Sanjay Sakhuja at DPI, San Francisco.
Art Direction: Stephen Hill
2-HOS-11015
---
Share this Product
---
More from this collection