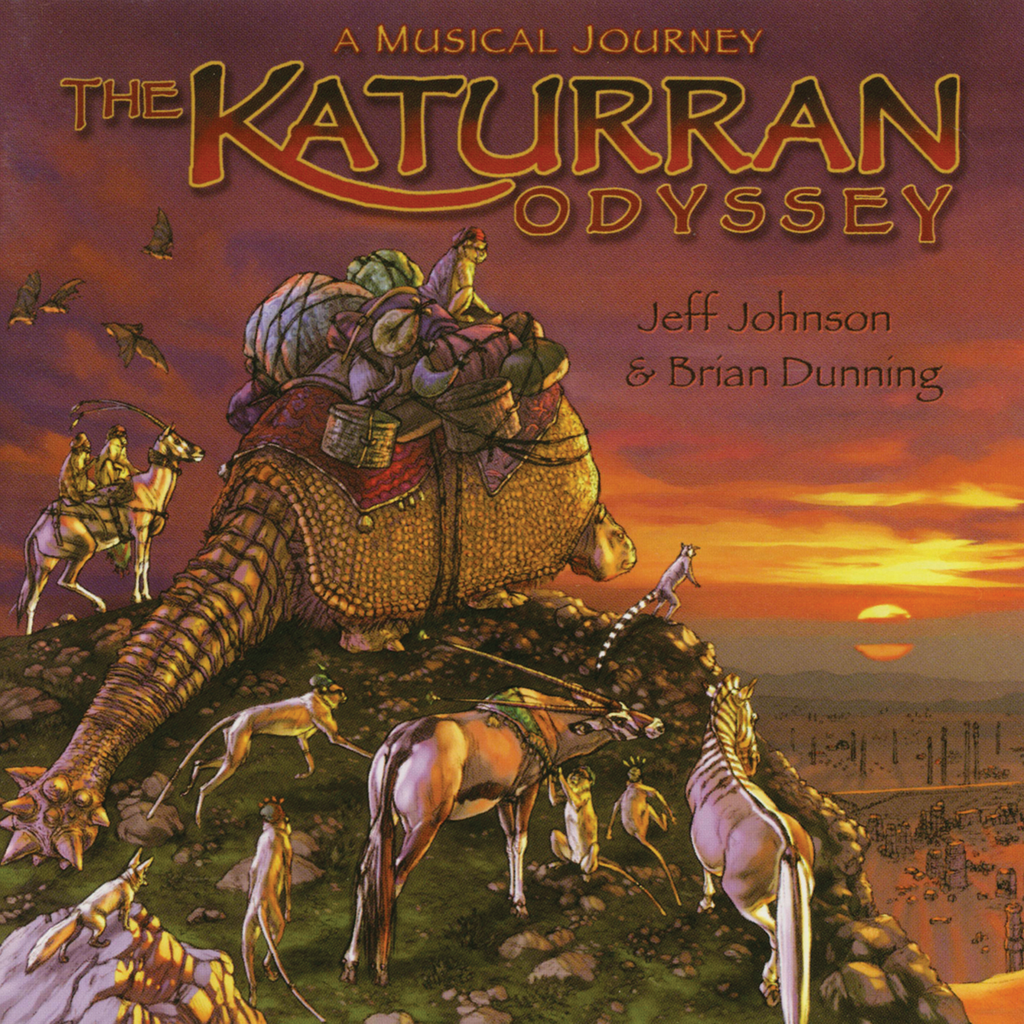 Hearts of Space Records
Jeff Johnson & Brian Dunning - The Katurran Odyssey
"Get yourself prepared for a journey into Celtic storytelling and musical excellence that is a once-in-a-lifetime experience."
- Dick Metcalf, IMPROVIJAZZATION, September 2004
The Katurran Odyssey
Since their first collaborative recording, Songs From Albion - Vol. 1 in 1991, the American/Irish duo of Jeff Johnson and Brian Dunning (former Nightnoise member) have been creating some of the most inspiring music within the Contemporary Celtic genre. Like the three volume Albion set, many of their CDs have been connected with the evocative stories of best-selling writer, Stephen Lawhead. All of their full length recordings including last year's Patrick; their 2001 retrospective, The Enduring Story and the acclaimed Byzantium - The Book of Kells & St. Aidan's Journey (with music featured on Martin Scorsese's 2003 film, Gangs Of New York), have been released on Johnson's ArkMusic label.

Along with Belfast violinist, John Fitzpatrick, the prolific duo has also released A Quiet Knowing - Canticles For The Heart, A Quiet Knowing Christmas, and Benediction. In addition, many of their songs have been featured on some of the most popular compilations of this genre including those released by Windham Hill (Celtic Christmas Series, Windham Hill Christmas, Adagio & A Winter Solstice - 25th Anniversary) and Hearts of Space (Celtic Twilight Series).

Their newest recording is inspired by the upcoming (October 2004) Simon & Schuster illustrated story by former George Lucas animator, Terryl Whitlach, entitled, The Katurran Odyssey. Released by Hearts of Space and ArkMusic, The Katurran Odyssey is a wonder-filled musical journey of contemporary instrumental music sure to delight and inspire both those listeners who are familiar with the book and those who are not. Johnson's richly exotic keyboards and production is full of wonderfully, organic backdrops for the incredible improvisational skills of Dunning (flute) and Fitzpatrick (violin), along with Slovakian cellist, Jozef Lupák and classical singer, Janet Chvatal.
Tracklist
1    Another Time    7:01
2    Behind The Water Wall    5:35
3    Shifting Sands / A City Dead    5:01
4    The Fire Inside The Flame    3:11
5    Wishes And Songs    3:17
6    Following Butterflies    3:57
7    Golden Image    1:49
8    Fossah Dreams    4:21
9    Finding Heaven    4:14
10    The Beautiful Sky    6:29
11    Silent As The Sun    3:52
Credits
Musicians
Keys & "The Beautiful Sky" vocal: Jeff Johnson
Flutes, whistles & pan pipes: Brian Dunning
Violin: John Fitzpatrick
Cello: Tozef Lupták
Vocals: Tanet Chvatal
Guitars & balalaika: Tim Ellis
Bass: Phil Baker
Percussion: Gregg Williams
Voice of the Storyteller: Barry McGovern
Produced, recorded & mixed by Jeff Johnson
at The Ark, Camano Island, WA
Additional recording at
Jacordi Studio, Clane, County Kildare, Ireland
Jeff Johnson & Brian Dunning, engineers
The Trench, Portland, OR, USA
Jeff Johnson & Gregg Williams, engineers
Grouse Lodge, Rosemount, County Westmeath,
Ireland • Jeff Johnson, engineer
The Kung Fu Bakery Annex, Portland, OR, USA
Jeff Johnson, engineer
Additional sounds by Eric Persing & Spectrasonics
Waterwall effect by Ark Mobile
Madagascar effect by Douglas Quin from the CD,
"Madagascar - The Fragile Land" by Wild Sanctuary
Recordings. Licensed by Harry Fox Agency.
Technical support: David Moore
2-HOS-11416
---
Share this Product
---
More from this collection