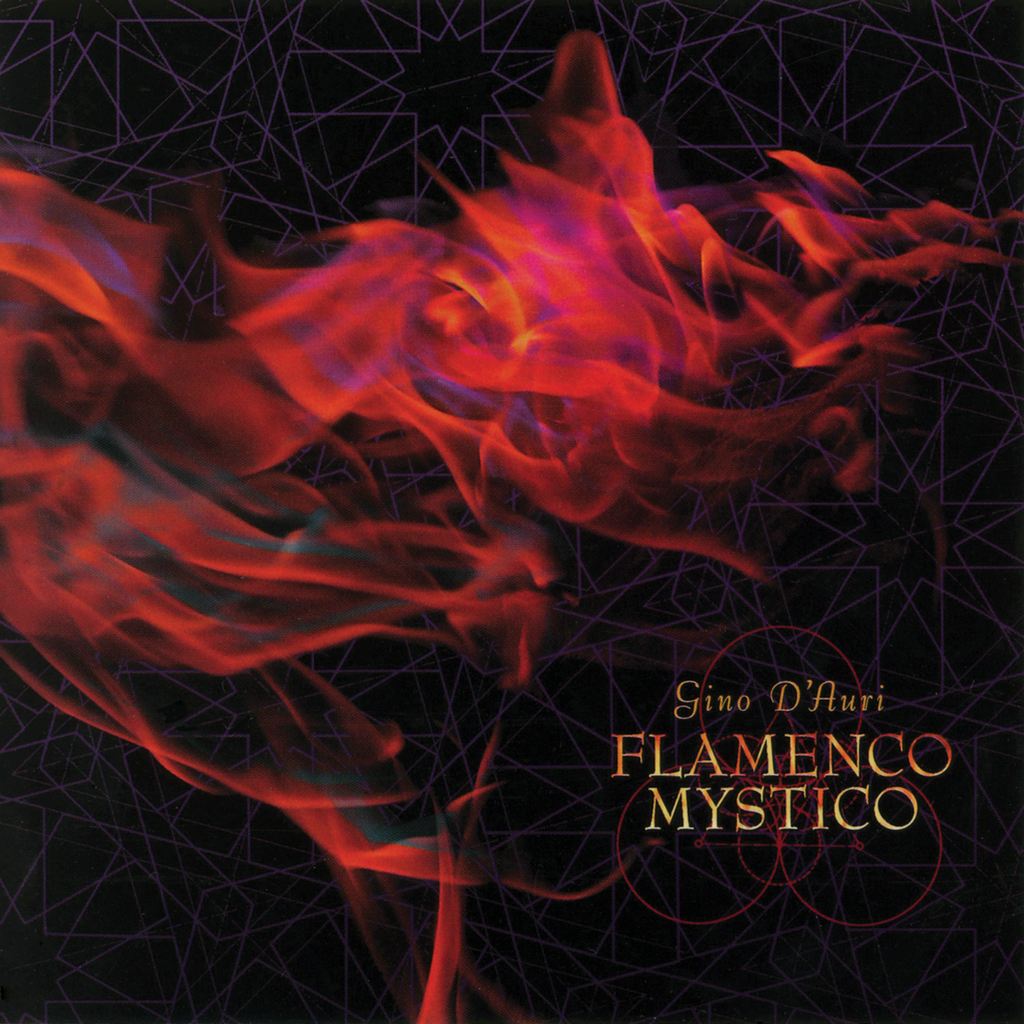 Hearts of Space Records
Gino D'Auri - Flamenco Mystico
All MP3 Downloads encoded at 320 kbps unless otherwise specified.
Italian by birth, musician by inspiration, Flamenco by fate - 25 years touring and performing with the best in Europe and the United States - Debut recording Passion Play favorite of flamenco lovers worldwide - Personal Style: virtuoso improvisation, contemporary sound, intense emotion, living in the flamenco spirit. I met Gino D'Auri in Los Angeles in 1980 while producing a film soundtrack. He stood out against the complicated lives of those around him. His intensity was of a different order than the young media professionals I was working with: darker, deeper, older, and more focused. The guitar was almost everything, with the exception of food - he's a fantastic cook - sex, and possibly cognac. At the time, he was halfway through a stormy marriage to a Lebanese dancer.
I loved his playing, and we began a friendship that developed into a professional relationship the next year when I was asked to engineer his debut album for a small L.A. independent label. Gino had created a unique flamenco sound by amplifying a Japanese Takemine classical guitar which had a built-in pickup. It produced a bright, solid, extremely percussive attack, almost like an electric flamenco guitar. His aggressive playing stretched the instrument to its limit at every turn. Searching for an appropriate ambience for his moody, extended pieces, he used a primitive mechanical reverb built into his guitar amp, which he almost always left on the maximum setting.

I'd heard him play live many times, but had no idea what to expect in the studio. I needn't have worried; using the pickup we could record in the control room with the big monitors turned up loud. The first time I introduced him to the sound of a $12,000 digital reverb, he went into orbit! Seated on edge of the control room couch he would rip off flawless ten minute takes on cue. If he did make a mistake, we started over from the beginning. Real men, he conveyed with a dark look, did not edit.

Everything was improvised. Two gypsy friends came in at the end to add handclaps and sing a little, and in three nights we had an amazing album. Though hed been developing the pieces for years, no two takes were ever the same. The album was originally released with the title Nuevos Caminos (New Paths) and slowly began to find its way into the world of guitar lovers. After a few years the original label went under, and in 1984 the record was picked up by Sonic Atmospheres, given a new title - Passion Play - and released on CD. (As of 1992, it's still in print.) This time the word got around and the album became a cult favorite with guitar afficionados.

The concept and the title for Flamenco Mystico came from this period. We wanted to go deeper into the Moorish heritage of Spanish music, and to explore the harmonic minor spaces that the digital reverb created from the sound of the guitar itself. I assumed it would happen in a year or two, but Gino got busy performing and recording on other artists projects. Nothing could surprise or gratify me more than to find myself in a position to record and release it over ten years later.

To position this album in the world of flamenco: Gino is not a purist, and not inclined toward either flamenco/jazz fusions or the rhumba flamenco style dance music lately popularized by the Gipsy Kings and Ottmar Liebert. He is a strong and knowledgeable player of traditional flamenco who is interested in developing both the form and the sonic potential of the music through modern production techniques. In this regard, Teja Bell's wonderfully equipped studio, and his intimate knowledge and affection for the guitar were invaluable in achieving the sound of this record. Leonice Shinneman's virtuosity, range, and open-minded approach to collaboration made him the perfect choice for the creative percussionist we needed to complement Gino's music.

We intended to develop the Takemine sound a little more, but Gino brought two authentic flamenco guitars that sounded so good we never got to it. So what you have here is a modern flamenco album with both very traditional and very contemporary elements.


"Los Moros" (9:56) an extended multi-section piece incorporating both Tango and Bulerias rhythms; evokes the time of the Moorish culture in Spain.

"Guajira Antigua" (5:28) a lighter dance style of flamenco song with a Cuban/ Caribbean rhythm; Gino plays both guitars.

"Barrio Santiago" [Bulerias] (3:15) a fiery, breakneck piece with synchronized tabla; the title refers to the gypsy quarter in the city of Jerez de la Frontera, home of the Bulerias rhythm.

"Las Minas" [Tarantas] (10:11) a dark, extended contemplative piece inspired by The Mines, region of Andalucia, home of the Tarantas rhythm.

"Quelo de Triana" [Soleares] (5:34) this intense, passionate piece is based on a dance form from Seville; Soleares means solitude.

"Flamenco Mystico" [Fantasia] (8:07) heavy metal flamencoa unique nontraditional piece based on Moorish and North African desert music influences, with Seguirillas and Bulerias rhythms.

"Rondea para Sabicas" (11:35) another extended piece that bridges several styles in a deeply felt tribute to the late gypsy guitarist Sabicas.

"Recuerdos de la Alhambra" (5:44) Gino's unorthodox inverted version of a famous study for classical guitar by 19th century Spanish guitarist/composer Franciso Tarrega shows his 5-finger tremolo technique. Keyboards and string arrangement by Teja Bell.
Credits
Produced by STEPHEN HILL. Recorded and mixed July 1991-February 1992 at
TEIA BELL's Samurai Sound, Petaluma, CA. Engineered by STEPHEN HILL, TEjA
BELL, and BOB 'SYNCMEISTER' OLHSSON. For the main guitar tracks we used
B&K and Sanken mics, Drawmer tube mic preamps, a Pansonic 2500
DAT recorder, and Straight Wire L$I. Overdubs to analog, synths and
samplers locked with Mark of the Unicorn Performer. Mixed to
Panasonic DAT on a modified TAC Scorpion console with Quantec
QRS-XL and Lexicon 480L reverberation and Roland 18bit A> D
converters. Mix monitored on Celestion SL600 speakers and Stax
Lambda Pro headphones.

1 Los Moros
evokes the time of the Moorish culture in Spain;
Tango and Bulerias rhythms
GIN: Fernandez Guitar; TEJA: keyboards, Steinberger
Bass; LEONICE: Kanjira, Dumbek, Coconut Shell
2 Guajira Antigua
a dance style of flamenco song with a
Cuban/Caribbean rhythm
GINO: Fernandez and Ramirez Guitars
3 Barrio Santiago (Bulerias)
the gypsy quarter in the city of Jerez de la Frontera,
source of the Bulerias rhythm
GINO: Fernandez Guitar: LEONICE: Tabla
4 Las Minas (Tarantas]
"The Mines,
a region in eastern Andalucia,
home of the Tarantas rhythm
GINO: Ramirez Guitar
5 Quelo de Triana [Soleares)
a dance form from Seville; "Soleares "means solitude
GINO: Fernandez Guitar
6 Flamenco Mystico [Fantasia)
also based on Moorish influences,
with Seguirillas and Bulerias rhythms
GIN: Ramirez Gutar, Emulator drum;
TEJA: Steinberger bass, D-50, JD800, wind;
LEONICE: Pakawaj, Tabla
7 Rondeña para Sabicas
a tribute to the late gypsy guitarist Sabicas
GINO: Ramirez Guitar
8 Recuerdos de la Alhambra (Francisco Tarrega]
Gino's version of the famous classical guitar piece
is dedicated to his mother and father
GINO: Fernandez Guitar;
TEJA: Keyboards, String Arrangement
2-HOS-11300
---
Share this Product
---
More from this collection