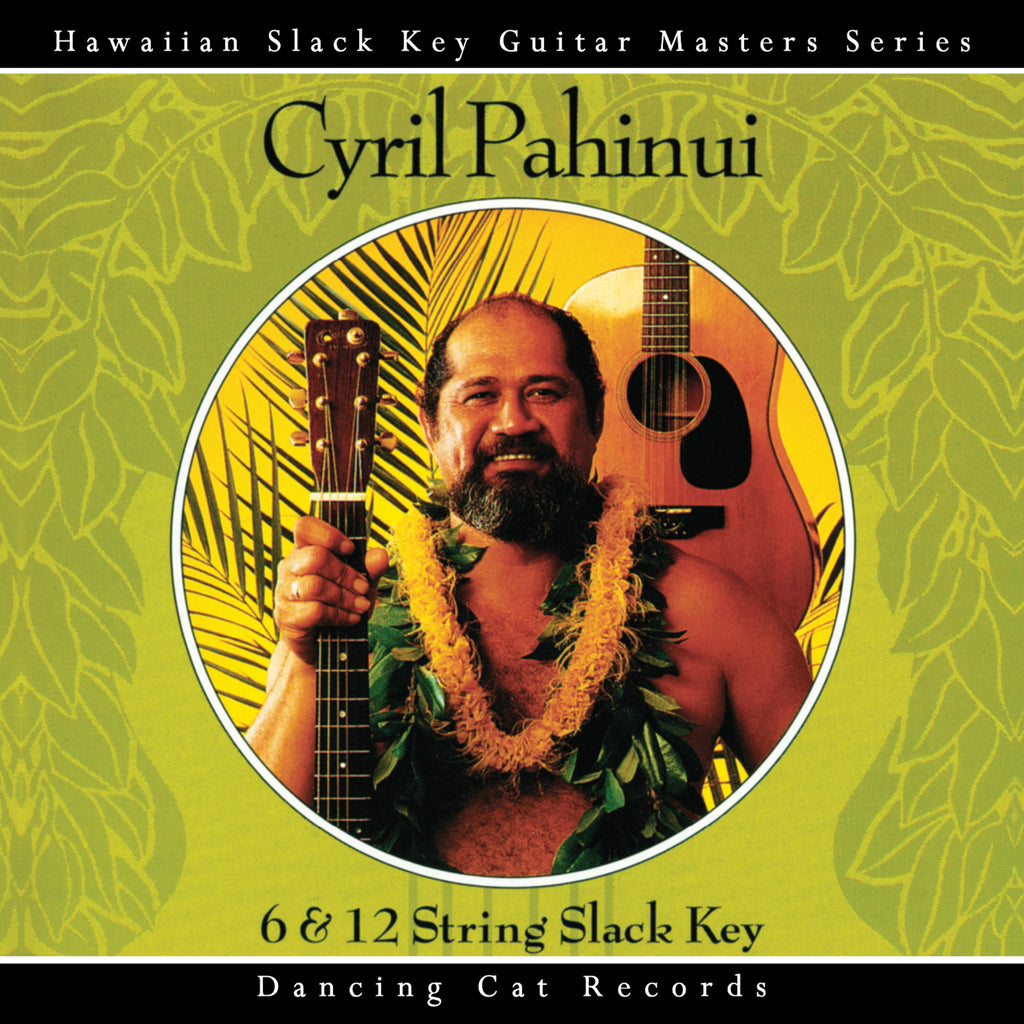 Dancing Cat Records
Cyril Pahinui - 6 & 12 String Slack Key
Cyril, son of the legendary Slack Key guitarist and entertainer Gabby "Pops" Pahinui, was born and raised on the island of Oahu, in the small town of Waimanalo.  Cyril first started tinkering with a guitar at the young age of seven.    
"At the Pahinui homestead in Waimanalo, we often had backyard parties with `Pops' and `Ma', my brothers and sister, aunties and uncles and many friends," Cyril remembers.  "We would play music until the wee hours of the morning."  One of Gabby's best friends who was often there way the late great Slack Key guitarists Atta Isaacs, who was also one of Cyril's main influences.  Both Atta and Cyril are two of the greatest improvisers in the history of Slack Key.     
When Cyril was 14 he used to hitchhike into Waikiki where he'd sneak into the balcony at the Queen's Surf Barefoot Bar to hear his dad play.  It wasn't long after that Cyril got the opportunity to begin performing with Gabby.  Cyril started performing professionally at 15, though he had to get written consent from his parents to play in clubs around Waikiki, where he would make up to $25 per night. 
In 1970 Cyril's musical career was interrupted when he was drafted into the military.  "Those Southern boys would see my guitar lying around and try to play it, they'd say `Hey Pineapple, what kind of tuning is this?  It don't sound right.' During that time, I got very desperate to hear Hawaiian music.  It's part of me, it's my heritage."  
Once home again Cyril once again performed with his father and brothers.  He appeared on all four of of Gabby's  Panini Records albums including the 1975 international release, THE GABBY PAHINUI HAWAIIAN BAND with Atta Isaacs, Sonny Chillingworth, Joe Gang and Ry Cooder.   
In 1979, Cyril joined Slack Key guitarist Peter Moon's band.  Cyril recorded four albums with the Peter Moon Band before leaving the group to start his own band,  In 1989 he released his self titled album, CYRIL PAHINUI.  This album led the Na Hoku Honohano Award nominations that year with nine, and he walked away with two for Best Contemporary Hawaiian Album and Best Male Vocalist.   
In 1992 Cyril re-united with his brothers, Bla and Martin, to release an acclaimed album on Private Music entitled THE PAHINUI BROTHERS, with guest artists Ry Cooder, David Lindley and others.   
This is Cyril's first recording entirely solo, and it showcases his powerful and unique guitar stylings, especially on the 12 string guitar, as well as his soulful vocals backed up by just his guitar.  
2-HSK-19031
---
Share this Product
---
More from this collection