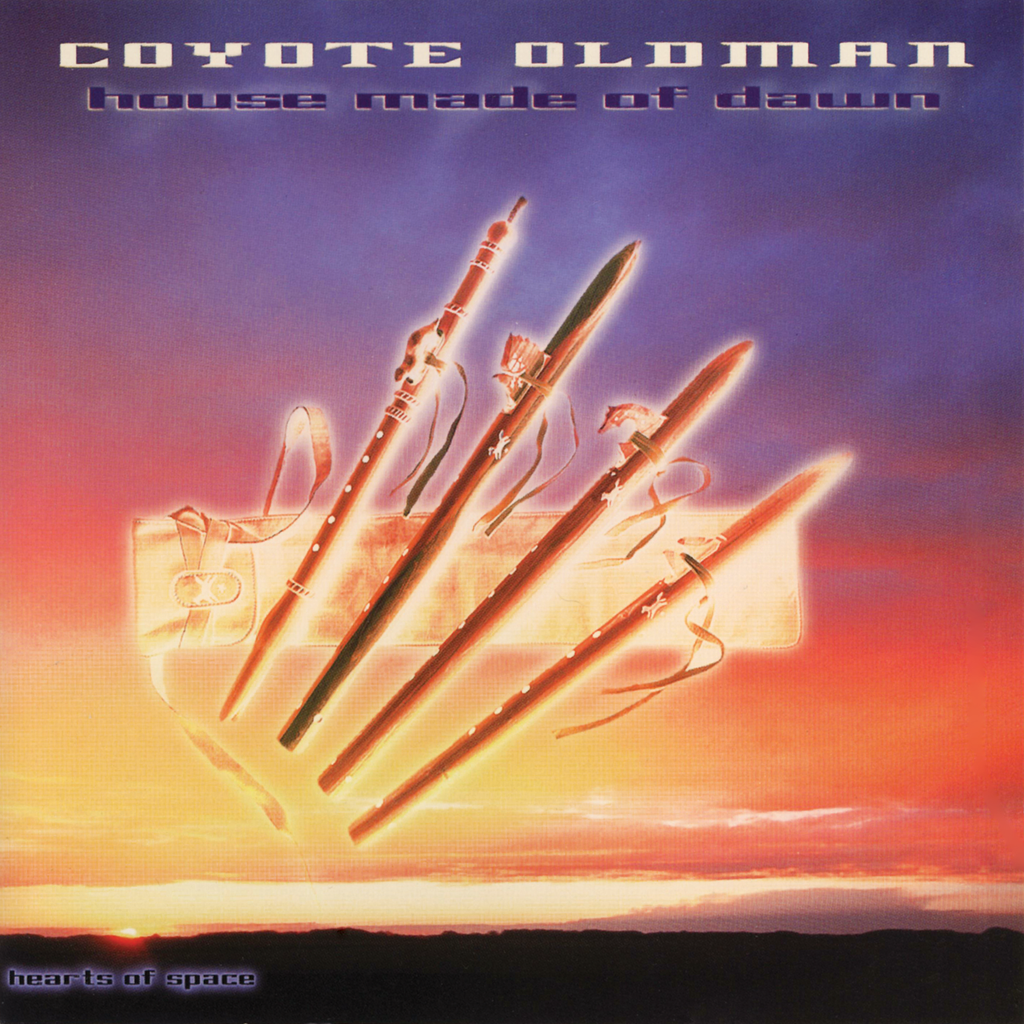 Hearts of Space Records
Coyote Oldman - House Made of Dawn
All MP3 Downloads encoded at 320 kbps unless otherwise specified.
Coyote Oldman are MICHAEL GRAHAM ALLEN and BARRY STRAMP. Their subtle, creative approach to the Native American flute has inspired a host of imitators, but no one has matched their inspired studio transformation of these archaic instruments of wood and breath into the ecstatic realm of ethereal sonics. House Made of Dawn achieves a seamless equilibrium between man and nature, earth and sky, sound and space.
- STEPHEN HILL
"There really is not adequate terminology to describe what we, as Coyote Oldman, do with sound or how we create music.  It all began by the accidental use of experimental technology to extend the natural melodic scales of ancient wooden flutes within a morphing virtual acoustic environment. These aurally immersive worlds we continue to explore are unbounded by physical reality and have been likened to synesthesia: seeing sounds, hearing colors. One small boy termed it "the sound of God singing." Another said "I've heard this music before, it's what I hear when I'm dreaming.

Since Michael and I began the synergistic collaboration known as Coyote Oldman in 1985, the hallmark of our sound has been the interactive combination of lyrical primitive flute and sound manipulation improvisations. Though we have often branched out from this core over our previous nine releases, it is the leading voice on this recording. Astride this unique artistic and scientific vehicle, we humbly continue our search for musical truth and beauty across the borders of time and space.

House Made of Dawn was recorded over a two year period spanning 1997 to 1999. Michael developed the concept and the exquisite primary melodic motifs that propel this project. He constructed instruments in new modal scales, designed specifically for the recording. I performed prototypical music experiments and researched new chaos-driven sound manipulation techniques in my audio laboratory. We joined forces in the studio for intensive bursts of composing, recording and mixing.

I see our process of creating this music as one of discovering sounds that are already there, given the appropriate conditions for them to exist. We grow music in a garden of pulsating air molecules and electrons, planted by breath and dancing neurons, tended by our thoughts and emotions, fed by the light of the past and the promise of the future. House Made of Dawn is a metaphor for the process by which it was made, for personal discovery and for the possibilities that await humanity in the new millennium." 
- BARRY STRAMP 1999

"A part of us exists hidden in warm velvet darkness, a pale fluid brightness like a tear of the moon: our connection to the great mystery. As your own personal dawn approaches, your soul, in soft luminescence, enters your waking world like a house made of dawn.

And in my heart, I feel that we humans are at a beginning. Our civilization is just stepping toward the light, holding something vastly precious: a future.

And the light is just touching the horizon.

I wish to express gratitude to the many people who have expanded our knowledge of this life, this world, and this cosmos: those who have the playfulness to ask the right questions and the courage to accept new answers."
- MICHAEL GRAHAM ALLEN 1999

"Coyote Oldman open a gateway into a timeless world of sound with the first breath into their flutes. Between that first breath and the last exhalation, Michael Graham Allen and Barry Stramp (who comprise Coyote Oldman) pull down a sound that could have come from some mythical gathering in a prehistoric kiva, or a cyberspace meeting 20 minutes into the future.

Their name comes from Oldman Coyote, the trickster and sometimes fool of Native American mythology. It was the name of Allen's flute company and it hung on, even though none of those characteristics would apply to Coyote Oldman. But Allen and Stramp do play Native flutes, as well as Incan pan-pipes and ocarinas and they use Native American iconography to give their music some kind of metaphorical-spiritual grounding.

Despite these Native cultural connections, Allen and Stramp make no glorification of their fractional Native ancestry. Instead, Coyote Oldman operates from a core sound in which many cultures are embodied. As much as they are playing Native music, you could also say they're playing Medieval hymns, 20th century space music or Tibetan chants. Coyote Oldman draws intrinsic links with other cultures, evoking, but not playing, the shakuhachi flute of Japan and the bansuri flute of India.

Alabama-born Michael Graham Allen met Oklahoma-bred Barry Stramp in 1981 at an Oklahoma City crafts fair. Allen was there selling his hand-made Native flutes. At the time renowned Native flutist R. Carlos Nakai hadn't yet ignited the Native flute boom, and they were still a curiosity bordering on oblivion.

Allen is the founder, principal flutist and composer of the group. He is also the craftsman and earth voice of the duo. He researches the history of his instruments, tracking down flutes from many countries, but especially Native cultures of the western hemisphere. On this album you can hear flutes that Allen may have made a few days before the recording and clay ocarinas that might date back hundreds of years.

Barry Stramp is the modernist of the group. Classically trained in concert flute and composition, he also studied engineering and physics. That means he can drop references to Pierre Boulez and IRCAM as well as DSP and FFT processing into a conversation that started about live performance. It's Stramp's skill at studio manipulation that turns the raw material of Allen's flutes into the expansive soundscapes that are Coyote Oldman. They work together, manipulating the sound in real time, feeding back off the echoes, reverb, and harmonization as if creating a superflute.

There is a remarkable synergy between these musicians. They mix technologies, create hybrid flutes which sing like enormous train-whistles, creating Doppler effects through metallic tamboura-like drones, mysterious percussion and disembodied voices. It seems like no less than the sound of the universe opening up before you. Coyote Oldman are surfing the winds of a timeless sound."
- JOHN DILIBERTO
2-HOS-11093
 Credits
Michael Graham Allen | New World Flutes. Medicine Flutes and Pan Pipes
Barry Stramp | Modern Bass Flute, Pan Pipes and Sound Design
Special thanks to: Mary Jane Allen, Leyla Hill. Christi Rayburn and the Hearts of Space staff.
Composed, Produced, Performed and Recorded by Barry Stramp and Michael Graham Allen
New world flutes, medicine flutes and pan pipes researched, designed and constructed by Michael Graham Allen
at Coyote Oldman Music, New Haven, Vermont. www.coyoteoldman.com
Sound design and textural acoustic processing researched, developed and realized by Barry Stramp
at Ancient Sun Music. Norman, Oklahoma, www.ancientsun.com
© 1999 Xenotrope Music BMI
Mastering | Bob Olhsson and Stephen Hill at
Hearts of Space Studio, Sausalito, California
Sequence | Stephen Hill
Art direction and design | Stephen Hill
Design and production | Jeremy Hulette
Flute photography I Sanford Mauldin
Cover and liner photos | Courtney Milne
www.courtneymilne.com
---
Share this Product
---
More from this collection