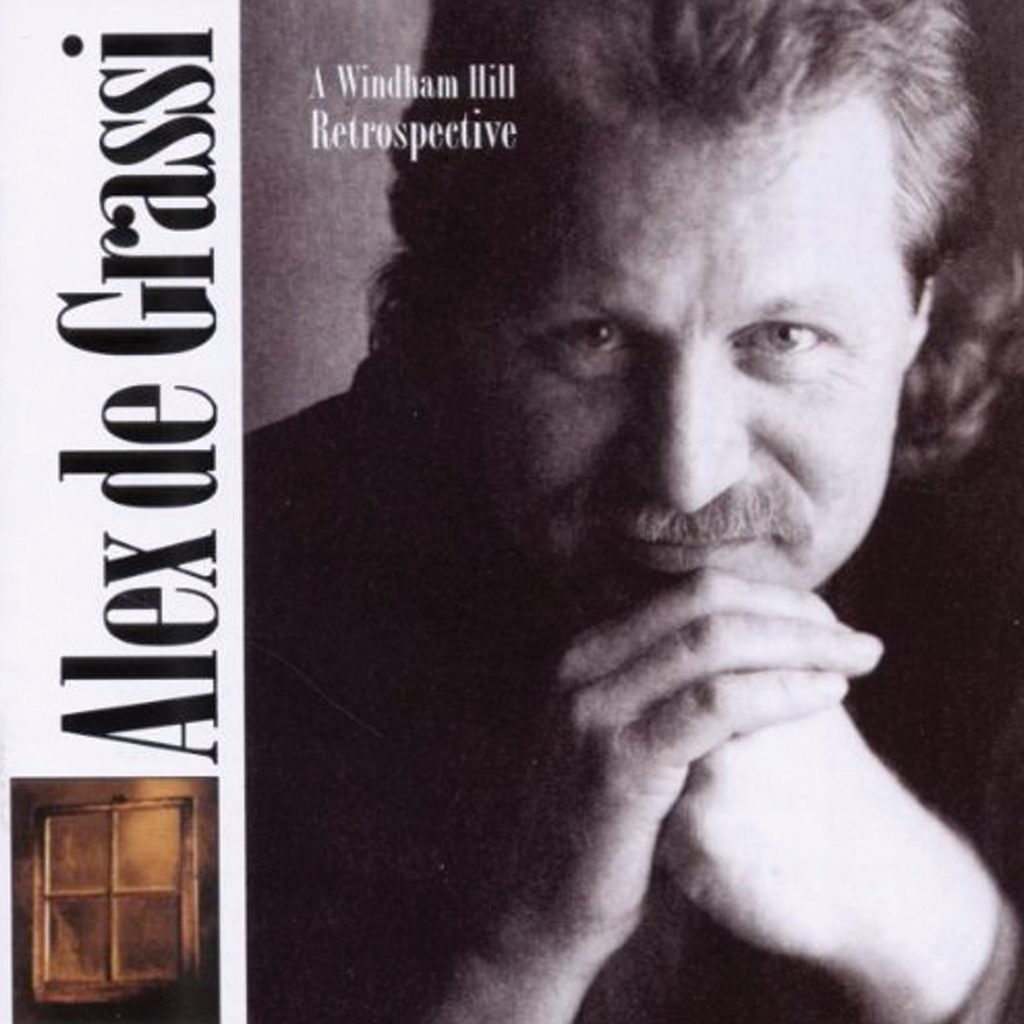 Windham Hill Records
Alex de Grassi - A Windham Hill Retrospective
The best of acoustic guitar innovator and Grammy nominated recording artist Alex de Grassi's early work at Windham Hill Records. 
Alex de Grassi's A Windham Hill Retrospective is a look back at what the Grammy-nominated artist calls the first "lucky-thirteen" years of his musical journey which began at the famed Windham Hill Records.  
"De Grassi has mastered the art of playing melodies, counter-melodies, harmonies, and intricate rhythms simultaneously.  His touch is as exquisitve as his lyricism, and his improvisational/compositional musical consciousness is as intricate and subtle as a sparkling crystal." 
- Down Beat
"...one of the greatest steel string guitar player/composers of the last decade." 
- Acoustic Guitar Magazine
"...one man guitar duets"
- Washington Post
Tracklist 
1. Overland    2:35
2. Causeway    4:10
3. Western    4:02
4. Window    4:26
5. Clockwork    6:23
6. Blue Trout    4:13
7. White Rain    3:35
8. Cumulus    4:55
9. A Momentary Change Of Heart    4:07
10. Luther's Lullaby    2:46
11. Charlotte    3:55
12. Turning: Turning Back    8:36
13. Children's Dance    2:38
14. Mirage    2:53
15. Slow Circle II    2:56
16. Blood And Jasmine    4:26\
Credits
OVERLAND 2:29
from Southern Exposure WD-1030
Alex de Grassi-solo guitar
Produced by Alex de Grassi and Steven Miller; recorded live to two-track by
Steven Miller at the Music Annex, Menlo Park, CA
Composed by Alex de Grassi
Published by Tropo Music (BMI)
® 1983 Sony Music Entertainment
CAUSEWAY 4:10
from Slow Circle WD-1009
Alex de Grassi -solo guitar
Produced by William Ackerman; engineered by Harn Soper and Roger
Wiersema at the Music Annex, Menlo Park, CA
Composed by Alex de Grassi
Published by Tropo Music (BM)
® 1979 Sony Music Entertainment
WESTERN 4:02
from Southern Exposure WD-1030
Alex de Grassi-solo guitar
Produced by Alex de Grassi and Steven Miller; recorded live to two-track by
Steven Miller at the Music Annex, Menlo Park, CA
Composed by Alex de Grassi
Published by Tropo Music (BMI)
® 1983 Sony Music Entertainment
WINDOW 4:15
from Turning: Turning Back WD-1004
Alex de Grassi-solo guitar
Produced by Scott Saxon; recorded and mixed by Scott Saxon at Mantra
Studios, San Mateo, CA
Composed by Alex de Grassi
Published by Tropo Music (BMI)/Windham Hill Music (BM);
® 1978 Sony Music Entertainment
CLOCKWORK 6:23
from An Evening with Windham Hill Live WD-1026
Alex de Grassi-guitar; Chuck Greenberg-lyricon; Darol Anger- violin;
Michael Manring-bass; Michael Spiro-percussion
Produced by William Ackerman, Alex de Grassi and Steven Miller; recorded
by Steven Miller at Berklee Performance Center, Boston, MA; mixed by
Steven Miller at Different Fur Studios, San Francisco, CA
Composed by Alex de Grassi
Published by Tropo Music (BMI)
® 1983 Sony Music Entertainment
BLUE TROUT 4:13
from Deep at Night WD-1100
Alex de Grassi-solo guitar
Produced by Alex de Grassi and Cookie Marenco; recorded by Cookie
Marenco at OTR Studios, Belmont, CA; mixed by; Steven Miller at Manhattan
Recording Co., New York, NY
Composed by Alex de Grassi
Published by Tropo Music (BMI); administered by Windham Hill Music (BMI)
® 1991 Sony Music Entertainment

WHITE RAIN 3:35
from Slow Circle WD-1009
Alex de Grassi-solo quitar
Produced by William Ackerman; recorded by Harn Soper and Roger
Wiersema at the Music Annex, Menlo Park, CA
Composed by Alex de Grassi
Published by Tropo Music (BMI)
® 1979 Sony Music Entertainment

CUMULUS 4:55
from Southern Exposure WD-1030
Alex de Grassi-solo guitar
Produced by Alex de Grassi and Steven Miller; recorded live to two-track by
Steven Miller at the Music Annex, Menlo Park, CA
Composed by Alex de Grassi
Published by Tropo Music (BMI)
® 1983 Sony Music Entertainment
A MOMENTARY CHANGE OF HEART 4:07
from Guitar Sampler Volume // WD-1106
Alex de Grassi-solo guitar
Produced by Alex de Grassi; Executive Producers: Robert Dusks and Will
Ackerman; recorded by Cookie Marenco and Alex de Grassi at The Bunker,
SanFrancisco, CA
Composed by Alex de Grassi
Published by Tropo Music (BMI)
® 1991 Sony Music Entertainment

LUTHER'S LULLABY 2:46
from Turning: Turning Back WD-1004
Alex de Grassi-solo guitar
Produced by Scott Saxon; recorded and mixed by Scott Saxon at Mantra
Studios, San Mateo, CA
Composed by Alex de Grassi
Published by Tropo Music (BMI)/Windham Hill Music (BMI)
® 1978 Sony Music Entertainment

CHARLOTTE 3:55
from Deep at Night WD-1100
Alex de Grassi-solo guitar
Produced by Alex de Grassi and Cookie Marenco; recorded by Cookie
Marenco at OTR Studios, Belmont, CA; mixed by Steven Miller at Manhattan
Recording Co., New York, NY
Composed by Alex de Grassi
Published by Tropo Music (BMI); administered by Windham Hill Music (BMI)
® 1991 Sony Music Entertainment
TURNING: TURNING BACK 9:00
from An Evening with Windham Hill Live WD-1026
Alex de Grassi-guitar
Produced by William Ackerman, Alex de Grassi and Steven Miller; recorded
by Steven Miller at Berklee Performance Center, Boston, MA; mixed by
Steven Miller at Different Fur Studios, San Francisco, CA
Composed by Alex de Grassi
Published by Tropo Music (BMI)/Windham Hill Music (BM); administered by
Windham Hill Music (BMI)
® 1983 Sony Music Entertainment

CHILDREN'S DANCE 2:38
from Turning: Turning Back WD-1004
Alex de Grassi-solo guitar
Produced by Scott Saxon; recorded and mixed by Scott Saxon at Mantra
Studios, San Mateo, CA
Composed by Alex de Grassi
Published by Tropo Music (BMI)/Windham Hill Music (BMI)
® 1978 Sony Music Entertainment
MIRAGE 2:53
from Deep at Night WD-1100
Alex de Grassi-solo guitar
Produced by Alex de Grassi and Cookie Marenco; recorded by Cookie
Marenco at OT Studios, Belmont, CA; mixed by Steven Miller at Manhattan
Recording Co., New York, NY
Composed by Alex de Grassi
Published by Tropo Music (BMI); administered by Windham Hill Music (BMI)
® 1991 Sony Music Entertainment

SLOW CIRCLE I 2:56
from Slow Circle WD-1009
Alex de Grassi-solo guitar
Produced by William Ackerman; engineered by Harn Soper and Roger
Wiersema at the Music
Annex, Menlo Park, CA
Composed by Alex de Grassi
Published by Tropo Music (BMI)
® 1979 Sony Music Entertainment

BLOOD AND JASMINE 4:26
from Turning: Turning Back WD-1004
Alex de Grassi-solo guitar
Produced by Scott Saxon; recorded and mixed by Scott Saxon at Mantra
Studios, San Mateo, CA
Composed by Alex de Grassi
Published by Tropo Music (BMI)/Windham Hill Music (BMI)
® 1978 Sony Music Entertainment
2-VWH-21011
---
Share this Product
---
More from this collection