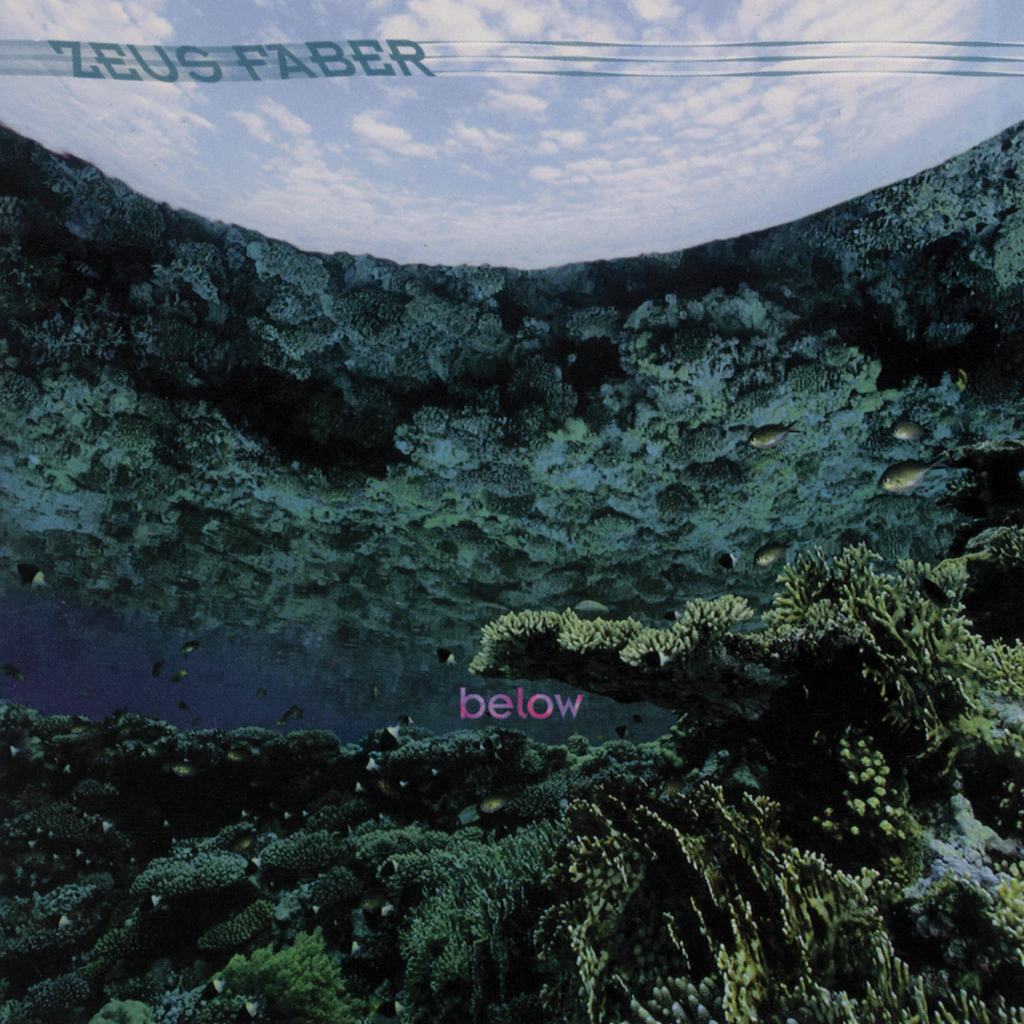 Hearts of Space Records
Zeus Faber - Below
All MP3 Downloads encoded at 320 kbps unless otherwise specified.
Zeus Faber's relaxed mid-tempo grooves echo the diversity of life, the playfulness of the dolphins and the heartfelt wisdom of the great whales, while wistful slow passages and lyrical songs express the peaceful moments of Life Below. An original Eurojazz chamber concert. Taking its inspiration from the deep sea fish that changes color to match its surroundings, the eclectic Swiss duo Zeus Faber fashions a broad range of musical textures. No stranger underwater, TRISTAN FELDBAUER brought his long experience as a scuba driver to fellow keyboardist and veteran session-player OLIVIER TRUAN. Their maiden voyage also featured a host of stellar guest musicians on their first recording, 1993's HOS debut Scubason.
Where Scubason adopted a broad style of contrasting moods, Below settles in to a cool groove and then dives deeper. Atmospheric European jazz is the main influence, and the music is expansive with underwater ambiences and nautical embellishments. The complimentary textures of piano and keyboard-based synthesizers combine with solos on saxophone, clarinet, melodica, and acoustic guitar. Below fuses Jazz and ambient sonorities in an original chamber setting.

Joined by the OBERWIL CHOIR and the Strings of the BASEL SINFONETTA, Below revisits the site Debussy's "Sunken Cathedral" for a Eurojazz chamber concert. A tender moment of reflection graces the understated etude, "Moonwater" with gentle spirals for solo piano and strings. The opening, "Song of the Big Fish," is an anthem to our leviathan cousins the whales, the Earth's largest mammals. JOHN VOIROL's heartfelt soprano sax takes its cue from the longing choir of whale voices and speaks through the deep blue eternity with a hopeful majesty that sings through the ages. The warm spirits of these graceful giants soar. It's an invitation to dive deeper in this fascinating exploration Below.
2-HOS-11064
 Credits
All music composed and produced
by TRISTAN FELDBAUER and OLIVIER. TRUAN.
Arranging and programming by OLIVIER TRUAN.
Original concept and additional arranging by
TRISTAN FELDBAUER. Recorded and mixed by
OLIVIER TRUAN at Triceps Studio, Switzerland.
Drums and bass recorded by TOM STREBEL
at Blackwood Recording Studios, Switzerland.
Mastered by BOB OLHSSON and STEPHEN HILL
at Hearts of Space Studio, San Francisco.
All music ©1996 OLIVIER TRUAN
& TRISTAN FELDBAUER / SUISA.
OLIVIER TRUAN STEINWAY & SONS PIANO, KEYBOARDS, MELODICA AND VOICE I TRISTAN FELDBAUER KEYBOARDS, NAUTICAL SOUNDS
I ANDREAS VON WANGENHEIM ACOUSTIC GUITAR ON MATHILDA AND EARLY MORNING | JOHN VOIROL SAXOPHONE ON SONG OF THE BIG FISH
| WOLFGANG ZWIAUER ELECTRIC BASS | KASPAR RAST DRUMS | STRINGS OF THE BASEL SINFONIETTA (DIRERTED BY RUEDI LINDER) ON TRIBUTE
TO THE OCEAN: VIOLINS - URSULA SAUTER, SUSANNE VISCHER. CAROLINE MATEOS, SERGE NOVOSELIC, STEFANIE RUF.
MARKUS MAHLSTEIN. CELLOS - CHRISTIAN SCHIESS, NUMA BISCHOF. BASS - FELIX. KLAUS.
AND CHOIR OF THE OBERWIL HIGH SCHOOL ON A TALE WITH NO WORDS: DIRECTED BY. JÜRG MOSIMANN.
---
Share this Product
---
More from this collection