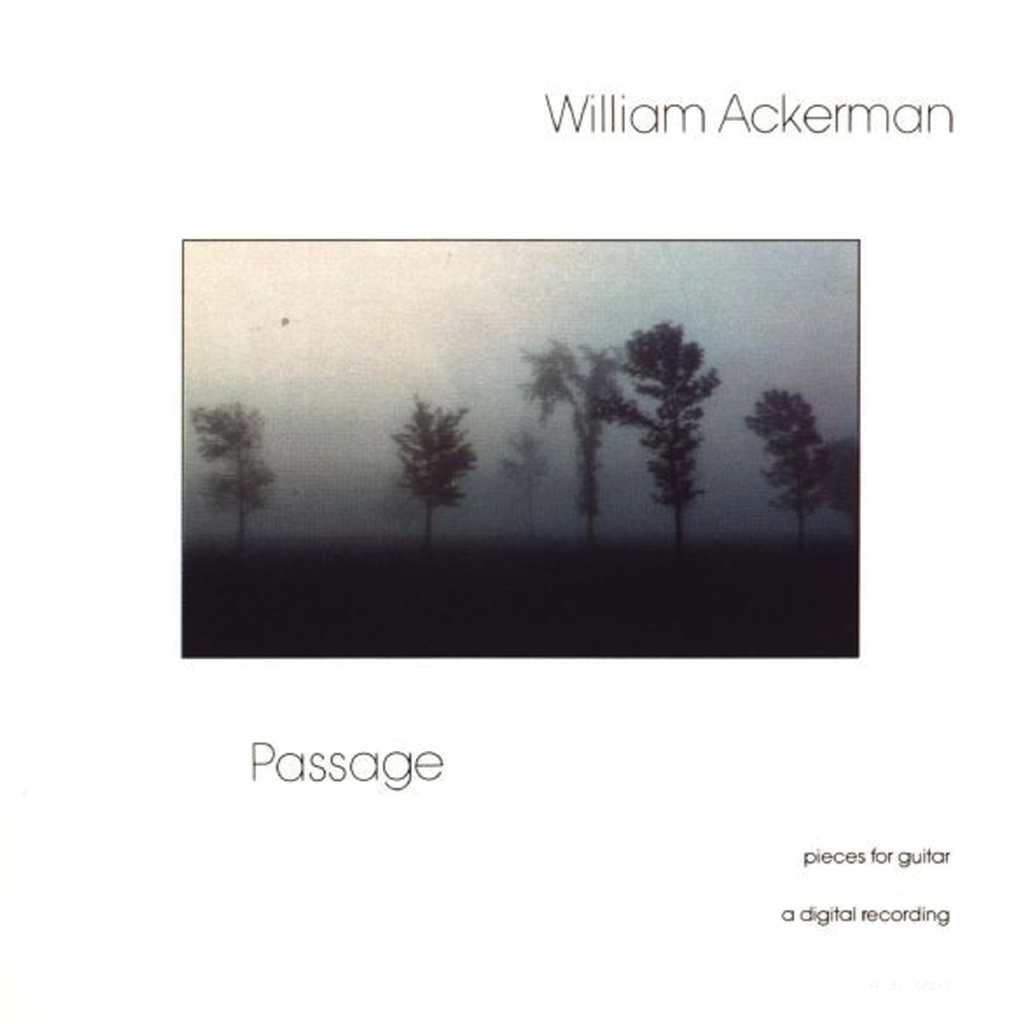 Windham Hill Records
William Ackerman - Passage
"Consisting of four new Ackerman compositions and four digitally recorded versions of previously recorded works."
- MusD (All Music Guide)
"Windham Hill founder and acoustic guitarist Ackerman has a way with the elegiac and the moodily majestic, rarely so well-conceived as on this 1981 disc that features cameos from Darroll Anger and George Winston. An early example of digital recording, Passage illustrates Ackerman's command of the pedal-tone figure; hypnotic fingerpicked arpeggios with subtly moving basslines patiently draw the listener in. Anger's violin adds a spirited lyric voice to the meditative "Remedios," while Winston's characteristic phrasing adds splashes of color to "Hawk Circle." If Ackerman's 1976 LP In Search of the Turtle's Navel is, arguably, the album that invented new-age music, Passage is his refinement of the form."
- James Rotondi
Tracklist 
1. Remedios
2. Processional
3. The Impending Death of the Virgin Spirit
4. Pacific I
5. The Bricklayer's Beautiful Daughter
6. Hawk Circle
7. Anne's Song
8. Passage
Credits
Produced by William Ackerman
Engineered by Ham Soper. The Music Annex, Menlo Park, CA
Digital Assembly by Master Digital. Venice, CA
Digital Consultant: Roger Pryor
Graphic Design by Anne Ackerman Robinson
Cover Photo by Jerry Marcaccini
Inside Photography by Ron May
Liner Photo by Anne Ackerman Robinson
All Compositions by William Ackerman
All Selections Windham Hill Music BMI
Manufactured by Windham Hill Productions
Box 9388, Stanford, CA 94305
This album was recorded on the Sony PCM 1600 Digital Recording
Systern. The guitar was miked in stereo with two KG 452 EB
microphones. A Neve 8036 console was used in conjunction with an
MT 240 stereo reverberation system. The control room monitors used
were URI 813 Time Align Monitors powered by a BGW amplifier and
equalized through two White 1/3 Octave equalizers.
My thanks to Kellie Johnson who built the six-string used for the majority
of this recording. My thanks also to Guild Guitars for providing the
custom D-40-C heard in these recordings, Adamas Strings, and
Gryphon Stringed Instruments of Palo Alto for their careful work
Darol Anger, Robert Hubbard, Dan Reiter, and George Winston
composed the parts they performed on the duets -Remedios,
Pacific I, Impending Death of the Virgin Spirit, and Hawk
Circle, respectively
2-VWH-21003
---
Share this Product
---
More from this collection