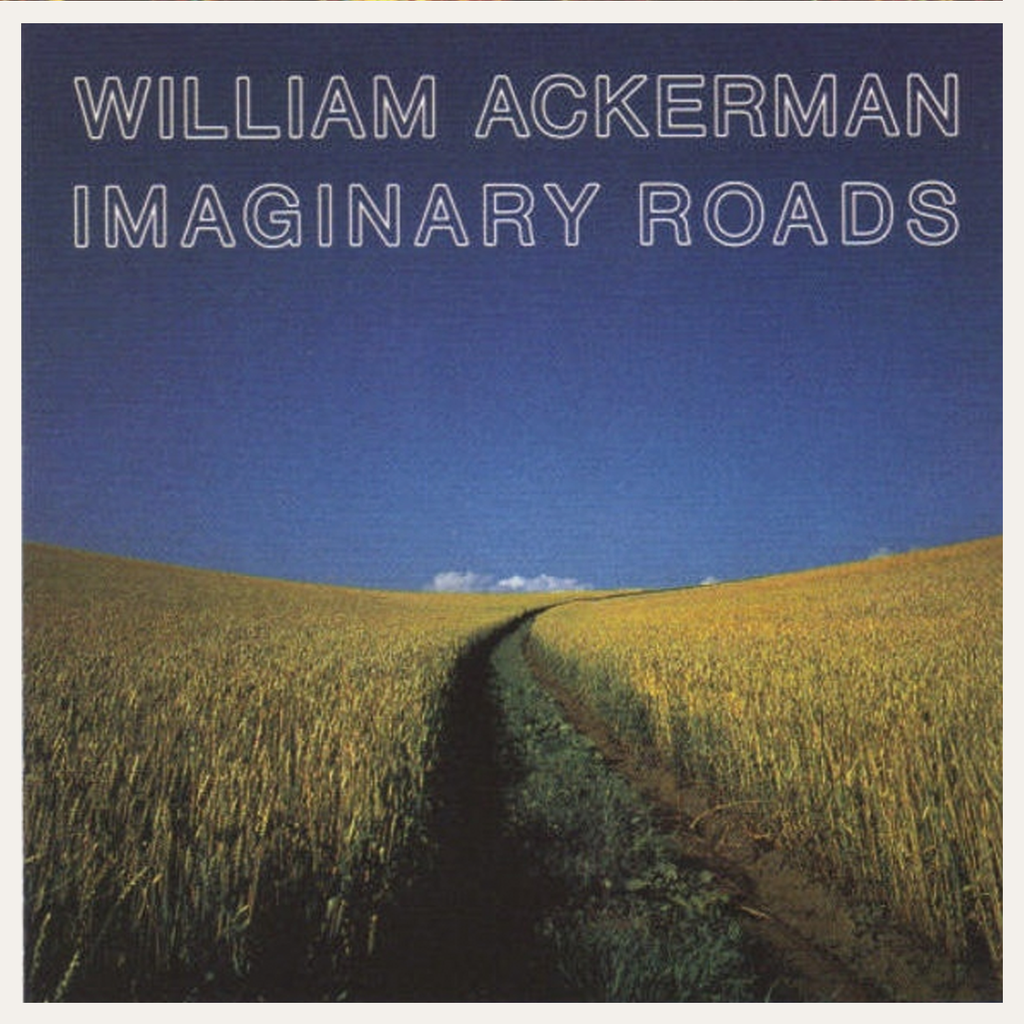 Windham Hill Records
William Ackerman - Imaginary Roads
1988's "Imaginary Roads" is one of guitarist William Ackerman's finest albums and the one where the new instruments Ackerman had been slowly adding to his sound through the '80s finally jelled with his distinctive playing.
The result is that even on the duet pieces, Will Ackerman and his musical partners sound and feel like an actual band, not a composer and his sidemen.

Interesting additions like shakuhachi flute, oboe, and fretless bass join the usual synthesizers, piano and violins, giving a variety and depth to the arrangements which is sometimes missing from Ackerman's more monochromatic earlier albums. Fascinatingly, the albums concludes with very different alternate takes of Darrow's Barn and If You Look, showing that Ackerman and his musicians are as attuned to nuances in different performances as a set of fine jazz musicians.
"Imaginary Roads finds Will Ackerman playing mostly in an ensemble context, with nice textures and melodies."
- MusD (All Music Guide)
Tracklist 
1. The Moment in Which You Must Finally Let Go of the Tether Which Has Held Your Hope Airborne
2. A Region of Clouds
3. If You Look
4. Floyd's Ghost
5. Wondering Again What's Behind the Eyes
6. Dawn Treader
7. The Prospect Of Darrow's Barn And The Blossoms Of An Apple Spring On Imaginary Road
8. Brother A Teaches
9. Innocent Moon
10. The Moment (Reprise)
11. If You Look (Version II)
12. Darrow's Barn (Version II)
Credit
Produced by William Ackerman
except Wondering Again" Produced by William Ackerman
and Dawn Atkinson
All compositions by Will Ackerman
except The Moment' by Will Ackerman and Allaudin Mathieu, " You
Look by Will Ackerman and Chuck Greenberg, "Floyd's Ghost" by Will
Ackerman and Philip Aaberg, Wondering Again" by Will Ackerman and
Kifu Mitsuhashi, and "Darrows Barn" by Will Ackerman and Jill Haley
All compositions published by Windham Hill Music (BMI) except " You
Look published by Windham Hill Music (BM)/Greenshadow Music (BMI)
Administered by Windham Hill Music (BMI)
Recorded at Studio D in Sausalito, CA and Different Fur Recording,
San Francisco, CA
Engineered by Bob Hodas, 2nd Engineer David Musgrove except
innocent Moon' and Darrows Bain' Engineered by Bob Hodas 2nd
Engineer Devon Bernardoni;:"DewnTreader;"The Moment' and Floyds
Chost' Engineered by Stephen Hart, 2nd Engineer Mark Slagle
Mixed by Stephen Hart at Different Fur Recording
Mastered by Bernie Grundman at Bernie Grundman Mastering,
Hollywood, CA
2-VWH-21009
---
Share this Product
---
More from this collection