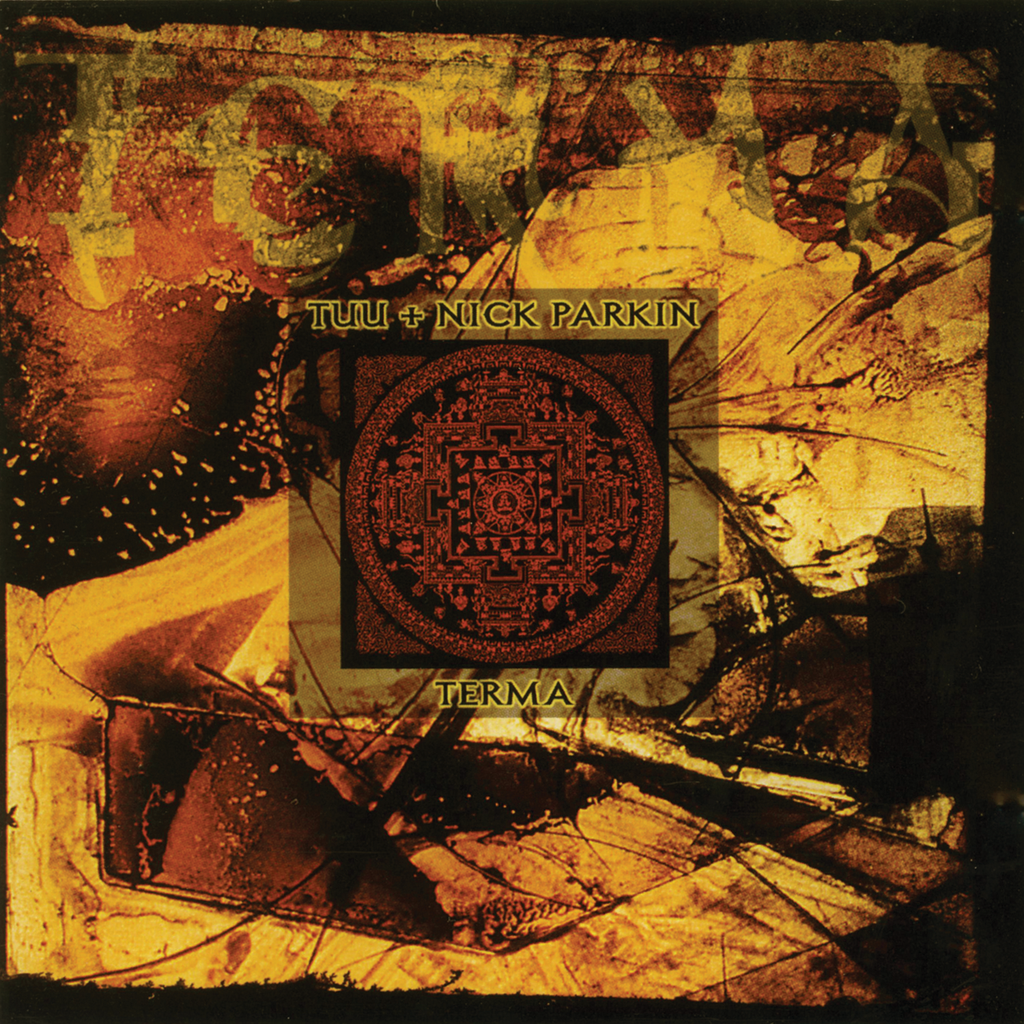 Hearts of Space Records
Tuu & Nick Parkin - Terma
All MP3 Downloads encoded at 320 kbps unless otherwise specified.
TUU takes the listener on a mysterious journey inspired by the hidden teachings of Tibetan Buddhism.
Seven ethereal, trance-inducing aural tapestries paint a deep focus wavescape that will stimulate the synapses of World/Ambient/Electronic fans. Like other powerful ambient music, the transcendental works of Terma don't have a beginning or an end they serve as a pathway to a state of mind.
The first full collaboration between TUU leader MARTIN FRANKLIN and flautist NICK PARKIN takes a turn into darker terrain than previous TUU works featuring Parkin as a sideman. Meshing synthesized drones with resonant percussion instruments, exotic flutes and considerable studio magic, Franklin and Parkin weave ethereal tapestries which are both beguiling and trance-inducing.  Like elusive phantoms, the seven composi-tions seep out of your speakers, creating a mysterious backdrop for nocturnal musings, and opening a mental space where your senses are heightened to the subtleties of the darkened world around you. It's a place wherein the words of one title, the "Ghosts In The Landscape," can be revealed. Slowly you immerse yourself in the album's dark waters, but rather than return to the surface for air, you stay submerged, swimming deeper into a mysterious underworld to encounter the unknown.

"The title is actually a Tibetan word which I came across reading an essay by the Welsh reincarnated lama Ngakpa Chogyam Rinpoche," explains Franklin. "The idea is that the Buddha, in his compassion, left certain spiritual treasures and artifacts to be found by later generations, encoded somehow within particular parts of the landscape. Special lamas are trained to detect these treasures. When they pass the certain spot, the Terma may enter their consciousness, and then it is their skill which will cognitise it into form."

"There are stories that before an audience of hundreds they will cause a rock to open and reveal a scripture or ritual object. The idea I'm drawn to is of the unknown potential of landscape and particular forms within it; the idea that there is this hidden potential in the geometry of the land itself."

In composing, Franklin and Parkin were exploring the dormant possibilities in their own music. Their minimalist approach is deceptively simple, for it is within their rippling walls of sound where one loses oneself. Each piece is another step on the journey.

"Djinn" opens the album with hypnotic frame drum rhythms which dissolve into the fluid ambience and water drums of Water Memory. The more ethereal side becomes dominant in "Magus" as a haunting Turkish ney pierces the complex drones which drench the sonic landscape. The track "Ghosts In The Landscape" best sums up the record musically and meta-phorically with its spectral synth swirls, ethereal winds, and deeply reverberating drums intertwining in a dark ambient haze.

The last three tracks move deeper into the ambient mode. On the title track "Terma," the ominous whirling of a bullroarer sets an eerie tone as it whips over high-pitched drones, while on the closing tracks "Plateau" and "Serpent Fire," Franklin and Parkin keep you submerged within their deep listening domain with a mix of haunting drones, resonating gongs, and spooky synths. While the atmospheric works of TUU and Parkin seethe with subtle intensity, they also soothe the body with their soporific sounds. Thus for different listeners, the music may have different effects. For some, it will be the perfect way to chill out; for others it will spark the imagination, and for still others it will serve as a catalyst for unlocking long-forgotten memories, as has been reported by many at live TUU shows. In every case, these engaging ethno-ambient elixirs will transport you to a very different frame of mind.
2-HOS-11087
 Credits
COMPOSED AND PERFORMED BY MARTIN FRANKLIN AND NICK PARKIN
ALL MUSIC ©1998 FRANKLIN/PARKIN (MCPS/PRS) EXCEPT "DJINN" BY MART FRANKLIN (MCPS/PRS)
MODUCED AND MIXED BY MARTIN FRANKLIN
RECORDED AND MIXED AT BODY MUSIC STUDIO, WINDSOR, ENGLAND
ENGINERED BY JON BIDGOOD
MASTERED BY BOB OLHSSON AND STEPHEN HILL AT HEARTS OF SPACE, SAUSALITO, CALIFORNIA
ART DIRECTION STEPHEN HILL
DESIGN AND IMAGE TORTURE MICHAEL SNYDER
COVER IMAGE ADRIANA IONASCU • INLAY SOURCE PHOTO ROBERT HOLMES, SAUSALITO
ARTST PHOTOS VAL RYLANDS • INTERIOR TIBETAN MANUSCRIPT SOURCE JOSEPH JACOBS
---
Share this Product
---
More from this collection