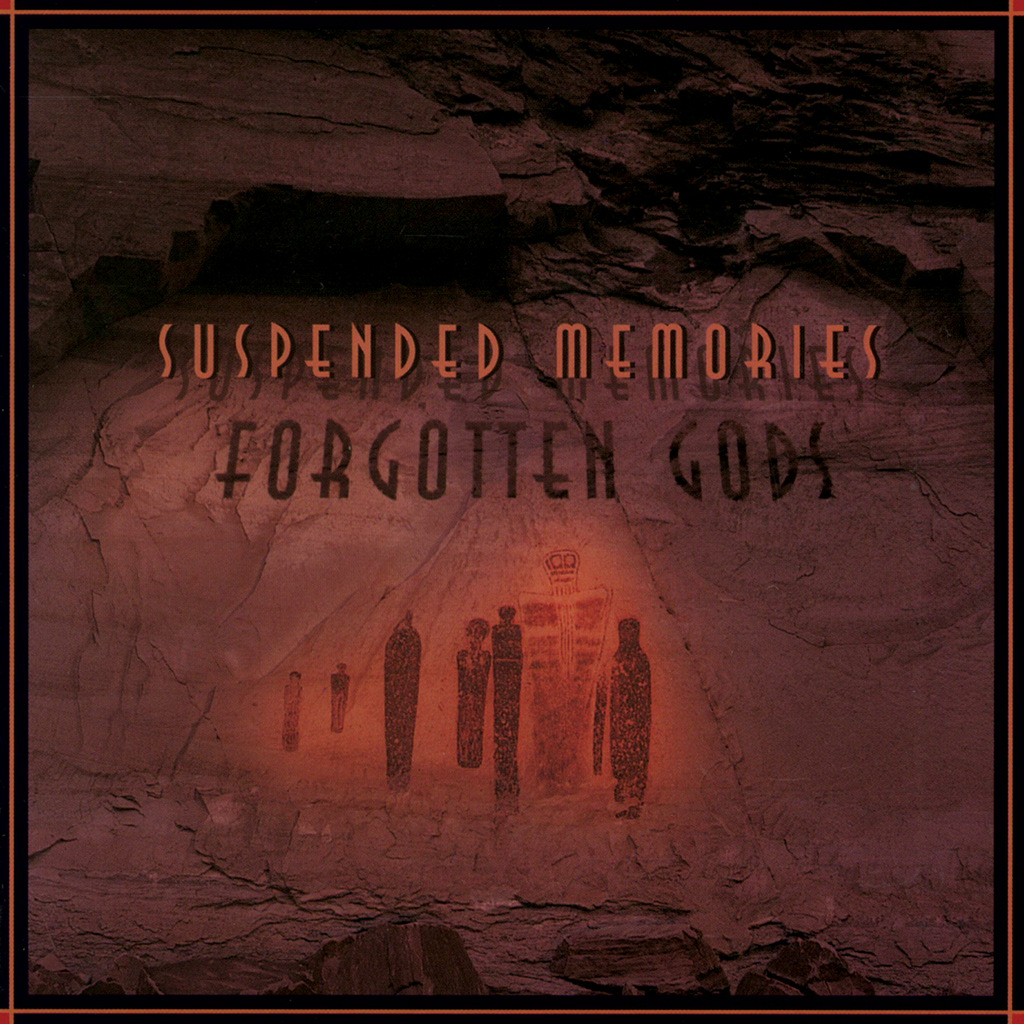 Hearts of Space Records
Suspended Memories - Forgotten Gods
All MP3 Downloads encoded at 320 kbps unless otherwise specified.
"Simmering beneath this collection of half-formed dreams, existential shadows, mercurial hallucinations and tender silences is an understanding between three people that can't be put into words."
- Linda Kohanov
I don't claim to be a visionary, but for years I've been predicting the imminent arrival of a "spacejazz" movement among the more accomplished spacemusic artists.
This music wouldn't sound anything like jazz, but would share some of its musical tactics and recording strategy, like working quickly with lots of improvisation, and a fairly simple production process. But in place of the documentary recording style of jazz, spacejazz would paint freely and creatively with the imagery, electronic studio tools, and advanced sound design of spacemusic.

Forgotten Gods, though not the first, is a sterling example of this genre -- a natural and fortuitous meeting of three talented musical psychonauts at exactly the right moment in their respective careers.

Each member of Suspended Memories has dug up the roots of his cultural inheritance, seeking the shadowed origins of the musical experience on the path to discovering a valid ritual music for today. Each has recognized the necessity of creating a super-charged ambiance that transports both musicians and listeners to a plane of psychological intensity that cannot be achieved simply by bombast or by volume.

National music writer Linda Kohanov (she also happens to be Mrs. STEVE ROACH) was on hand to witness their charmed early meetings, as well as the extraordinary fluidity of the recording process which she describes in the liner notes.

With its rich blend of elemental rhythms, mutated voicings and expanded fourth world tribal spaces, Forgotten Gods succeeds admirably in the quest for an improvised spacemusic. Like jazz, you can listen to each of the players and consider their moment-to-moment artistic choices. Like avant-garde work it achieves something wholly new, yet it also manages to satisfy the tonal, rhythmic and textural demands common in other forms of polar music. That's not bad for starters, but under the surface lie the powerful stirrings of an authentic ritual music for a secular age.
Empty your mind, turn down the lights, turn up the volume. Listen for an hour and I think you'll agree that Forgotten Gods hits the mark with a resounding bang, shake, rattle, and drone.
2-HOS-11034
Credits
All music composed, performed and produced by Steve Roach,
Jorge Reyes and Suso Saiz. Recorded and mixed by Steve Roach
and Suso Saiz at the Timeroom, Tucson, AZ. Digital assembly by
Jose Luis Crespo and Suso Saiz at Prisma CMS, Madrid, Spain.
Mastered by Stephen Hill at Hearts of Space studio, San Francisco.
All Music © 1993 Soundquest Music/BMI.
Suspended Memories is
STEVE ROACH analog and digital synthesizers, rhythm
programming, sampled percussion, voice and didgeridoo,
distant percussion, Lakota plains flute
JORGE REYES clay water pots, prehispanic clay flutes and
ocarinas, bamboo flute, whistles, voice, various drums and
percussion, stones, turtle shell, rainstick
SUSO SAIZ electric guitars, processors, short wave radio,
distant percussion
Original cover photos from Barrier Canyon, Canyonlands
National Park, Utah © 1991 David Muench, Santa Barbara,
CA. Image editing, design and production by Stephen Hill.
Special thanks to Linda Kohanov, David Hodgson of Playing
by Ear, Robert Rich, Elmar Schulte, Stephen and Leyla Hill,
Alejandro Ruiz, Mackie Designs. 
---
Share this Product
---
More from this collection