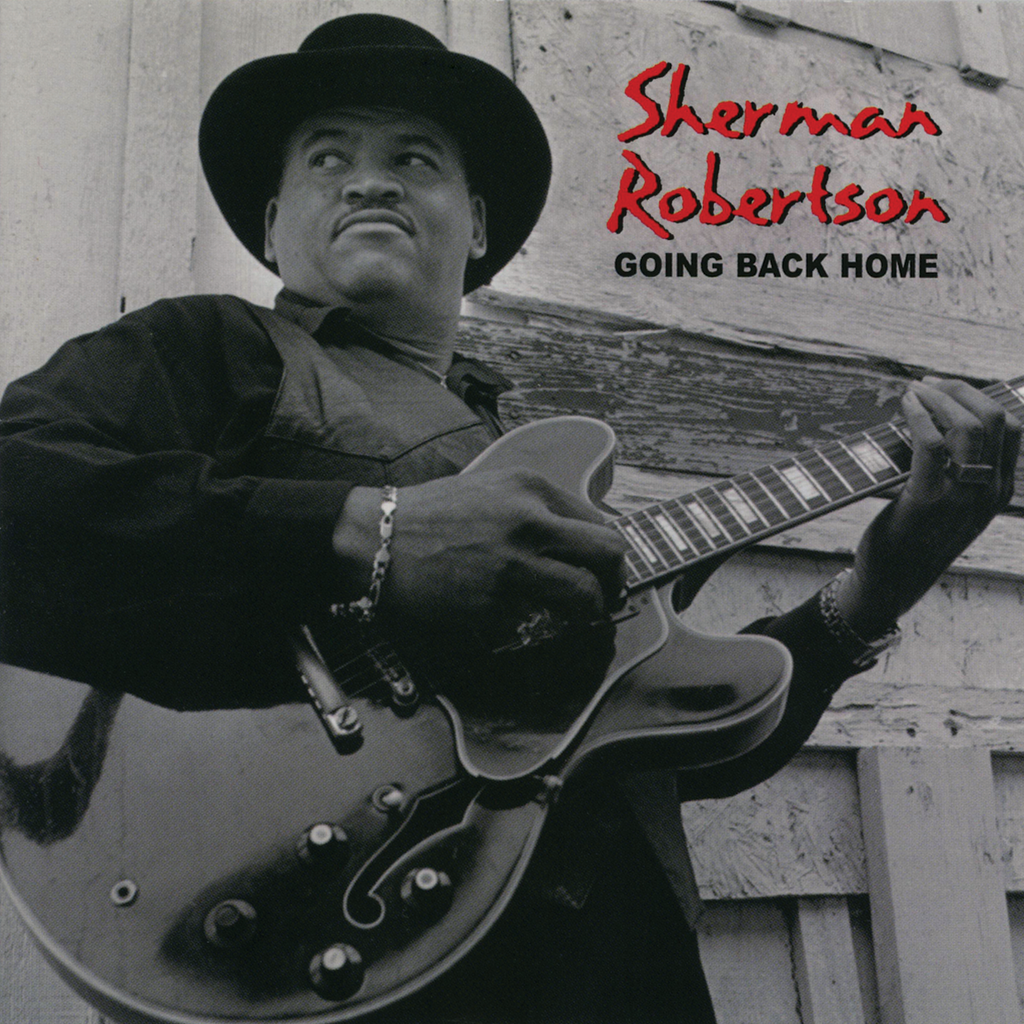 Sledgehammer Blues
Sherman Robertson - Going Back Home
All MP3 Downloads encoded at 320 kbps unless otherwise specified.
Houston native Sherman Robertson's star has been steadily rising since his days with Clifton Chenier. After appearing on Paul Simon's "Graceland" album, Sherman followed with two heralded albums of his own for Atlantic in 1994 and 1996.

Going Back Home is Sherman's long-anticipated debut for Sledgehammer Blues (née AudioQuest Music). Sherman plays his Texas tail off with a superb backing band featuring Bill Payne and Richie Hayward from Little Feat. On bass (courtesy of John Fogerty) is Bob Glaub. And from the Texacali Horns, Joe Sublett adds his potent tenor sax.

With Going Back Home, the incredible energy of Sherman's live shows has finally been captured in the studio. This is the album Sherman's fans have been waiting for!
"Looking for Robertson represented on a studio CD that matches the intensity of his live performances? Producer Joe Harley has done it. Harley lets Robertson rip loose, mixing his zydeco roots with his growing years breathing Texas fire. Joining him on the cattle drive are Little Feat's Richie Hayward and Bill Payne, Bob Glaub (John Fogerty), and fellow Texan Joe Sublett of the Texacali horns." 
- Char Ham, All Music Guide

"Great songs, great delivery. Sherman's got his own voice." 
- Blues Access

"...solid covers and originals that are as deep-of-groove as they are soulful." 
- Dirty Linen (04/01/1999)
"...a straightforward electric blues album that's got it all....Robertson deserves to have his name added to the short list of the finest musicians who play...in the intense tradition of Texas guitar slingers." 
- Living Blues (01/01/1999)

Performers
Sherman Robertson - Guitar and Vocals
Bob Glaub - Bass
Richard Hayward - Drums
Bill Payne - Piano, Hammond B-3, Wurlitzer Electric Piano
Joe Sublett - Tenor Sax

Recording
Produced by Joe Harley
All tracks recorded by Michael C. Ross at OceanWay Recording, Hollywood, CA - March 28 and 29, 1998
Mastered by Bernie Grundman
All recording and mastering cables by AudioQuest
Tracklist
1. Guitar Man
2. I Don't Want No Woman
3. Going Back Home
4. Everybody Loves Somebody
5. Don't Throw Your Love On Me So Strong
6. I Wonder Why
7. Fall In Love
8. Special Kind Of Loving
9. Me, My Guitar And The Blues
10. Looking At The Bottom
11. Driving All Night

2-AQM-1050
---
Share this Product
---
More from this collection