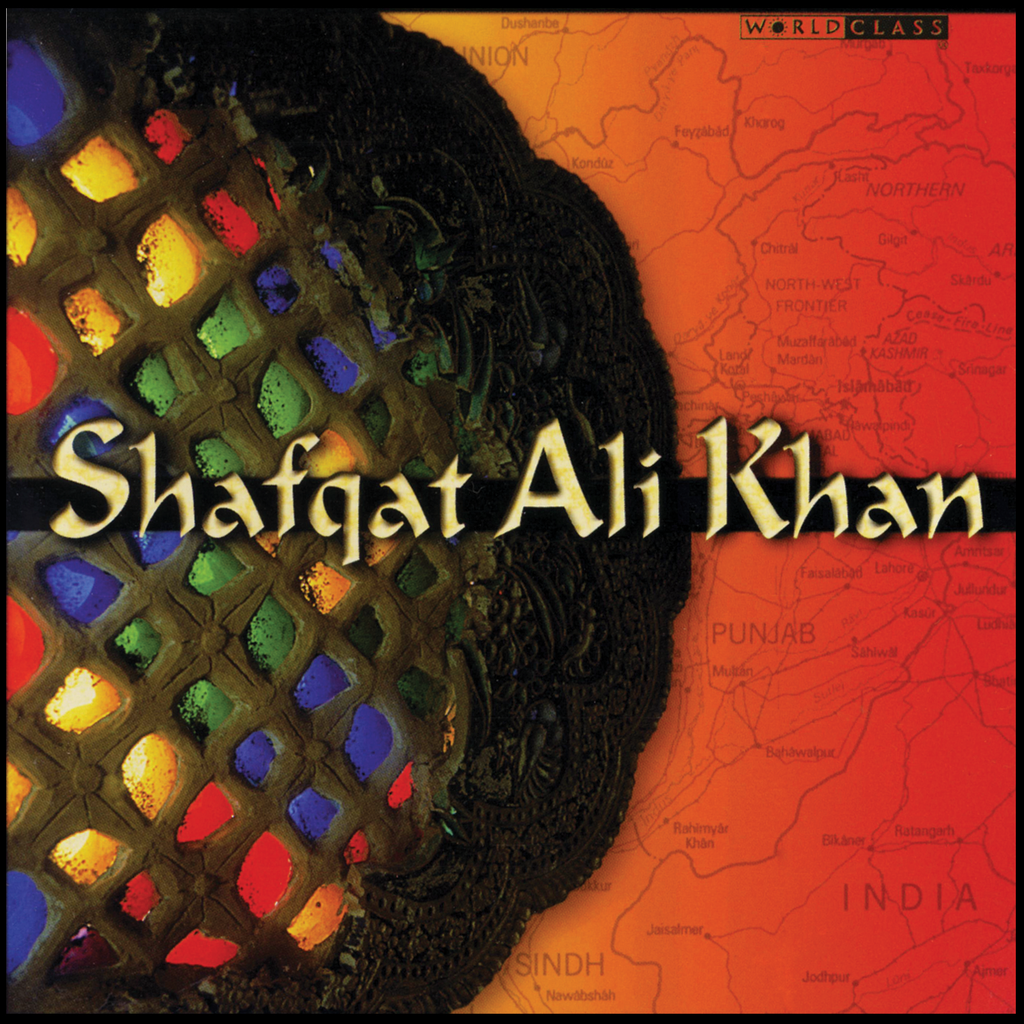 Hearts of Space Records
Shafqat Ali Khan - Shafqat Ali Khan
All MP3 Downloads encoded at 320 kbps unless otherwise specified.
As heir to a singing dynasty stretching back to the 16th century, Shafqat Ali Khan is one of the master classical vocalists of India and Pakistan.
On this soulful debut release, he propels his tradition into the 21st century, the serpentine melodies of his Punjabi homeland soaring over the guitars, synths and beats of an electro-acoustic mix.  
"Shafqat Ali Khan is the son of famed Pakistani singer Ustad Salamat Ali Khan, who was the uncle and one of the first teachers of Nusrat Fateh Ali Khan, the best-known exponent of Pakistani Qawaali singing. But you can't listen to a lineage, and Shafqat Ali Khan blazes his own path on this self-titled album co-composed with keyboardist Douglas McKeehan, known for his work with the world-fusion group Ancient Future. Together, they create a contemporary extrapolation of the gharana music tradition, a sound of unbridled passion that spins off vocal ornaments that sound like a baroque painting on acid. This isn't traditional music souped up with modern arrangements, but new compositions built from the ground up. Shafqat writes his own, Rumiesque lyrics, ranging from the love song of "Ashina" to the ecstatic rave-up of "Dance of My Soul." It's that mixture of sensuality and spirituality that creates the tension of Qawaali music. McKeehan's inventive arrangements often eschew Pakistani signposts completely, from the bluegrass banjo on "Dust to Dust" to the cyclical guitar lines of Richard Michos on "Valley of Memories." Beautifully produced, Khan and McKeehan create a dynamic relief to what can often be an unremittingly intense music."
- John Diliberto
Credits
PRODUCED BY DOUGLAS MCKEEHAN

original compositions by SHAFQAT AL KHAN and DOUGLAS MCKEEHAN
except Valley of Memories by R.MiCHOS and SHAFQAT ALI KHAN,
and Ashina by R.MICHOS, SHAFQAT AL KHAN, and SHIRAFAT ALI KHAN

SHAFOAT ALI KHAN - vocals on all tracks
DOUGLAS MCKEEHAN - keyboards and programming on 1, 2, 3, 6, 7. 8; keyboards on 4
RICHARD MICHOS - electric and acoustic quitars, electric bass, programming on 4, 5.
JIM 'SANTI' OWEN - tavil, kanjira, and morsing - 1; tabla - 2,6; pakowaj- 7.
lAN DOGOLE - udu on 1, 3, 6; talking drum on 1, 6; dhumbek and shaker on 8
GEORGE BROOKS - soprano saxophone on 1
MOSES SEDLER - cello on 2 ,6, 7
MATTHEW MONTFORT - scalloped fretboard and electric quitars on 2, 8 (courtesy Narada Records)
DAVE RISTRIM - banjo on 3
ARSHAD SYED - tabla on 4
MATT VENUTI EVI - (electric valve instrument) on 4
VINCE LITTLETON - percussion on 5

1, 2, 3. 6, 7. 8 recorded and mixed by DOUGLAS MCKEEHAN at Keuhand Studio
Oakland, CA. 4 & 5 produced by RICHARD MICHOs, recorded by RICHARD
MICHOS and DAVE PLANK at Michos Studio, San Francisco, and mixed by
DOUGLAS MCKEEHAN and BRUCE KAPHAN at Niagara Falls Studio, Fremont, CA.
All music © 1999 Arrabachackle Music/BMI, administered by Liminal Music/BMI
Mastered by BOB OLHSSON and STEPHEN HILL at Hearts of Space. Sausalito, Ca.
2-HOS-11310
---
Share this Product
---
More from this collection