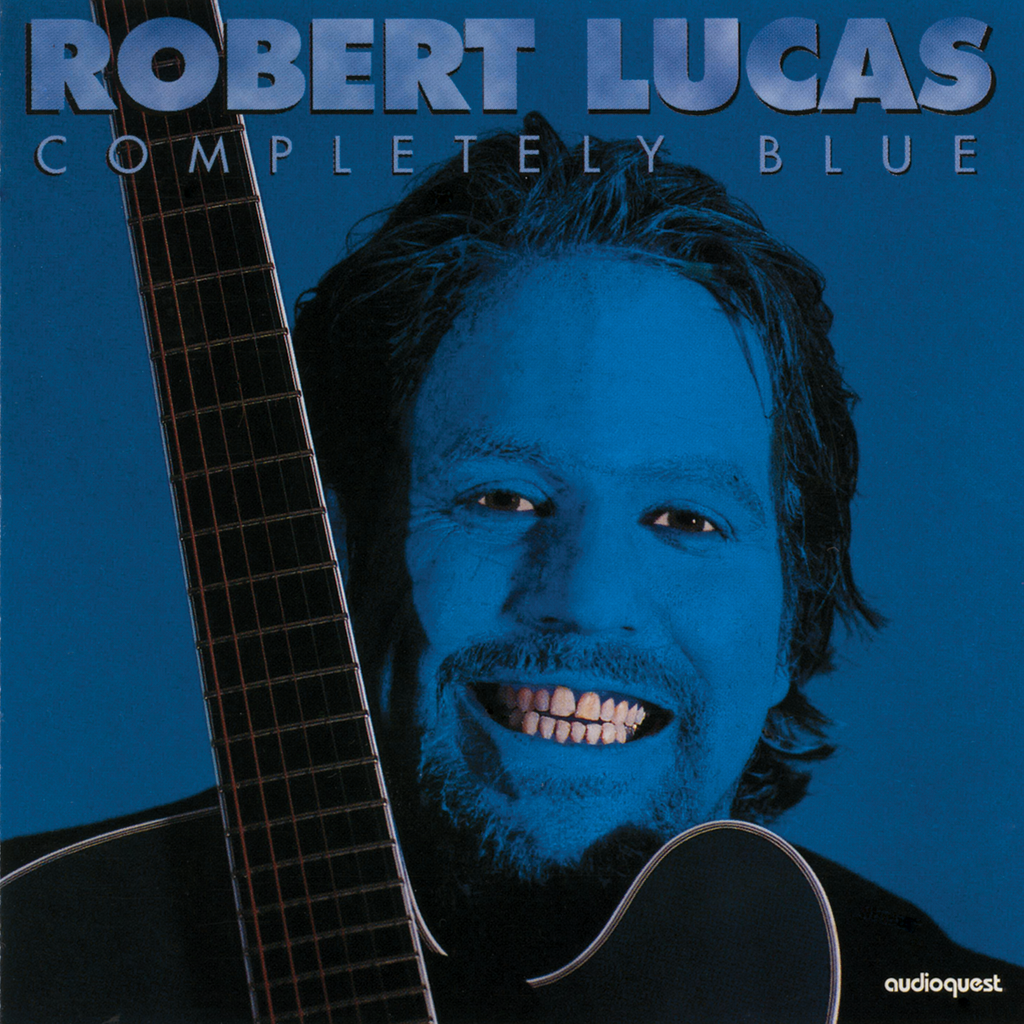 Sledgehammer Blues
Robert Lucas - Completely Blue
All MP3 Downloads encoded at 320 kbps unless otherwise specified.
The last and most popular album from Robert Lucas.
"Right from the bongo drum intro on the first number, it's apparent that this album veers in a different direction for Lucas. Add the eerie organ sounds and the jazzy guitar licks, and this album has great musical depth. Even his songwriting expands topic-wise, whether warning his one night stand the consequences of telling all to his wife, or society's lack of common sense while suffering economic woes, even giving a little snippet of commentary on the O.J. Simpson case. There's some magnificent and expansive keyboard work by Fred Kaplan, both on piano and B-3 organ. Along with co-writer/guitarist David Melton, Lucas' "Two for Nothing" is a nice Stax-sounding duet. Joining Melton on guitar duties is former Mighty Flyer Alex Schultz, who can flesh out equally well on rhythm as well as burn on solos. Rounding out and heading for home, Lucas ends with an acoustic interpretation of [Jimi] Hendrix's "Voodoo Chile," which presents how Robert Johnson might have performed it had he lived into the latter half of this century."
- Char Ham, All Music Guide
Performers
Robert Lucas - vocals, harmonica, slide guitar
Alex Schultz - guitar
David Melton - guitar
Tyler Pederson - electric bass, acoustic bass
Johnny Morgan - drums
red Kaplan - keyboards, percussion
Fito de la Parra - percussion

Recording
Produced by Joe Harley
Recorded at OceanWay Recording, Hollywood, CA - October 26, 27 1996
Engineers: Michael C. Ross, Jeff De Morris
Recording: Custom modified Ampex ATR-100 2-track
Microphones: AKG C-12, C-12A, 452-20; Neumann M-50, U-269, U-47 FET; Sony C-55p, C-37 FET; Sennheiser 441, 421; Shure SM-57
Cables: AudioQuest Diamond X3, Lapis X3 and Digital Pro 2
Tracklist
1. I Miss Being High
2. 50 Pounds Of Bone
3. Dollars & Sense
4. Completely Blue
5. Party Girl
6. I Don't Know Why
7. I'm Gonna Whisper
8. Pain In Our Cities
9. Two For Nothing
10. Listen To Me Baby
11. I Don't Want You To Go
12. Voodoo Chile

2-AQM-1045
---
Share this Product
---
More from this collection