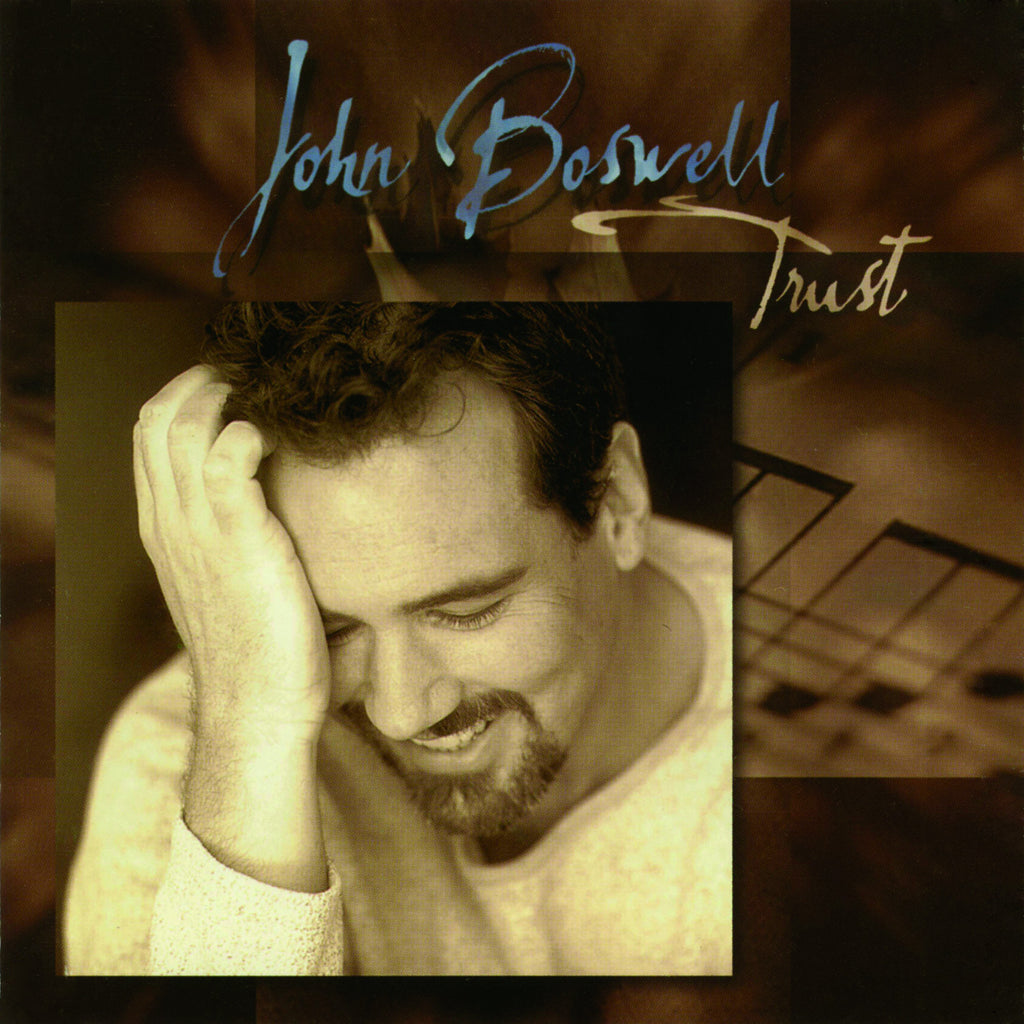 Hearts of Space Records
John Boswell - Trust
All MP3 Downloads encoded at 320 kbps unless otherwise specified.
On Trust, JOHN BOSWELL extends the signature warmth and melodic grace of his classic solo piano albums The Painter and Kindred Spirits with a touch of cello, oboe and strings.
Poignant, sensitive, intimate, lyrical, satisfying: you'll find it all in Trust. Themes of nature and human emotion dance around each other on Trust. JOHN BOSWELL's fifth album radiates the mature optimism that comes from embracing life's challenges in the fullness of feeling, rather than shying away from them. To accomplish this musically, Boswell has stepped back from the ensemble sound that has characterized his most recent releases, and returned to the intimacy of the solo piano (occasionally offset by discrete synthesizer touches), approaching it with a deeply felt sensitivity and intelligent passion.
Trust opens with a surge of optimism, as the graceful melody of "Take My Hand" builds from its hymn-like opening chords to a stirring resolution. The image of a gossamer seed pod drifting on gentle breezes provides the inspiration for the fluid "On the Wind", with cascading upper-register ripples flowing freely. "From the Heart", embellished with subtle synthesizer orchestration, is a luxuriantly romantic love ballad that glows with a softly burnished warmth and engaging tenderness. The acclaimed Swiss cellist MARTIN TILLMAN provides an exquisite multi-tracked prelude to "I'll Carry You Through," and then joins John's piano in exploring a melodic theme ripe with a wistful poignancy. The title track follows, conveying a passionate hopefulness that rings out with strong, clear tones and a soaring melody that instantly etches itself on the brain.

"Are You There" then calls out like a lonely voice in the wilderness, while echoes of French minimalist Erik Satie haunt the spacious introspections of "Glimpse of Time", a lyrical meditation on the mysteries of creation and transience.

The final four tracks all draw heavily on nature imagery, while progressively escaping the constraints of form and slipping into more open-ended, improvisational territory. "Heart Full of Rain" perfectly captures the kind of reflective, melancholic mood evoked by a rainy day. The free-floating "Leaf Dream" unfurls at a suitably relaxed pace, as if the last leaf left dangling from a wintry tree was contemplating its fate. The lovely, airy melody of the all-too-short "Angel in the Ice" drifts by like the fleeting, paradoxical vision suggested by its enigmatic title, while "Cloud Vision" brings the album to a dreamy end, with its shimmery aura of reverberation evoking the oceanic feeling of lying on ones back looking up at the vastness of a cloud-speckled sky.

On Trust John Boswell demonstrates once again that he has mastered the elusive art of communicating deeply-felt sentiment without lapsing into facile sentimentality. The emotional honesty of his music is balanced by a technical sophistication and refined sensibility which enable him to skillfully explore the ways that nature affects the range of our human emotions.
2-HOS-11085
 Credits
ALL MUSIC COMPOSED, PERFORMED AND ARRANGED BY John Boswell
PIANO John Boswell
CELLO Martin Tillmann
SYNTHS/SAMPLES Michael Jay
PRODUCED AND ENGINEERED BY Michael Jay
PIANO RECORDED AT Ocean Way
ASSISTANT ENGINEER Alan Sanderson
ALBUM OVERDUBBED AND MIXED IN The Imaginary Studio, Sherman Oaks
MASTERED BY Bob Olhsson and Stephen Hill at Hearts of Space, Sausalito, California
ALL MUSIC ©1998 Noodle Soup Music/BMI
ARTIST PHOTOS Russell Baer Courtesy Russell Baer Photography, Santa Monica, CA
HAIR Venus and Mars, Santa Barbara, CA
MAKEUP/STYLING Tracy Tanner
ART DIRECTION Stephen Hill
DESIGN Michael Snyder
---
Share this Product
---
More from this collection