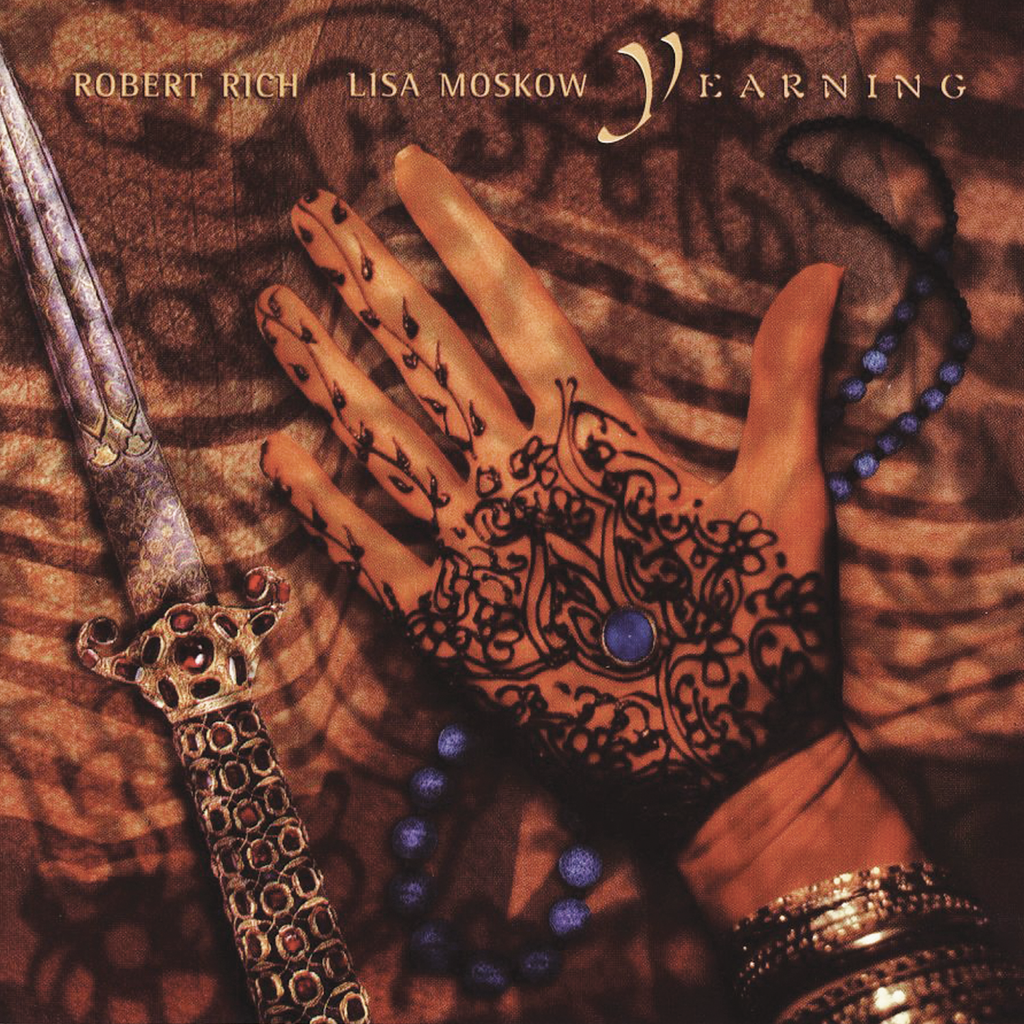 Hearts of Space Records
Robert Rich & Lisa Moskow - Yearning
All MP3 Downloads encoded at 320 kbps unless otherwise specified.
"Robert Rich & Lisa Moskow created Yearning as an 'evolution of the traditional approach to alop,' the introduction and slowest part of the Indian raga."
- All Music Guide
The musical concept behing Yearning emerged during the making of ROBERT RICH's 1994 Hearts of Space release Propagation. Rich explains. "I was looking for the album I was hearing in my head, a complete aural womb that would go on forever and ever." The album YEARNING became a reality through the extraordinary unification of LISA MOSKOW's instrumental virtuosity and improvisational imagination and ROBERT RICH's multi-instrumental wizardry and peerless mastery of sonic architecture. The collaboration began with Rich recording Moskow during six hours of sarod improvisations in alap style. Exploiting the vast potential of digital multitrack recording, Rich was then able to integrate his own huge, shifting clouds of sound made by flutes (many hand-crafted to fit the tonality of each movement), synths, guitar, santur, and percussion, "allowing the music to move me in what ever direction it should."
"Most Indian music is recorded in a strictly ethnomusicological manner," Rich notes, "isolating a particular performance in a specific place and time. I treated the sections, based on various raga modes, like one long, flowing performance." Although sound design is crucial to the deep, dark atmospherics of Yearning, the actual role of computer electronics is subdued into the delicate microtonal adjustments that make each passage dovetail into the next, and the subtle enhancements that, in Rich's words "create a hybrid of acoustic and electronic texture - every timbre is acoustic but feels much larger."

"When I'm making music," Rich explains, "I want to discover something much bigger than me. The purpose is the transformation."

That notion perfectly fit Moskow's understanding of Indian music, which, she says "is not a classical tradition fixed in time. There is a great deal of freedom within the form and, as in America's classical music, jazz, you can improvise indefinitely once you know the rules. It allows enormous potential for self-expression."

By presenting that mode of self-expression in a context of expanded time and space, Rich and Moskow invite the listener into a world that is comforting and familiar yet entirely challenging and fresh.
2-HOS-11050
Credits
Recorded, produced, mixed and digitally assembled by Robert Rich in 1994 at Soundscape
Studio, Mountain View, CA. Mastering Assistance by Bob Olhsson. All Compasitions € 1994 by
Lisa Muskow and Robert Rich, except *Part J; Nada* 01994 by Robert Rich. Published by
Anaeba Music (BMI) and Lisa Maskow (ASCAP). Art Direction and Design: Stepten Hill. Original


---
Share this Product
---
More from this collection