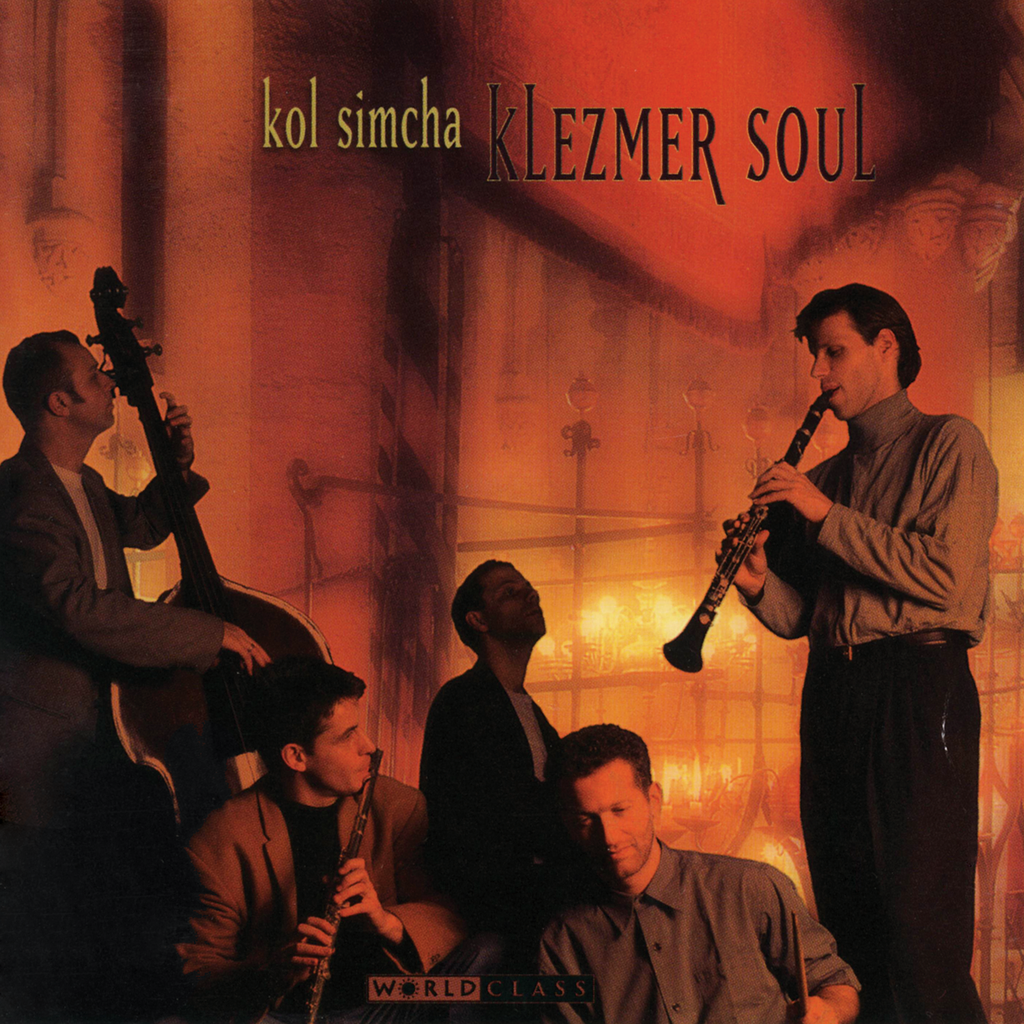 Hearts of Space Records
Kol Simcha - Klezmer Soul
All MP3 Downloads encoded at 320 kbps unless otherwise specified.
Kol Simcha's Klezmer Soul explores the spiritual underpinnings of Klezmer by evoking the mystery of forgotten texts and resonant melodies that go back generations.
The Jewish vernacular folk music of Klezmer is best known for its wildly exuberant dances, but the genre also has a quiet, deeply emotional side equivalent to the melancholy airs of Celtic music. Klezmer Soul is pain relieved, heartache soothed, anguish redeemed. Just as the traditional Jewish vernacular of Klezmer has succeeded in insinuating itself into the hearts and minds of contemporary listeners, and the celebratory strains of its idiomatic melodies and rhythms gain new enthusiasts, the members of the popular Swiss ensemble Kol Simcha and World Class label producer STEPHEN HILL have chosen to communicate something deeper and more ancient with the release of the deep Klezmer compilation, Klezmer Soul.
To the casual observer Klezmer music is the sound of exultation, an unrestrained celebration of life, but the less familiar contemplative side of Klezmer music speaks to something very ancient and sacred in the hearts of listeners, and it is for this reason that this compilation departs from the celebratory aspect of the music in favor of its more ruminative, prayerful aspects.

Klezmer Soul explores the spiritual underpinnings of Klezmer by evoking the mystery of forgotten texts and resonant melodies that go back generations. Yet for all the stillness and quiet mastery of their presentation, Kol Simcha's mesmerizing original ballads are shot through with powerful emotions and subtle harmonic twists and turns, making Klezmer Soul essential listening for lovers of traditional music and cool jazz alike.

Translated from Hebrew, kol is a voice, while simcha is synonymous with parties, celebrations and joyous occasions. For a growing host of world music fans, Kol Simcha represents the past, present and future of klezmer music, but their approach to idiomatic Jewish melodies and rhythms is anything but traditional.

Having made the journey from the shtetls of Eastern Europe to the clubs and concert halls of the west, Klezmer no longer exists as an isolated cultural idiom and has come to reflect many of the instrumental styles of its adopted homelands, most tellingly in America where its sound and spirit have been likened to New Orleans-styled traditional jazz and backwoods Zydeco.

So in taking traditional klezmer melodic instruments such as clarinet and flute and combining them with a jazz rhythm section of piano, acoustic bass and the modern multi-percussion drum set, Kol Simcha isnt denying the ancestral roots of the music. Nor are they seeking to popularize Klezmer in the basest sense. No, the music of Kol Simcha is an affirmation of both modernist aspirations and traditional values, as the music is assimilated into the improvisational mainstream and informs evolving styles of expression as we enter the 21st century.

From MICHAEL HEITZLER's and OLIVIER TRUAN's hushed clarinet-piano dialogues on "Al Kapav Yavi" and "Hakotel," the Mid-Eastern strains of cymbal rolls, plucked piano strings and flute on "Negev" and "Joseph," to the restrained shadow dance of "Jerusalem" and the graceful orchestral strings of "Lullaby," this is a cool, poignant recital that pulls on the heart without ever resorting to faux sentimentality. And on a serene tune such as "Anastasia," with Truan's rippling piano arpeggios and Heitzler's clarinet, Kol Simcha reveals a brand of sublimely romantic understatement that is the mark of mature musical originality.
Credits

Performed by Michael Heitzler clarinet, Niki Reiser flutes, Olivier Truan piano, Daniel Fricker
acoustic bass, David Klein drums, Sinfonietta de Lausanne (ean-Marc Grob, conductor) on "Shabbes" and "Lullaby for Clarinet, Piano, and Strings"

Mastering | Bob Olhsson and Stephen Hill at Hearts of Space, Sausalito, California
2-HOS-11303
---
Share this Product
---
More from this collection