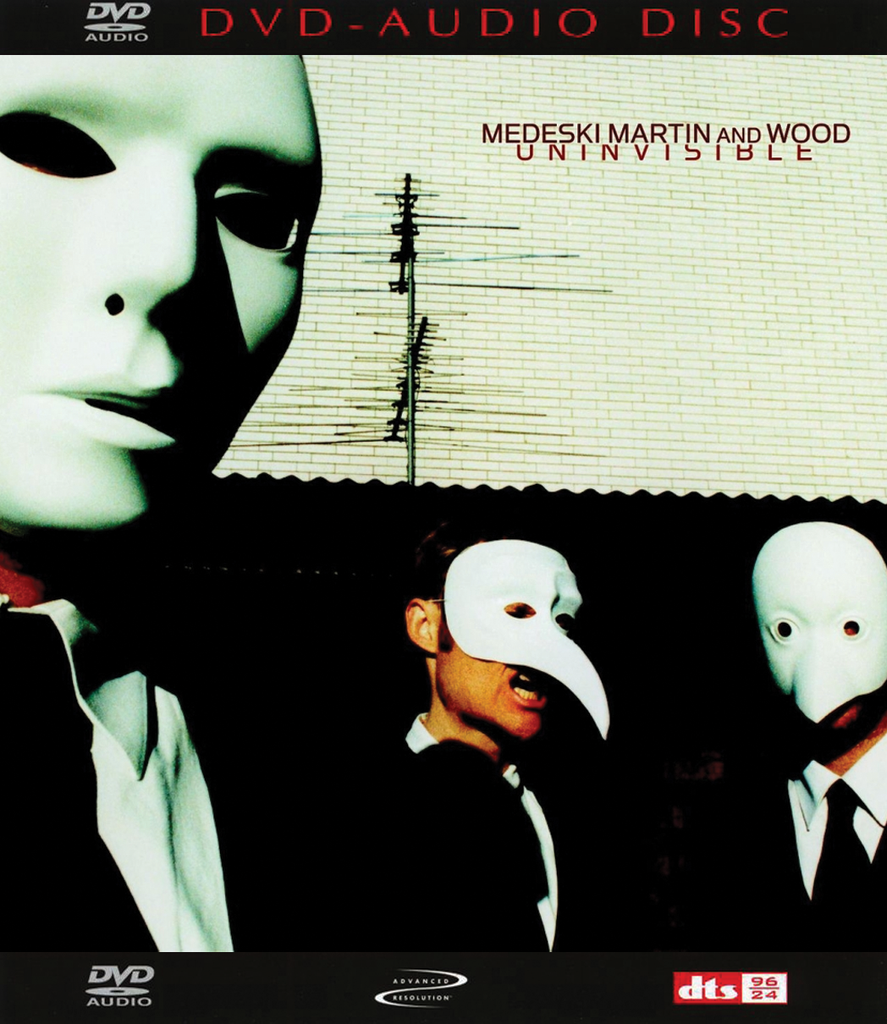 DTS
Medeski, Martin and Wood - Uninvisible
"Uninvisible is further than ever from conventional jazz organ. While blues and funk influences are evident throughout the album, they float on a sea of shadows. Sound sources are obscure or exotic; on "Pappy Check" innovative scratching by turntablist DJ Olive creates an impression of African percussion more than club atmospherics. Even where the instrumentation is less ambiguous, the trio steers toward a filmic noir sensibility, with Medeski leading the way in unorthodox techniques. His pitch-bend solo on "Take Me Nowhere" suggests the creak of a rusty hinge, with Wood's acoustic bass providing the anchor for his abstractions. Wood is in fact often mixed higher than Medeski, to the effect of reducing the keyboard parts to a sideline role and the album in turn to an exercise in mood more than virtuosity -- an impression enhanced by a similarly eccentric shrinkage of the power guitar part on "The Edge of Night" to a barely audible background element. The rhythm is steady and stealthy, a slow-motion oscillation between live and looped tracks, most often with a hip-hop sensibility. More important, every musician on each cut plays with a belief that overplaying only subverts the goals of collective improvisation. If any one album can be said to pick up on the surreal funk explorations of latter-day Miles Davis, Uninvisible is it."
- Robert L. Doerschuk (All Music Guide)
Uninvisible was on CNET's Top 10 Must-Have DVD-Audio
The disc includes extras: a gallery of photos, an about the band and music video for Uninvisible.
This is a DVD-Audio disc which is playable on most DVD players as well as all DVD-Audio players.
Tracklist
"Uninvisible" – 3:37
"I Wanna Ride You" – 3:28
"Your Name is Snake Anthony" – 3:12
"Pappy Check" – 2:46
"Take Me Nowhere" – 4:06
"Retirement Song" – 4:47
"Ten Dollar High" – 3:42
"Where Have You Been?" – 3:37
"Reprise"  – 0:35
"Nocturnal Transmission" – 6:37
"Smoke" – 2:46
"First Time Long Time" – 2:52
"The Edge of Night" – 3:53
"Off the Table" – 4:15
6-VLT-10595
---
Share this Product
---
More from this collection