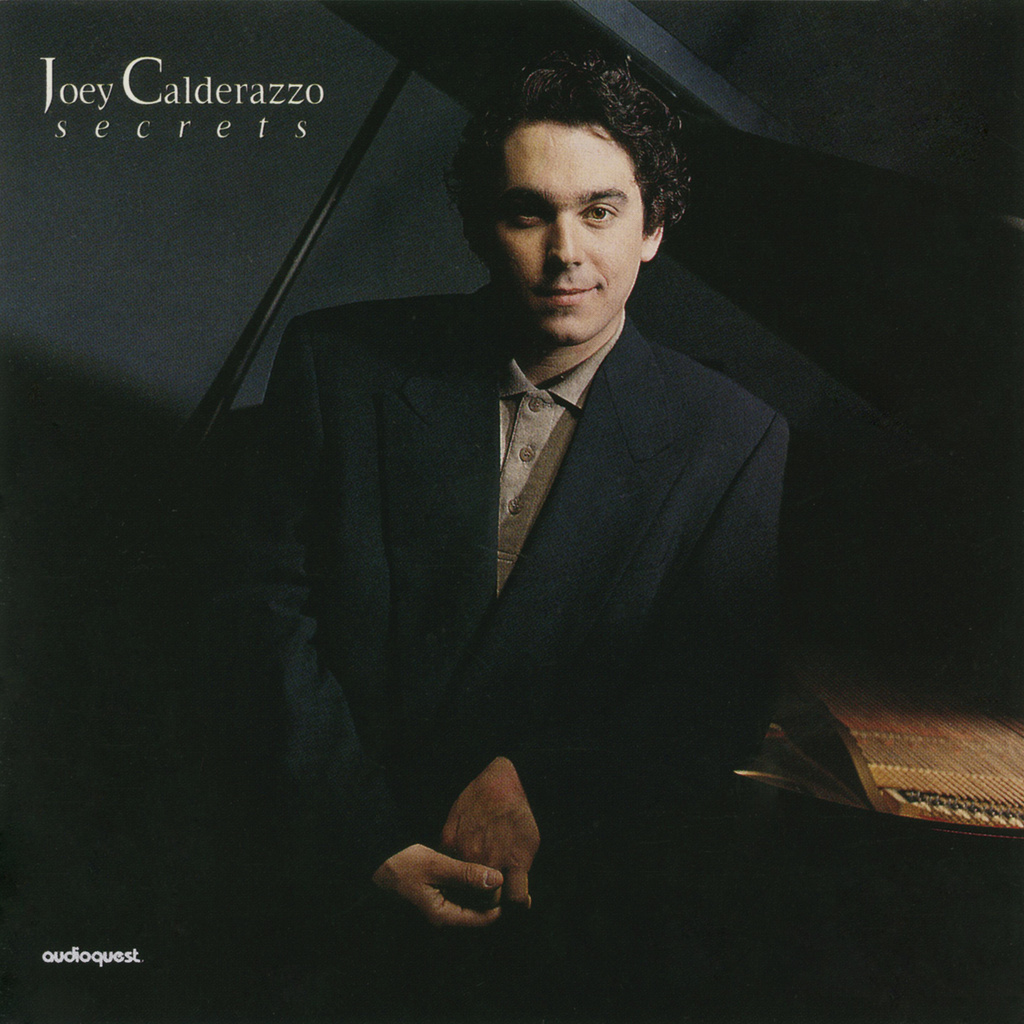 Sledgehammer Blues
Joey Calderazzo - Secrets
All MP3 Downloads encoded at 320 kbps unless otherwise specified.
Joey Calderazzo's trio surrounded with a seven-piece ensemble.
"Joey Calderazzo may not have achieved the acclaim of some of the pianists of his generation like Benny Green and Bill Charlap, but he has consistently created CDs that stand the test of time. These 1995 sessions for Audio Quest feature him leading a variety of different ensembles ranging from trios to octets with potent arrangements by Bob Belden. Six of the eight tracks are Calderazzo's compositions, highlighted by the infectious horn lines in his rhythmic "Echoes" and the wistful air of "Last Visit Home." His trio with bassist James Genus and drummer Clarence Penn are afire in his driving "No One Knows Why I'm Here" and the explosive "ATM." Belden's setting of Miles Davis' "Filles de Kilimenjaro" has an exotic air with the addition of guitarist Fareed Haque and Charles Pillow's English horn. This is a rewarding disc that deserves to be more widely known."
- Ken Dryden (All Music Guide)
"On three solid albums for Blue Note Records, pianist Calderazzo showed himself to be an evolving, modern-minded leader. Working mainly with a trio, Calderazzo occasionally expanded his ensemble to add a horn player or two.
Here on the 30-year-old's debut for the budding San Clemente-based AudioQuest label, Calderazzo's trio (James Genus, bass, and Clarence Penn, drums) remains his focus. However, on six of the album's eight tracks, that unit is augmented by winds and strings arranged and orchestrated by Bob Belden. The result is an album in which the swinging essence of the music is never diluted, despite the presence of orchestral backgrounds not usually associated with jazz."
- Zan Stewart (Los Angeles Times, August 28, 1995)
Performers
Joey Calderazzo - piano
James Genus - bass
Clarence Penn - drums
Tim Hagans - trumpet, flugelhorn
John Clark - French horn
Earl McIntyre - bass trombone, tuba
Tim Ries - soprano saxophone, flute
Charlie Pillow - tenor saxophone, bass clarinet, English horn
Fareed Haque - guitar
Tomas Ulrich - cello

Recording
Produced by Joe Harley and Joey Calderazzo
Recorded at Systems Two, Brooklyn, NY January 26 and 27, 1995
Engineers: Joseph Marciano, Michael Marciano,
Recording: All tracks were recorded live direct to a two-track Studer A-80.
Cables: AudioQuest Diamond X3, Lapis X3 and Digital Pro
Tracklist
1. Secrets
2. No One Knows I'm Here
3. Aurora
4. Scriabin
5. Echoes
6. Filles De Kilimenjaro
7. Last Visit Home
8. ATM

2-AQM-1036
---
Share this Product
---
More from this collection