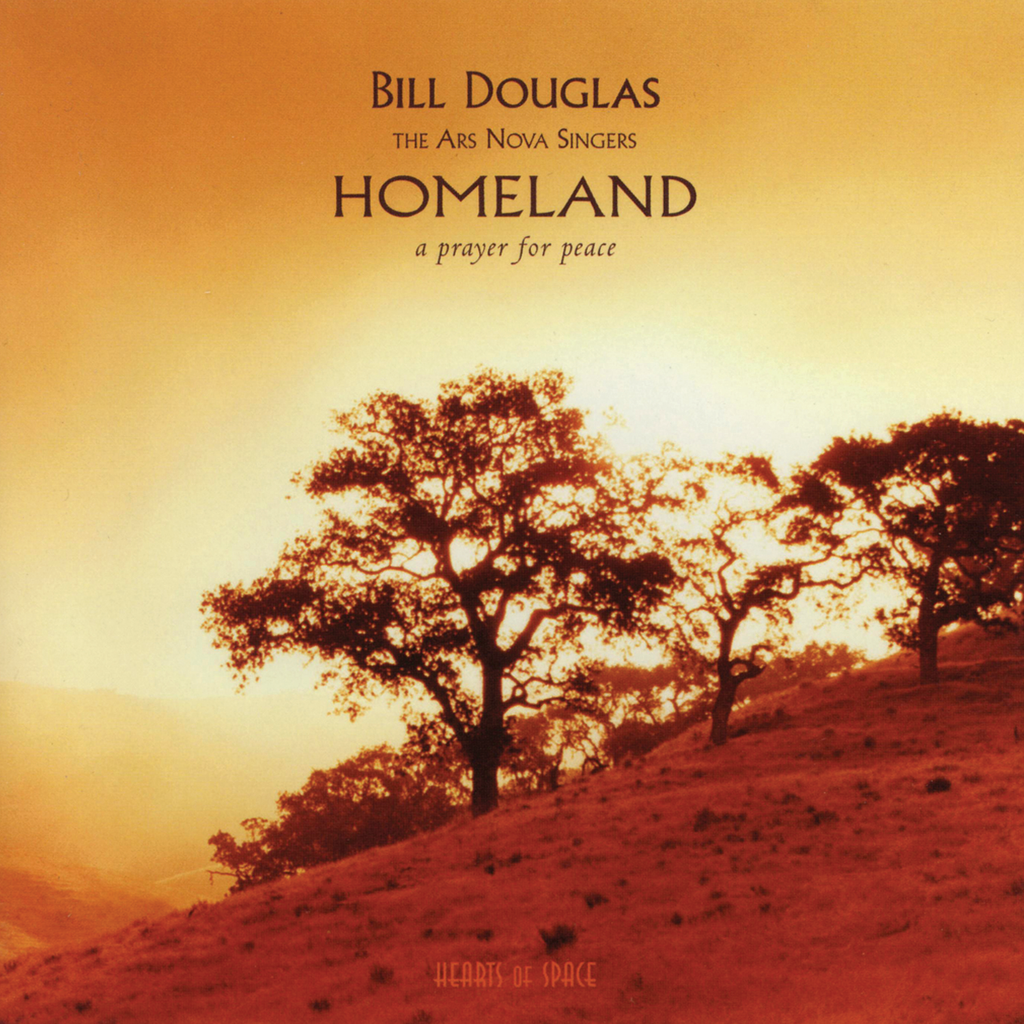 Hearts of Space Records
Bill Douglas - Homeland: A Prayer for Peace
All MP3 Downloads encoded at 320 kbps unless otherwise specified.
Joined by The Ars Nova Singers, Bill Douglas' Homeland: A Prayer For Peace celebrates the beauty of the American folk song tradition and offers a prayer for peace.
Evoking moods that gently flow from reverence to melancholy to serene reflection, composer Bill Douglas once again makes effective use of earthly means to pursue heavenly realizations. On Homeland, his 11th career recording, Douglas (piano, synthesizers, bassoon) blends quiet, contemporary-classical instrumental works with choral selections that again showcase the Ars Nova Singers, an impressive collective whose deeply resonant voices fill the vaulted ceilings of your inner cathedral. The disc's subtle beauty is tinged with sadness, as most pieces (embellished with oboe, flute, clarinet, and cello) reflect the recording's introspective subtitle (A Prayer for Peace). Choral works account for six of Homeland's 13 tracks, and if there's a flaw to be found, it's that Douglas has the singers enunciating too many syllables in his interpretations of American folksongs ("Shenandoah," "The Water Is Wide," etc.) and English verse (Wordsworth, Shelly, Blake). At times, this causes listeners to focus on comprehending hard-to-distinguish words rather than letting themselves be swept away by the sheer radiance of the harmonies. Yet it's a tolerable flaw on a meticulously crafted disc intended to comfort and calm a listener's soul. 
-Terry Wood (Amazon.com)

May we move beyond the violence of September 11th
and the escalation of violence throughout the world,
May we recognize that all human beings are our brothers and sisters,
May we realize we all come from a common source
and we all share the same planetary homeland.
May we move towards more compassion
and less suffering in this world.
- Bill Douglas
Credits
All music composed [except 1, 10, 12, 13],
arranged and produced by BILL DOUGLAS
©2002 Ziji Music/ SOCAN,
administered by Superliminal Music/ ASCAP
BILL DOUGLAS : piano, bassoon, synthesizers
THE ARS NOVA SINGERS, cond. by Thomas Morgan
BIL JACKSON : clarinet
JUDITH GLYDE : cello
ANNE STACKPOLE-CUELLAR : flute
PETER COOPER : oboe
TY BURHOE : tabla, percussion
Recorded by LONE BREGITZER
at Colorado Sound, Denver
Additional Engineering : KEVIN CLOCK
Mixed by JEFF SHUEY at Colorado Sound
Mastered by BOB OLHSSON at Bob Olhsson Audio  
2-HOS-11408
---
Share this Product
---
More from this collection