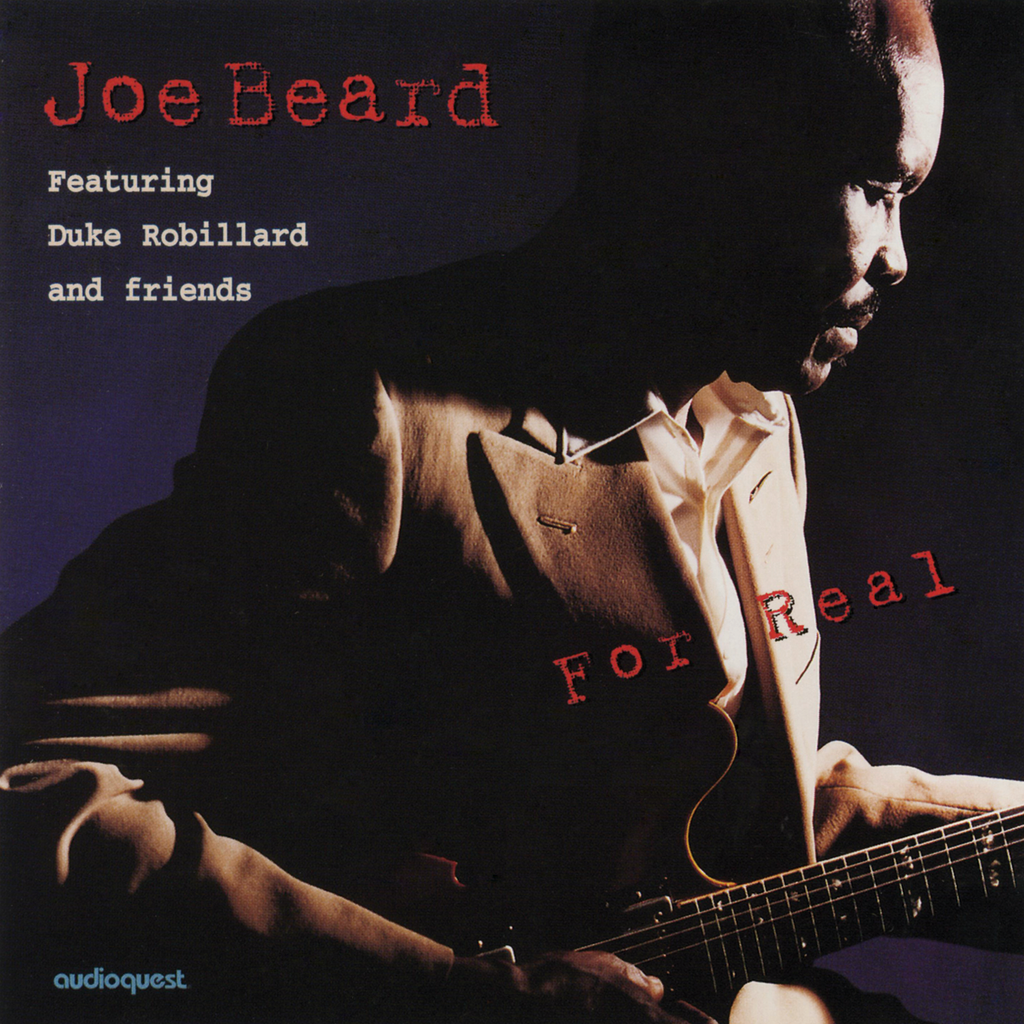 Sledgehammer Blues
Joe Beard featuring Duke Robillard and Friends - For Real
All MP3 Downloads encoded at 320 kbps unless otherwise specified.
"Joe Beard is an emotionally potent and rhythmically compelling singer of straight ahead blues."
- Living Blues

"Beard's warm vocals resonate with feeling and his guitar playing is equally well grounded. He deserves the spotlight that's focused on him."
- JazzTimes

Joe Beard's first release for Sledgehammer Blues (née AudioQuets Music), Blues Union featuring Ronnie Earl & the Broadcasters, was one of the biggest blues surprises of 1996. New Orleans' influential Offbeat Magazine named it the "Blues Album of the Year". Critics worldwide were overwhelmed by this Mississippi born bluesman and former neighbor and playing partner of the great Son House. In reality, blues greats such as Ronnie Earl and Duke Robillard have been singing Beard's praises for many years. And both jumped at the chance to record with Joe.

For Real finds Joe Beard fronting a blues dream team consisting of the great guitar stylist Robillard (fresh from sessions for Dylan's latest masterpiece) along with Bruce Katz, Per Hanson and Rod Carey - better known as Ronnie Earl's crack band "The Broadcasters" until a few months ago. Jerry Portnoy, known for his awesome harp work with Muddy Waters and Eric Clapton, joins in on four of the tracks. For Real is a potent combination of Beard originals and homages to Joe's main men, Lightning Hopkins and John Lee Hooker. Listen ... Joe Beard is For Real!

This is a pure analog recording. The tracks were recorded live direct to two-track.

Performers
Joe Beard - Guitar, Vocals
Duke Robillard - Guitar
Bruce Katz - Piano, Hammond B-3
Jerry Portnoy - Harmonica
Rod Carey - Bass
Per Hanson - Drums

Recording
Produced by Joe Harley
All tracks recorded by Michael C. Ross at OceanWay Recording, Hollywood, CA - March 28 and 29, 1998
Mastered by Bernie Grundman
All recording and mastering cables by AudioQuest
The SACD version is a Hybrid Super Audio CD.  
Tracklist
1. Drinking Old Taylor
2. Don't Start Me Talking
3. It's Up To You
4. See See Rider
5. Dirty Groundhog
6. Reap What You Sow
7. Elem
8. Who's Using Who
9. The Things I Used To Do
10. If That's What Pleases Her
11. She's Wonderful
12. 37 Years Old
13. Airplane Blues

2-AQM-1049
---
Share this Product
---
More from this collection